Bees' Smith buzzing in season debut
Angels No. 4 prospect allows one hit in 5 2/3 scoreless innings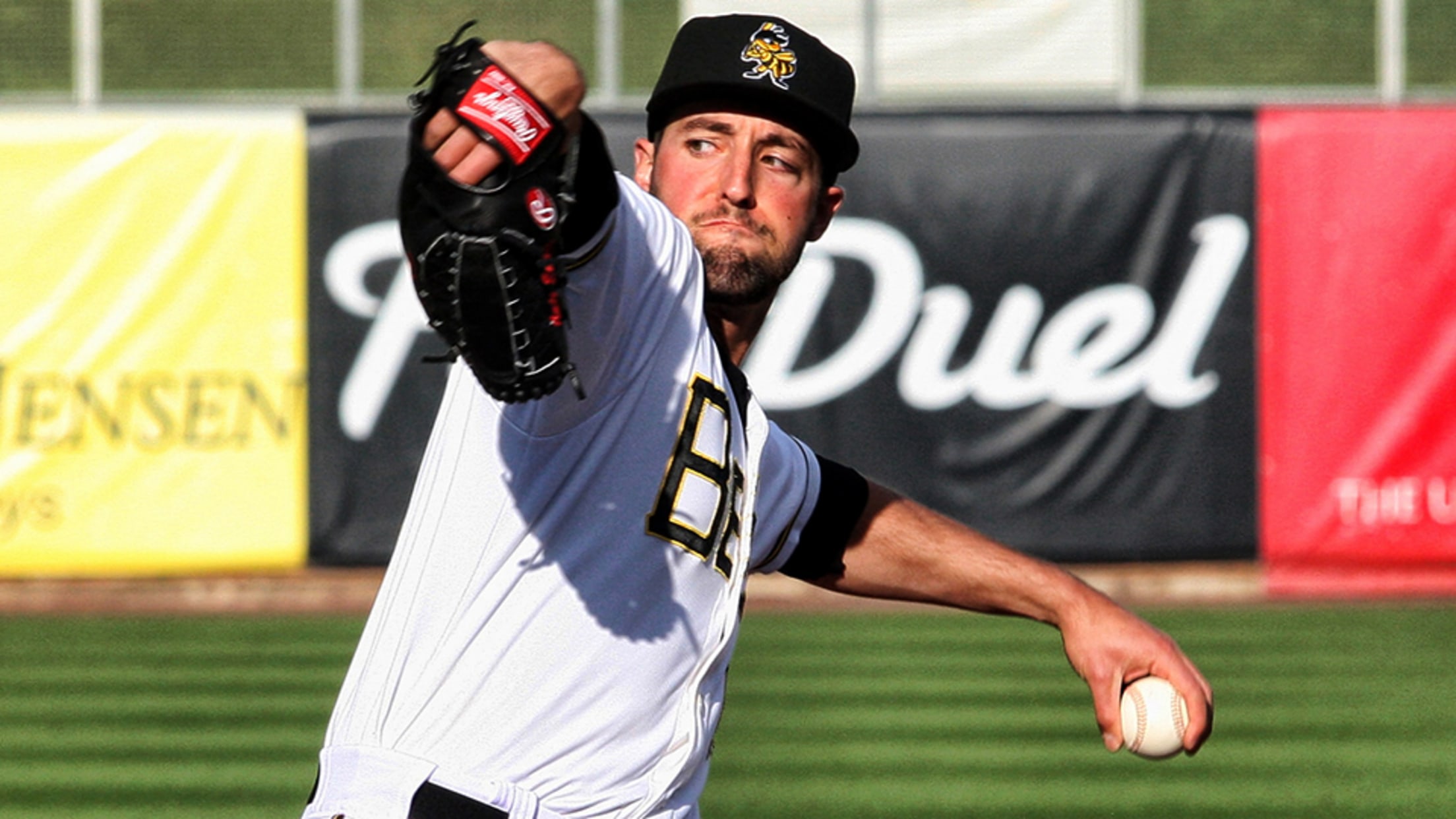 Nate Smith entered the 2017 season with a career 5.22 ERA in 33 starts at the Triple-A level. (Paul Asay)
The Salt Lake Bees had big plans for Nate Smith in 2017. The Triple-A club hoped to hand him ball every fifth day and even put him on their promotional magnet schedules given out to fans in early April. The Los Angeles Angels also had big plans for Smith in
The Salt Lake Bees had big plans for Nate Smith in 2017. The Triple-A club hoped to hand him ball every fifth day and even put him on their promotional magnet schedules given out to fans in early April. The Los Angeles Angels also had big plans for Smith in 2017, adding him to their 40-man roster back in November. Smith had big plans for himself in 2017, hoping to make the necessary adjustments to climb to the game's highest level and make his debut.
It took a while, but after a forearm strain kept him on the disabled list for a month, the 2017 season began for Smith in a big way Tuesday afternoon.
The Angels' No. 4 prospect allowed only one hit over 5 2/3 scoreless innings to lead Salt Lake to a 9-1 win over Omaha at Smith's Ballpark. The 25-year-old left-hander struck out four and did not issue a walk in the gem.
"It was exciting to be back," Smith said. "It's good just to be out there again. Rehabbing is never fun, but you have to go through it to make sure you're ready for this. I was happy to be back with the guys, playing real games again. It was an early game today, so I had to work through that, but otherwise, it was a really good day."
Box score
It didn't take long for the 6-foot-3 southpaw to show he was capable of hitting the ground running. Smith retired the first nine Storm Chasers he faced in the matinee before Ramón Torres broke up that streak with a ground-rule double to lead off the fourth inning. He proved to be the only Omaha batter to reach against Smith, who set down eight straight after the two-bagger before exiting in the sixth. The Bees starter threw 67 pitches, 47 of which were strikes.
"There was a little more adrenaline than usual getting out there," Smith said. "My catcher, Tony Sanchez, and I talked before the game and got on a pretty good page, so I had faith in what he was calling back there. Whatever he kept putting down, I was focused on executing. ... It was mostly fastball command, throwing that to both sides and up and down. Then, I was changing speeds off that. Tony did a good job of reading hitters' swings, so he deserves a bunch of credit for this."
It was an impressive, albeit delayed, start to the season for a southpaw, who had high hopes for his third campaign in the Pacific Coast League. Smith was in the midst of his first Spring Training camp with the big club as a 40-man roster member when forearm issues shut him down about halfway through. Because of the holdup, he was forced to go through the usual spring routine of building up innings at the organization's Spring Training complex in Tempe, Arizona, during April and May, rather than March like everyone else. He completed his final rehab outing last Thursday before being told he'd finally head back to Salt Lake for Tuesday's matinee.
Beyond just keeping him off the field, Smith's delayed start might have cost him the chance at a Major League debut. The Angels have needed starting pitching help already this season with both Garrett Richards and Tyler Skaggs missing significant time due to their own injuries. With his new spot on the 40-man, Smith could have competed with Alex Meyer to be the first man up from the PCL. But Smith didn't allowed himself to think that way during his comeback.
"It's frustrating any time you have an injury," he said. "All you can do is try to keep your body in shape and take care of it and keep a positive mind-set. All I wanted to do was get one step closer to being back every day, so that was my focus."
The 2013 eighth-rounder, whose best pitch is his changeup to go with a fastball, curve and slider, posted a 4.61 ERA with 122 strikeouts, 44 walks and 1.40 WHIP over 150 1/3 innings with the Bees last season. Those aren't numbers that break down doors to the Majors, even if they did come in the hitting-friendly PCL.
Smith admitted he needs to do a better job of limiting mistakes in his third go at the Triple-A level, and he'll focus on that as his outings expand going forward with the Bees. But first things first -- he was just happy to be back healthy in a park he's gotten to know well over the last three seasons.
"Yeah, that helps a lot," Smith said. "It's great to be back in a familiar environment for this first one. Even those rehab starts are nowhere near what it's like to be here. Seeing the staff, the fans, the coaches, all the guys again -- that was really nice today."
Left fielder Eric Young Jr. went 3-for-5 with a homer and three RBIs in the Bees' win Tuesday. Shortstop Nolan Fontana also went deep and plated two runs.
Sam Dykstra is a reporter for MiLB.com. Follow and interact with him on Twitter, @SamDykstraMiLB.