Supak shines in second Triple-A outing
Brewers No. 12 prospect hurls 6 2/3 shutout innings, fans eight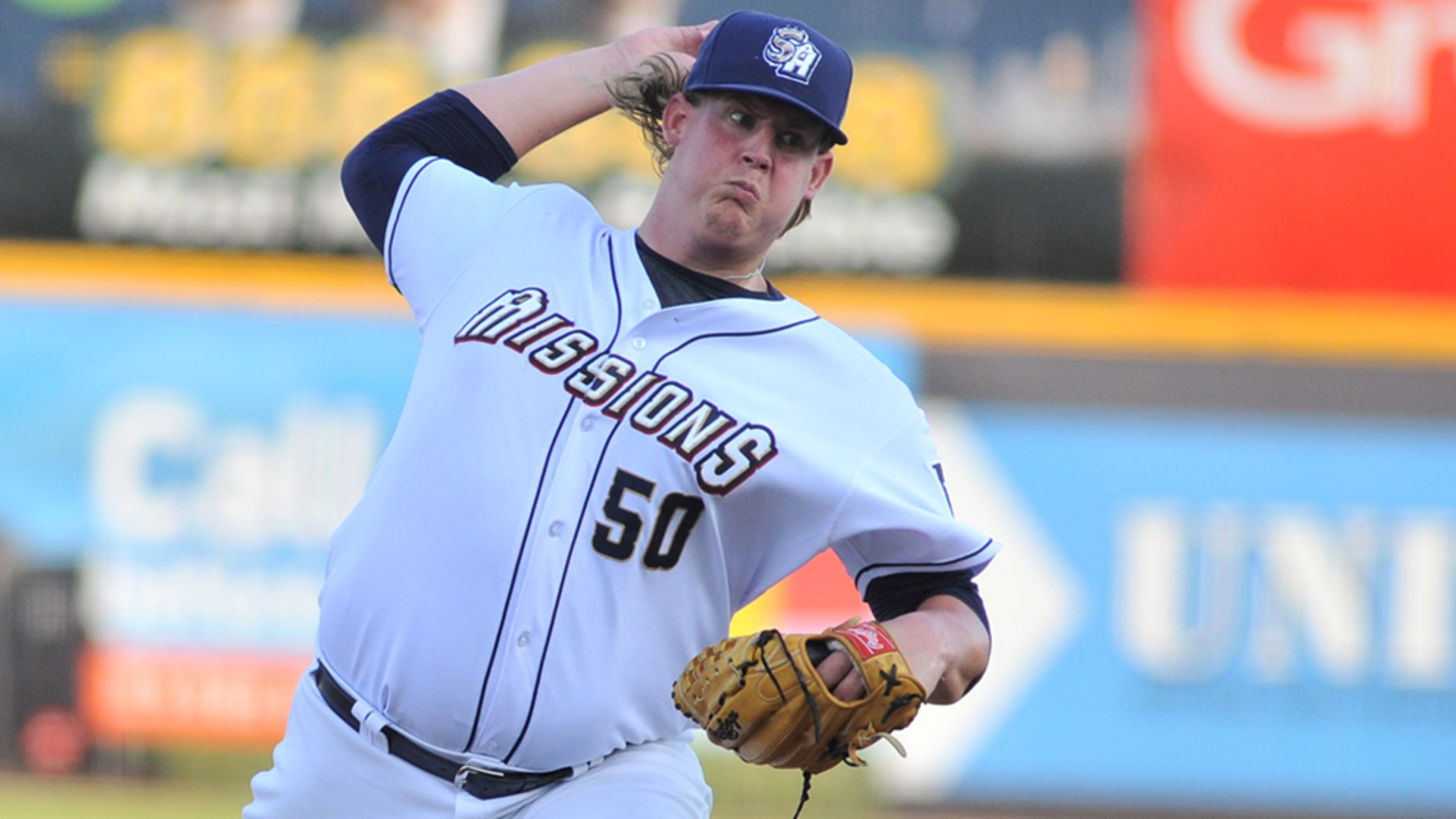 Trey Supak held opponents to a .192 batting average in 20 starts with Double-A Biloxi. (Reynaldo Holguin/San Antonio Missions)
After dominating the Southern League for the first four months of the season, Trey Supak has already adjusted to a new level. Making his second Triple-A start, the Brewers' No.12 prospect gave up four hits and struck out eight over 6 2/3 innings before San Antonio walked off with a 1-0, 10-inning win
After dominating the Southern League for the first four months of the season, Trey Supak has already adjusted to a new level.
Making his second Triple-A start, the Brewers' No.12 prospect gave up four hits and struck out eight over 6 2/3 innings before San Antonio walked off with a 1-0, 10-inning win over Fresno on Friday at Nelson Wolff Stadium. He did not allow an extra-base hit in his eighth scoreless outing and first since being promoted from Double-A Biloxi.
Supak's Pacific Coast League debut on July 27 didn't go as planned. The 23-year-old surrendered four earned runs through five innings, but some timely offense allowed him to pick up the win.
His second outing went much smoother, although some home-crowd reassurance may have had something to do with it.
Supak graduated from La Grange High School and grew up in Bryan, Texas, a little more than 100 miles from San Antonio. A crowd of about 50 friends and family made the trek to see his home debut. Although admittedly a little anxious, Supak didn't disappoint.
"I was really amped up and almost kind of nervous," he said. "I don't usually get too nervous about stuff, but I had a little bit of emotion out there. I was fired up."
Gameday box score
Perhaps the nerves paid off. Supak worked a perfect opening frame, including a strikeout of top Nationals prospect Carter Kieboom. His lone blemish over the first three frames was a soft liner off the bat of Alec Keller that fell for a single in the second.
Supak piled up four strikeouts the first time through the order and needed only eight pitches to work a 1-2-3 fourth inning before running into trouble. He yielded singles to Keller and pitcher Scott Copeland with two outs in the fifth. He needed just one pitch to escape the jam, however, getting Collin Cowgill to ground out to first baseman David Freitas.
He also had some help defensively, as left fielder Troy Stokes Jr. aided Supak's cause with a pair of highlight-worthy snags, crashing into the fence to complete the latter catch.
"One of those [catches] is an inning-saver, two of those are an outing-saver," Supak said. "He really helped me out. They're huge momentum savers and helped keep my pitch count low.
"Those were incredible plays by Troy. I thanked him many times for them," he laughed.
The right-hander allowed a leadoff single in the sixth to Jake Noll but racked up two more strikeouts before taking the mound in the seventh having thrown 84 pitches. After Raudy Read grounded out to start the inning, Supak struck out Keller but walked Drew Ward on his final offering. He finished with 98 pitches, 64 for strikes.
"When I was taken out of the game in the seventh, hearing everyone and looking up in the stands and seeing my uncle and my dad, my family and friends and everyone out there supporting me, that was an incredible feeling," Supak said. "Coming back, putting zeros on the board and keeping the ball in the park were the biggest things for me today. Looking back on it, it looks really good."
Supak finished one punchout shy of his season high; he fanned nine on July 16 in his final home start for Biloxi. In 20 Southern League starts, he tied for the league lead with 11 wins and held a circuit-best 0.87 WHIP with a 2.20 ERA that ranked second.
So far, he hasn't let the "hitter-friendly" reputation of the PCL affect him.
"You know about it in the back of your head, but you can't let it faze anything," he said. "You can't let that bother you at all. You just have to execute pitches and keep hitters off-balance. That's your job."
Through two starts for the Missions, Supak holds a 3.09 ERA and has whiffed 14 batters while walking three.
Blake Allemand lined a single to left field in the bottom of the 10th to plate Jacob Nottingham for the walk-off win.
Katie Woo is a contributor to MiLB.com. Follow her on Twitter <a href="twitter.com/katiejwoo>@katiejwoo.