Bees' Young continues raking with five-hit night
Former Major Leaguer uses baseball to overcome his personal grief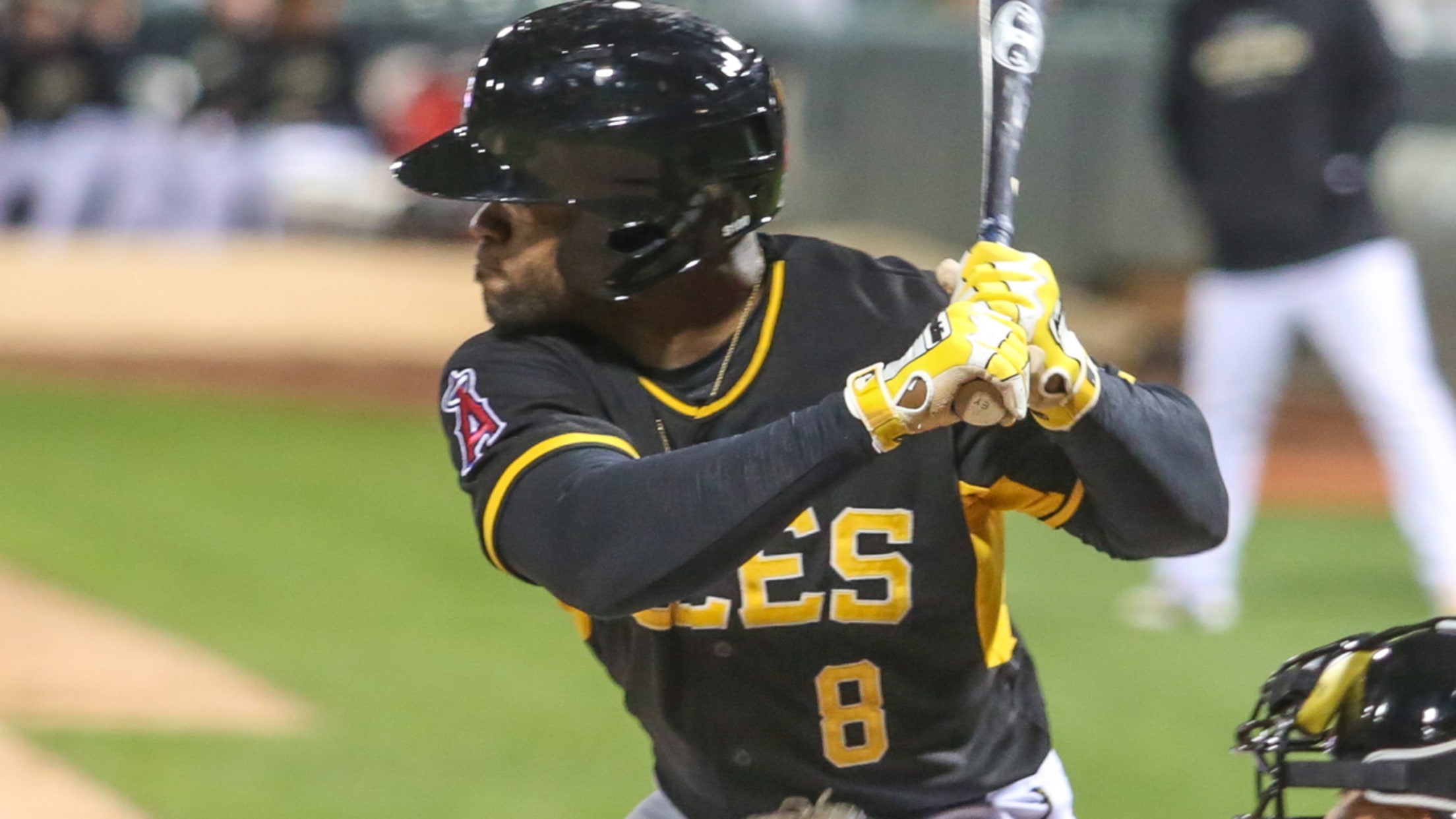 Eric Young Jr. has tallied 11 hits over his last four games for Triple-A Salt Lake. (Asay Photography/Salt Lake Bees)
So far in 2017, Eric Young Jr. has endured more heartbreak off the field than few ballplayers -- and people -- will ever know. Between the white lines, he's thriving through the pain.Young extended a scorching stretch by going 5-for-5 with a double, two RBIs and a run scored as Triple-A
So far in 2017, Eric Young Jr. has endured more heartbreak off the field than few ballplayers -- and people -- will ever know. Between the white lines, he's thriving through the pain.
Young extended a scorching stretch by going 5-for-5 with a double, two RBIs and a run scored as Triple-A Salt Lake knocked off Fresno, 6-2, on Monday night at Smith's Ballpark.
"I'm just trying to keep things simple and go out there and have fun," Young said. "I guess you could say it's one of the best weeks off of one of the hardest weeks for me as well. I found out about three or four days ago my grandma [Lucille] passed away, so it's been a hard week and a great week at the same time."
Around the time she died, the 31-year-old started racking up hits.
The outfielder finished a triple shy of the cycle and went 3-for-6 on Saturday before notching five hits for just the second time in his career Monday. Over the past eight games, he's batting .484 to raise his average nearly 200 points.
Box score
"I'm not trying to do too much, see the ball, hit the ball, put the good part of the bat on it," he said. "I'm going over the gameplan up to the plate and trying to stick to it. Sometimes you get yourself in trouble when you try to do too much or you try to go outside the gameplan that you might have had.
"I think if I go over the gameplan that I have and I stick to it, the results will come. Fortunately for me, they've been coming this week."
Baseball has been Young's refuge during an emotionally painful year. The former 30th-round Draft pick opened up to his teammates in Spring Training about the loss of his first son, Eric Young III, who was born three months premature in January and died after one night.
Now Young is leaning on his baseball family again.
"The guys keep me young, keep me having fun out here, keep things in perspective," the veteran of 563 Major League games said. "I get to come every day and I get to play baseball. When you put things in perspective like that, you can't really complain.
"Obviously, I'm having a tough year off the field, but being on the field and coming in with these guys every day makes it a lot easier and a lot more enjoyable. I appreciate every opportunity that I get, regardless of what level I'm at."
On Monday, Young ignited a three-run first inning with a leadoff double to center field and followed with a single to left in the second. He led off the fifth with an infield single to second and singled again to center in the seventh. In his final trip to the plate in the eighth, the 31-year-old drove in Nolan Fontana and Rey Navarro with a single to left.
"If I'm on base, I know the next hitter is going to get fastballs just for the fact that I'm a stolen base threat," said the son of former Major Leaguer Eric Young. "Those guys are going to get better pitches to hit, and they haven't been missing them. You can attribute that to them as well because now I'm scoring from first or second, wherever it may be.
"From the other team, you pick your poison. Do you pitch to me or do you go ahead and pitch to the other guys?"
Monday's output marked Young's first five-hit game since July 3, 2007 with Class A Advanced Modesto in the Colorado system and lifted his early-season slash line to .388/.400/.490.
Currently one rung below the big leagues, Young is staying focused on his current spot rather than looking toward Anaheim.
"Now because I'm older, I've learned how to control those emotions and those thoughts," said Young, who's played for four Major League teams. "I think as a youngster, it's only normal to think about that. Now that I've got some experience, you worry about the things you can control and let the other guys worry about those things.
"If they want to make that call, that's on them. If not, I'm going to keep getting my work in and keep playing as hard as I can where I'm at."
Starter Manny Bañuelos (2-0) allowed two runs on four hits over six innings and Brooks Pounders went the rest of the way, allowing just one hit for Salt Lake.
The Bees begin an eight-game road trip Tuesday.
"Manny and Brooks tonight did awesome for us, especially keeping it to only two pitchers for the game," Young said. "They're able to allow some guys to rest up and get ready for this road trip that we're getting ready to go on. Sometimes those things get overlooked, but those two guys, only two pitchers for the night, that helps our bullpen in the long run."
Tyler Maun is a contributor to MiLB.com. Follow him on Twitter @TylerMaun.