Straily shines as Grizzlies even PCL Finals
Right-hander takes perfect game into seventh, combines on one-hitter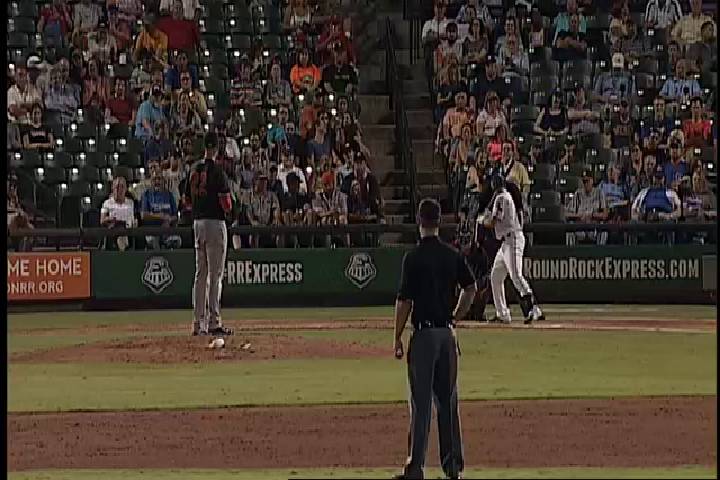 By Tyler Maun / MiLB.com | September 17, 2015 12:42 AM
Dan Straily saw one of his best pitches nullified by an effective approach from opposing hitters. Good thing for the Fresno Grizzlies his other two offerings were working splendidly.
Straily carried a perfect game into the seventh inning and combined with two relievers on a one-hitter Wednesday as Fresno evened the Pacific Coast League Championship Series at one win apiece with a 3-1 victory at Round Rock.
"Coming into tonight, I had two things on my mind," Straily said. "Our backs were against the wall. We really needed to come out of this with a victory because that sends us home to a three-game series, and we're a really good team at home. I had that on my mind and the fact that it's win-or-go-home time of the year.
"Our bullpen last night got taxed (in a 9-8, 12-inning loss). I believe we had seven pitchers in the game or so. I knew they were a little taxed, so I was really trying to focus on having better command tonight. Instead of trying to strike guys out or whatever, the situation is going to hand me what I've got to do. I was really trying to be economical with my pitches and go deep into the ballgame."
Straily (2-0) wasn't just economical. For the first six-plus innings, he was untouchable. With an early cushion, thanks to Jon Singleton's two-run homer in the first, the 26-yea-rold right-hander retired the first 20 batters he faced before issuing two-out walks to No. 2 Rangers prospect Nomar Mazara and Ed Lucas in the seventh. Brett Nicholas followed with an RBI single to break up the no-hitter and get the Express on the board.
"When I walked the guy in the seventh inning, I knew that the perfect game was gone," Straily said. "Then I walked the next guy and we had a quick meeting on the mound. I got [Nicholas], 0-2, and tried to beat him with a fastball up that he got the barrel to and drove in a run. Hats off to him because that's a pitch I'd gone to a couple times earlier in the game, and he must have been geared up for it."
After a visit from pitching coach Ace Adams, Straily retired Thomas Field to end the threat with the tying runs aboard. The last out didn't come without a flair for the dramatic.
"It went all the way to the wall," Straily said. "[Fresno left fielder Robbie Grossman] caught it touching the wall. I got lucky, if you will, on that one that it was able to stay in the yard.
"I just had good fastball command tonight for the most part. I feel like they kind of eliminated my slider. It was a very rare night for me. I had not one strikeout on a slider. It might be the first time all season that that's happened. I was able to work off of that though."
Relying mostly on a fastball-changeup mix, Straily came within an inning of matching his longest start of the season. Behind him, Astros No. 18 prospect Chris Devenski fanned two over 1 1/3 perfect innings in his Triple-A debut before Kevin Chapman got the final two outs for his first postseason save.
"We're a very confident group," Straily said. "We're too good of a ballclub to dwell on one loss and let it affect the way we play the next day."
The series resumes Friday night at Chukchansi Park in Fresno.
Tyler Maun is a contributor to MiLB.com. Follow him on Twitter @TylerMaun. This story was not subject to the approval of the National Association of Professional Baseball Leagues or its clubs.
View More