O'Neill, Wisdom slug Memphis into PCL Finals
St. Louis prospects combine for six hits, seven RBIs in Game 5 win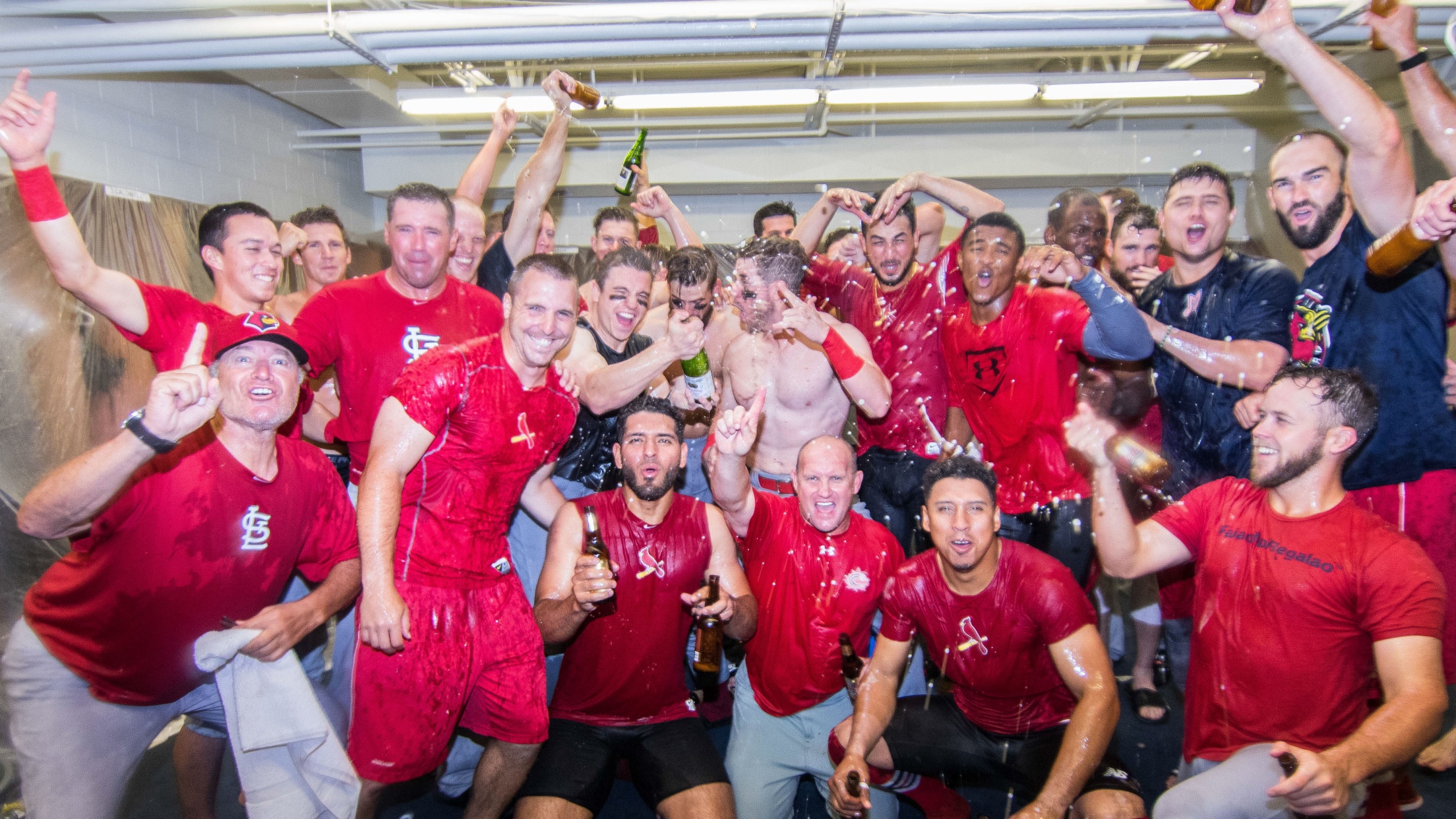 The Memphis Redbirds will head back to the Pacific Coast League Finals for the first time since 2010. (Bobby Stevens/ MiLB.com)
A night after Triple-A Memphis staved off elimination from the playoffs with a 10-inning victory, Redbirds manager Stubby Clapp didn't feel the need to give his club any inspirational message."I just let them do their business," the skipper said. "They come out hard and play hard. It was nothing extra
A night after Triple-A Memphis staved off elimination from the playoffs with a 10-inning victory, Redbirds manager Stubby Clapp didn't feel the need to give his club any inspirational message.
"I just let them do their business," the skipper said. "They come out hard and play hard. It was nothing extra today, it was just letting them do their work and letting them get after it."
Memphis did take care of business, beating Colorado Springs, 13-10, on Sunday in Game 5 of the Pacific Coast League semifinals at Security Service Field to earn a spot in the championship series against El Paso. Fourth-ranked Cardinals prospectTyler O'Neill and Patrick Wisdom both fell a triple shy of the cycle, combining for six hits and seven RBIs to ensure the Redbirds' first visit in the circuit's Finals since 2010.
"I tell you what, it was an unbelievable series," Clapp said. "My hat is off to the Colorado Springs team -- it was not easy, by any means. We fought for every out, for every run. We're just excited to get out here on top and move on to the next round."
Over the final three games of the series at Colorado Springs, the teams combined for 73 runs on 99 hits. Clapp won't miss the high elevation.
Gameday box score
"It's stressful, it's stressful," he laughed. "I don't know if I could manage 70 games here like [Sky Sox manager] Rick Sweet. My hat's off to him for being able to deal with this environment that he's got to manage through every day -- it's unbelievable."
Memphis wasted no time Sunday, scoring five times in the first inning on homers by O'Neill, Jose Adolis Garcia and Wisdom. O'Neill and Wisdom each collected two more hits the rest of the way, as they hit .320 and .368 respectively in the series.
"Those two guys came up big for us, especially in the first inning to set up to set the tone," Clapp said. "To be able to get a couple of home runs on the board and get some tallies on the board -- five runs -- to give our pitcher cushion. That was good and my hat's off to those guys to be able to step up to the plate like that and answer the call."
The Redbirds added on eight more runs to head into the ninth with a 13-6 lead. The Sky Sox rallied for four in the ninth and had the tying run on deck before reliever Josh Lucas got Nick Noonan to dramatically fly out to left fielder Nick Martini to seal the win.
Complete playoff coverage
"It was par for the course here," Clapp laughed. "We went into the inning and Gerdy [pitching coach Bryan Eversgerd] and I had a plan, and unfortunately, we had to use everybody that we had planned for. But it got us the win and we're moving on. We're feeling blessed right now."
The Redbirds added an American Conference title after winning 91 games in the regular season. They'll try to add the PCL crown to their collection when they take on El Paso in the best-of-5 Finals, which begin Tuesday in Memphis.
• Get tickets to a Redbirds playoff game »
"It's been great and now they get to have this opportunity to play for the championship," Clapp said. "We just pray for the best for them and hope they can reap the rewards of their hard work."
Andrew Battifarano is a contributor to MiLB.com. Follow him on Twitter, @AndrewAtBatt.