Wong keeps delivering following demotion
Cardinals No. 2 prospect goes 4-for-5 with homer, batting .344 in PCL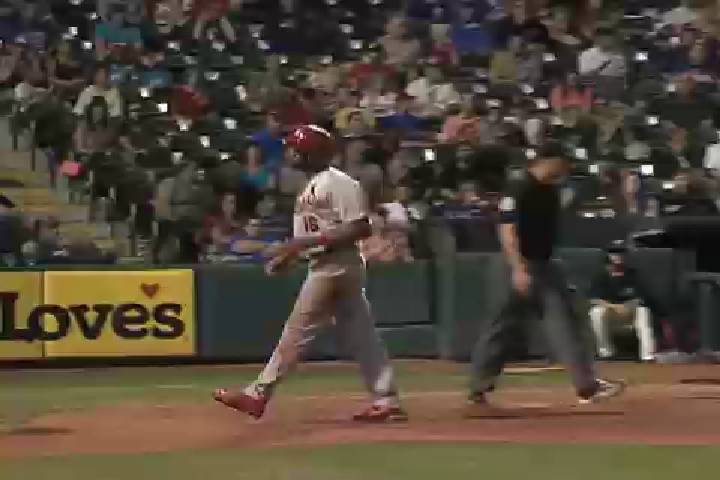 By Sam Dykstra / MiLB.com | May 13, 2014 4:56 PM
It was one of the head-scratching decisions of the early 2014 Major League season.
The Cardinals had named No. 2 prospect Kolten Wong their starting second baseman out of Spring Training, solidifying his place as the team's future at the position after he hit to a .303/.369/.466 slash line with 10 homers and 20 steals for Triple-A Memphis in 2013.
But after his first 20 games of this season, during which he batted just .225 in 71 at-bats, the defending National League champs noticed something in the 23-year-old's mechanics at the plate and sent him back to Triple-A instead.
The future was all of a sudden on hold.
"They just kinda told me that they saw things in my swing that it was getting too long," Wong said. "And before it got too bad or too late, they wanted to send me to a less stressful environment to work on it. I took it as an opportunity to work on my approach. ... I could feel it getting a little big, too. That's not the player I am, so when it gets that way, it's in my best interest for me to do whatever I can to turn it around."
The move seems to be working wonders so far.
Wong went 4-for-5 with a homer and four RBIs from the top of the Memphis lineup Tuesday to lead the Redbirds to a 14-3 win at home over Round Rock.
Through his first 14 games (64 at-bats) in the Pacific Coast League this season, the 23-year-old second baseman is batting .344 with two homers, 10 RBIs and five stolen bases.
"I feel like I'm around there again," he said. "I think my swing's back. My confidence is definitely back. Now I just want to get back up and take the confidence that I've developed from here and use it there."
Wong flied out to left to lead off the bottom of the first, but that was the only time Express pitchers retired him this afternoon. The left-handed-hitting prospect singled to center in the third and later came around to score on a double by Oscar Taveras. In the next frame with runners on first and third, he connected on a first-pitch fastball from Express right-handed starter Scott Richmond and planted it over the wall in right for a three-run homer that gave the Redbirds a 6-0 advantage.
"They worked me in earlier in the game and, with runners at the corners like that, I figured they'd tried to beat me in again," Wong said. "I was hoping it'd be closer to middle-in though, and when it was, I got a good swing on it."
The Hawaii native added an RBI single in the fifth and another base hit in the eighth.
The four hits and four RBIs both tied Wong's professional career highs for a single game. He had previously collected four hits four times in his career -- most recently on May 22 last season with Memphis -- and four RBIs only once (Aug. 10, 2013).
Despite those notable achievements, Wong admitted it was difficult to get going Tuesday, given that the Redbirds and Express finished up around 10 p.m. on Monday night only to start at 11 a.m. local time Tuesday.
"It was a little tough to get locked in, to be honest," he said. "It was a little late last night, and then you have to turn around and get back really early this morning. All you can do is try your best to grind it out, and thankfully, I was able to string together some good at-bats today."
Part of having better at-bats was due to a swing that Wong admits feels shorter than the one that got him sent down in the first place. With the improvements in place and the numbers to back it up, it might not be long until the second baseman is back in the St. Louis lineup, especially given the fact that his replacement Mark Ellis isn't exactly running away with the job sporting a .235 average in 10 games since Wong left.
For now, the organization's No. 2 prospect is keeping things more introspective, knowing that it'll be on him to prove he's ready for a Major League return. So far, so good.
"I approach this whole thing as a process," Wong said. "The purpose of me being sent down was to get my swing right. So I took [the demotion] because I wanted to get better. I didn't want to take it as a slap in the face. This is a chance to make my game better, and that's how I look at it."
Right-handed reliever Jason Motte, who is recovering from Tommy John surgery and lives in Memphis, allowed only one hit in a scoreless rehab inning for the Redbirds on Tuesday. He tossed 14 pitches (10 for strikes) in the seventh inning.
"He looked really good," Wong said of the former Cardinals closer. "He threw lots of strikes, and I thought his cutter was really nasty to both lefties and righties. He looked pretty close to being ready to get back up there."
No. 12 Cardinals prospect Randal Grichuk went 3-for-5 with a homer, two RBIs and three runs scored hitting behind Wong in the Redbirds lineup. Taveras went 3-for-4 with two doubles, two RBIs, two runs scored and a walk from the No. 3 spot.
Sam Dykstra is a contributor to MiLB.com. This story was not subject to the approval of the National Association of Professional Baseball Leagues or its clubs.
View More