The PawSox Foundation presents
Veterans Home Run: A 5K Walk 'n Run
To benefit veterans causes in the PawSox community

Saturday, November 10, 2018
(Rain or Shine)
McCoy Stadium
1 Columbus Avenue
Pawtucket, RI. 02861
The PawSox Foundation is excited to present its third annual Veterans Home Run 5K Walk 'n Run this year on Saturday, November 10, 2018 starting at 9 am at McCoy Stadium. This year's race features a revised route that takes participants into scenic downtown Pawtucket before returning to McCoy Stadium for a finish at home plate.
• Pre-race stretch led by Planet Fitness
• A new route going through scenic downtown Pawtucket
• Finish line at home plate at McCoy Stadium
• Post-race award ceremony and family-friendly festivities at the
ballpark, including live music, games, and food
• Families and pets are welcome, either as participants or as spectators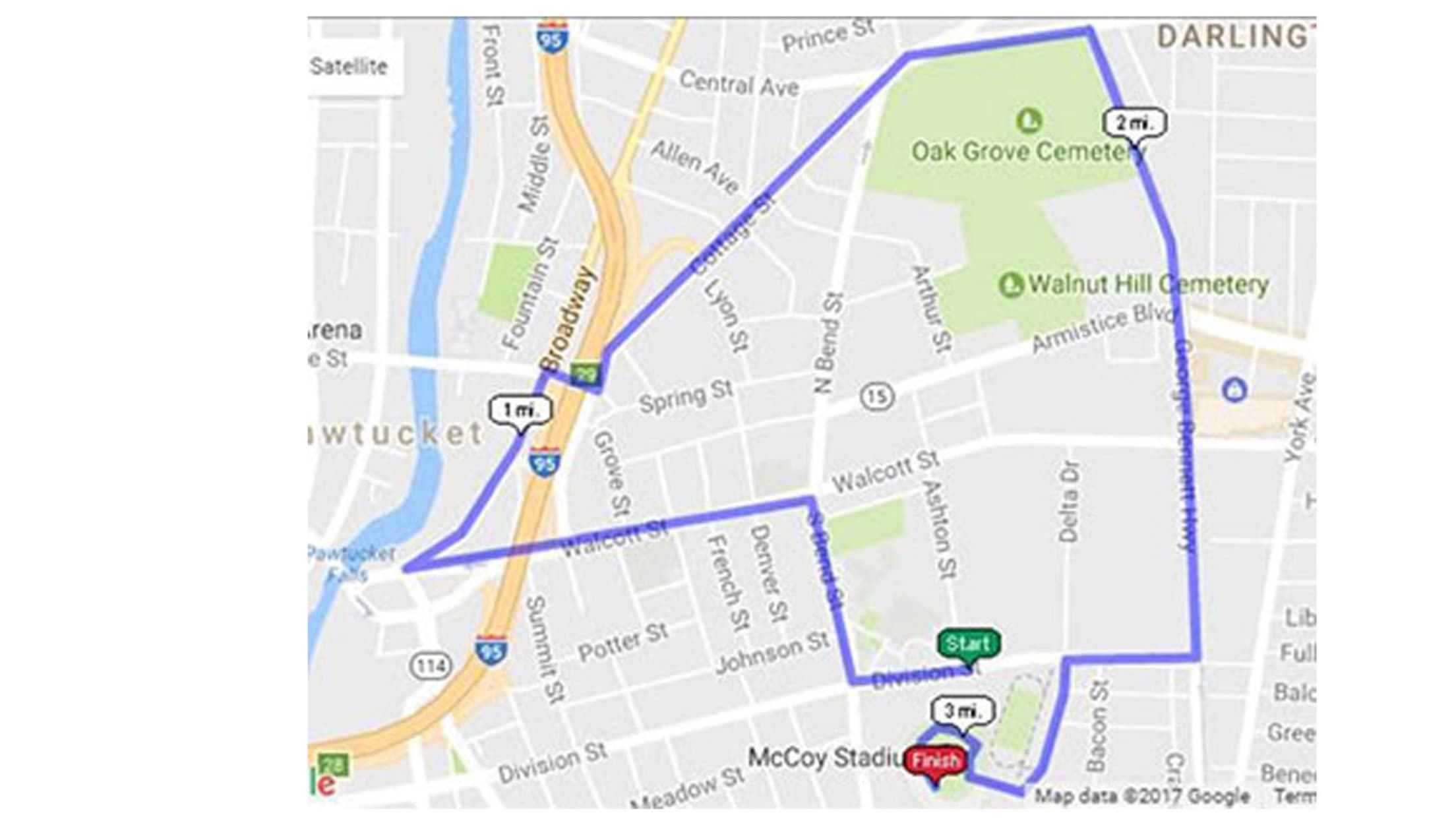 The Veterans Home Run 5K is held in honor of those who have served or are currently serving our country. Proceeds will benefit veterans causes in Rhode Island. This year, the PawSox Foundation is excited to partner with the 21 Heroes organization, in honor of the 21 Pawtucket veterans who were killed while serving in the Vietnam War.
• Pre - Race: Registration 7:30am - 9:00am
• 5K Race/Walk will start at approximately 9:30am
• $250.00 Cash & Prize Packages for top overall runners
(male & female) and Awards for various Age Groups
• Prize Packages for fastest overall team
• T-Shirts (100% Polyester Running T-Shirt) distributed to
the first 500 registered participants
• Refreshments throughout the event
• All registered participants will receive a complimentary
general admission ticket to a PawSox game
Age Categories:
70 - Above
60 - 69
50 - 59
40 - 49
30 - 39
20 - 29
13 - 19
Wheelchair Division
PawSox 5K Runners!
Thank you for your participation in the 3rd Annual PawSox 5K Walk 'n Run in support of veterans causes in RI, we are so happy to be able to give back to those who have fought for our country.
All race results are posted here, if you registered the DAY OF the race and you placed in the top two of your age category for your gender, please email Grace Eng at

[email protected]

om so we have your contact information and we can mail out your medal. These are the age categories:
· Wheelchair
· 70+
· 60-69
· 50-59
· 40-49
· 30-39
· 20-29
· 13-19
Also, if you did not receive a race t-shirt please email so we can send that as well, everyone will get a t-shirt for participating. We will also be sending out the certificate that is valid for 2 General Admission flex tickets for the 2019 season, so be sure to be on the lookout for that email, the certificate will be valid to exchange starting March 1st.
If you have any questions about the race results or the day itself, please don't hesitate to reach out. Again thank you for your contribution to the PawSox Foundation and more importantly to the veterans who have served the United States of America. God bless!