Enchanted Village & Ballyard Sale at McCoy This Saturday
Fifth Annual Enchanted Village Holiday Party from 11am - 2pm on Sat., Dec. 7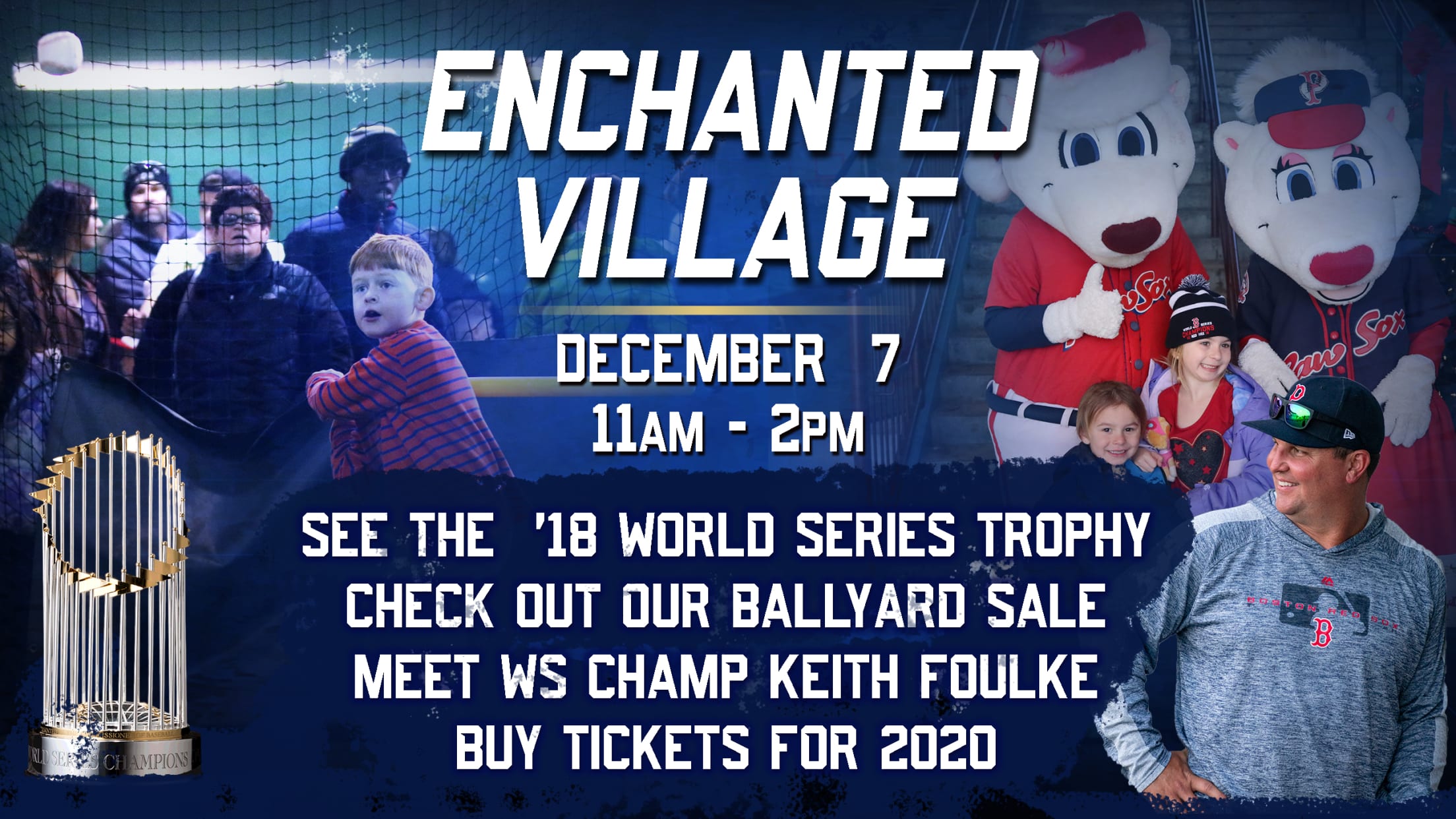 The Pawtucket Red Sox will present their 5th Annual "PawSox Enchanted Village" Holiday Party at McCoy Stadium on Saturday, December 7 from 11 am - 2 pm. The event, in which the ballpark becomes a Winter Wonderland, is free and open to fans of all ages. Fans will also have the
The Pawtucket Red Sox will present their 5th Annual "PawSox Enchanted Village" Holiday Party at McCoy Stadium on Saturday, December 7 from 11 am - 2 pm. The event, in which the ballpark becomes a Winter Wonderland, is free and open to fans of all ages. Fans will also have the first opportunity to purchase a special McCoy Memories ticket package for the 2020 season, the PawSox' 50th Anniversary
The team will include their 4th Annual BallYard Sale, in which fans and collectors can purchase items from among 200 of the club's actual game-worn jerseys, as well as autographed baseballs, signed framed photos of past PawSox stars, bobbleheads, ephemera, memorabilia, and game-used equipment such as helmets, bat bags, and player bags. The BallYard Sale will take place inside the PawSox Clubhouse.
Also on hand will be 2004 World Series Hero Keith Foulke, as well as mascots Paws & Sox, and the 2018 Boston Red Sox World Series trophy. Foulke, the closer on the historic 2004 club, currently serves as a player development consultant for the Red Sox after an 11-year major league career that included an All-Star season with Oakland in 2003 (43 saves) and, of course, the Red Sox championship season in 2004 when he had 32 regular-season saves and then three more saves during Boston's historic postseason run to their first World Series Championship in 86 years.
Fans will enjoy a special "behind-the-scenes" path through the decorated "Hall of History" and peruse the memorabilia along the walls, while also visiting several "workshops" in the suites to indulge in various activities and refreshments.
Youngsters can take Batting Practice inside the PawSox Batting Tunnel, which has been transformed into a Fenway Park-like Whiffle Ball field. Fans can also wander out from the PawSox Clubhouse to the PawSox Dugout and the field, where they will be greeted by a large Christmas Tree at home plate. Families are welcome to take photos around the tree.
Fans can then walk through the Visitors' Dugout and head in to the Visiting Clubhouse, which will be stocked with food and drink, including traditional ballpark fare and other refreshments.
PawSox Ticket Packages for the 2020 season, the PawSox' 50th Anniversary, will also go on sale for the first time. Fans can also visit pawsox.com or call (401) 724-7300.
One of the plans, the 3-game McCoy Memories Plan, includes Opening Day, Fireworks on the Eve of the 4th of July, and a ticket to the final regular season game at 77-year-old McCoy Stadium. The package is priced at only $49 for Field Box Seats and $46 for Reserved Seats.
As an added bonus, fans who purchase a McCoy Memories Plan will receive a complimentary McCoy Stadium replica (one per order). And as an extra added bonus, all tickets in this plan, as well as all Mini Plans (3-game, 18-game and 35-game) and all Full Season Tickets, will be loaded with $2 of FREE ballpark credit for fans to use at the McCoy concession stands and team store. Fans will be guaranteed the same great seat for each game in their package.
THE McCOY MEMORIES PLAN
April 9th Opening Night
July 3rd Patriotic Fireworks
September 7th Final Game at McCoy
Group, flex, and other packages, including all of the teams' popular "PawSox Mini-Plans" will be available for fans. PawSox tickets for single games will go on sale after the new year. All ticket prices will remain the same as last year with Field Box Seats at $14, Reserved Seats at $13, and General Admission are $9 for adults and $6 for children (aged 12 & under), senior citizens (aged 62 & over), and military personnel.
McCoy Stadium was built in 1942 and became home to the Pawtucket Red Sox starting in 1970. The club was the Double-A affiliate of the Boston Red Sox and became their Triple-A affiliate in 1973.