PawSox OF Rusney Castillo, LHP Jalen Beeks And RHP Ryan Brasier all Elected to International League All-Star Team
Castillo, Beeks and Brasier will Represent the Pawtucket Red Sox on the International League All-Star Team for the 31st Annual Triple-A All-Star Game to be played in Columbus, OH on July 11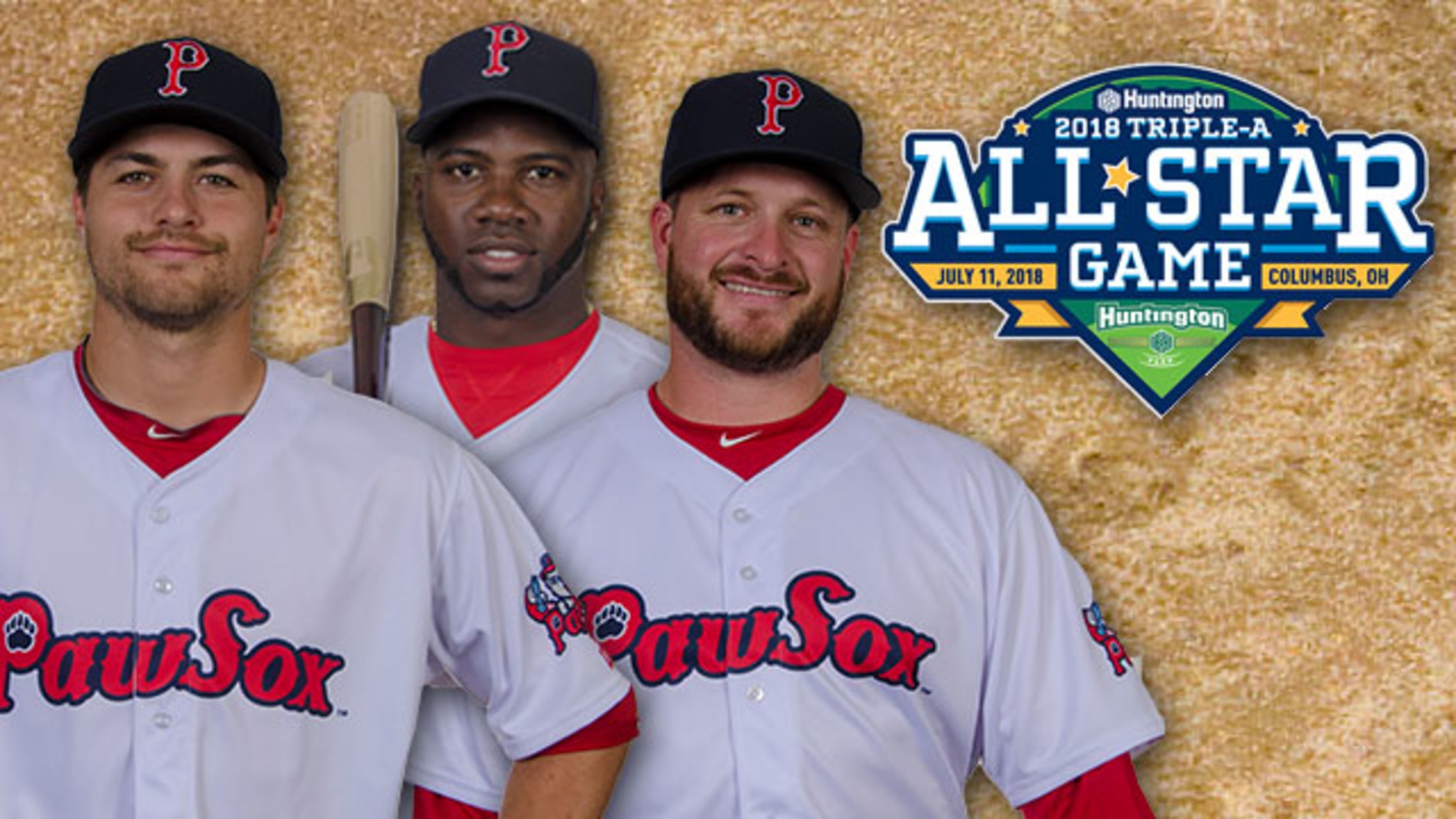 The Pawtucket Red Sox are pleased to announce that OF Rusney Castillo , starting pitcher Jalen Beeks , and reliever RyanBrasier have all been elected to the International League All-Star Team for the 2018 Triple-A All-Star Game that will be played on Wednesday, July 11 at 7:00 pm at Huntington
The Pawtucket Red Sox are pleased to announce that OF Rusney Castillo , starting pitcher Jalen Beeks , and reliever RyanBrasier have all been elected to the International League All-Star Team for the 2018 Triple-A All-Star Game that will be played on Wednesday, July 11 at 7:00 pm at Huntington Park in Columbus, Ohio.
The 2018 International League All-Star team is made up of 13 elected players who have received the most votes from ballots submitted by league managers & coaches (1/3), media representatives (1/3), and online fan voting (1/3). The elected players are joined by 20 additional All-Stars selected by the IL office. Each of the IL's 14 clubs will be represented in Columbus.
The Huntington Bank Triple-A Game presented by Gildan marks the 21st straight year that All-Star teams from the International League and the Pacific Coast League will face each other (the International League leads the series by a 12-8 margin since the game changed to the current IL vs. PCL format). The game will be televised live on MiLB.TV and broadcast on the Triple-A All-Star Game Radio Network which includes the PawSox Radio Network (920 AM & 104.7 FM WHJJ the flagship). The game will also be televised on MLB Network on July 18 (the night after the Major League All-Star Game and during the MLB All-Star break).
In an unusual quirk, the Triple-A All-Star Game will be played almost one week prior to the Major League All-Star Game as the MLB All-Star break takes place from July 16-19 with the MLB All-Star Game on July 17 in Washington D.C. (The MLB game is a week later than normal at the request of the host city in D.C.).
Castillo and Beeks will both celebrate their birthdays during All-Star week in Columbus as Castillo will turn 31 on July 9 and Beeks will be 25 on July 10 (one day before the All-Star Game). Brasier will have to wait a little more than a month later for his 31st birthday (August 26).
OF Rusney Castillo will be making his second straight appearance in the Triple-A All-Star Game this season after being a starting outfielder last year as well in the International League's 6-4 loss to the Pacific Coast League in Tacoma, WA. Rusney is currently 2nd in the International League in batting with a .315 average in 71 games (66 in the outfield) for the PawSox this season. He leads the league with 92 hits (10 more than the next two players with 82) and is 2nd in at bats (292). Castillo is the team leader in batting, games, at bats, runs (38), doubles (19), and is tied in stolen bases (7). Rusney was signed by the Red Sox as an international free agent on August 23, 2014 after five standout seasons in Cuba's major league, Serie Nacional where he hit .319 with 51 HR. This is his fifth season in the Red Sox organization. In parts of four seasons with Pawtucket he currently owns a career PawSox average of .293 in 301 games (349-for-1190). He helped the PawSox win the 2014 Governors' Cup as his game-tying RBI single with two outs in the top of the 9th-inning of Game 4 in Durham staved off elimination and enabled the PawSox to win the Cup in Game 5. Rusney has spent parts of 2014, 2015, and 2016 with Boston and in 99 games with the Red Sox he has a career average of .262 with 7 HR & 35 RBI.
LHP Jalen Beeks is 5-4 with a 2.40 ERA in 13 starts for the PawSox this season and he leads the International League with 101 strikeouts (in 75 innings). Beeks, who is 3rd in the league in ERA, has the lowest batting average against among IL qualifying pitchers (.201) and has the lowest WHIP (1.00). He also has the highest SO/9 IP ratio among starters (12.12) and has allowed the 2nd fewest baserunners/9 IP ratio (9.24). Jalen made his major league debut this June 7 in a start vs. Detroit at Fenway Park. Selected by Boston in the 12th round of the 2014 June Draft out of the University of Arkansas (where he was a teammate of current Red Sox outfielder Andrew Benintendi), Beeks was named 2017 Red Sox Minor League Pitcher of the Year after going 11-8 with a 3.29 ERA between Double-A Portland (9 GS) and Pawtucket (17 GS).
RHP Ryan Brasier is 11-for-12 in save opportunities for the PawSox this season and has posted a 1.50 ERA in 29 relief appearances (which is the 2nd best ERA among qualifying IL relievers). His 11 saves are 2nd most in the league, his 27 games finished are also 2nd most, and he is 2nd in the IL in both fewest baserunners/9 IP ratio (8.50) and lowest BB/9 IP ratio (1.50). Brasier has walked just 6 batters (along with 2 intentional walks) all season compared to 38 strikeouts in his 36 innings. He has not allowed an earned run in his last 17 outings (17.2 IP) and has allowed just 1 unearned run in that span (since May 14). Ryan was signed by the Red Sox as a minor league free agent this past March. He spent 2017 in Japan pitching for Hiroshima (a 3.00 ERA in 30 innings). The Texas native was originally drafted by the Angels in 2007 and made his Major League debut with the Angels in 2013.
Some other notable PawSox players who have appeared in the Triple-A All-Star Game since the event began in 1988 include: INF Tim Naehring (1990), 3B Scott Cooper & OF Phil Plantier (1991), RHP Brian Rose (1997), OF Trot Nixon (1998), RHP Tomo Ohka (2000), RHP Bronson Arroyo (2003), OF Brandon Moss (2007), RHP Clay Buchholz (2009, although Buchholz did not attend as he was called-up to Boston), catcher Christian Vázquez (2014, although he did not play), LHP Tommy Layne (2014), LHP Brian Johnson (elected in 2015 but did not attend), OF Jackie Bradley, Jr. (who did indeed play in 2015 after being sent back to Pawtucket from Boston in time for the game), OF Chris Marrero (who also won the 2016 Home Run Derby in Charlotte), OF Bryce Brentz (who won the 2017 Home Run Derby in Tacoma), and OF Rusney Castillo (an All-Star in both 2017 & 2018).