"Truck Day" in Pawtucket: PawSox to welcome World Champion Red Sox Spring Training Equipment Truck on Monday, Feb. 4
Paws and Sox to welcome fans of all ages St. Raphael Academy Students to "Shadow" PawSox Staff in post-Groundhog Day Tribute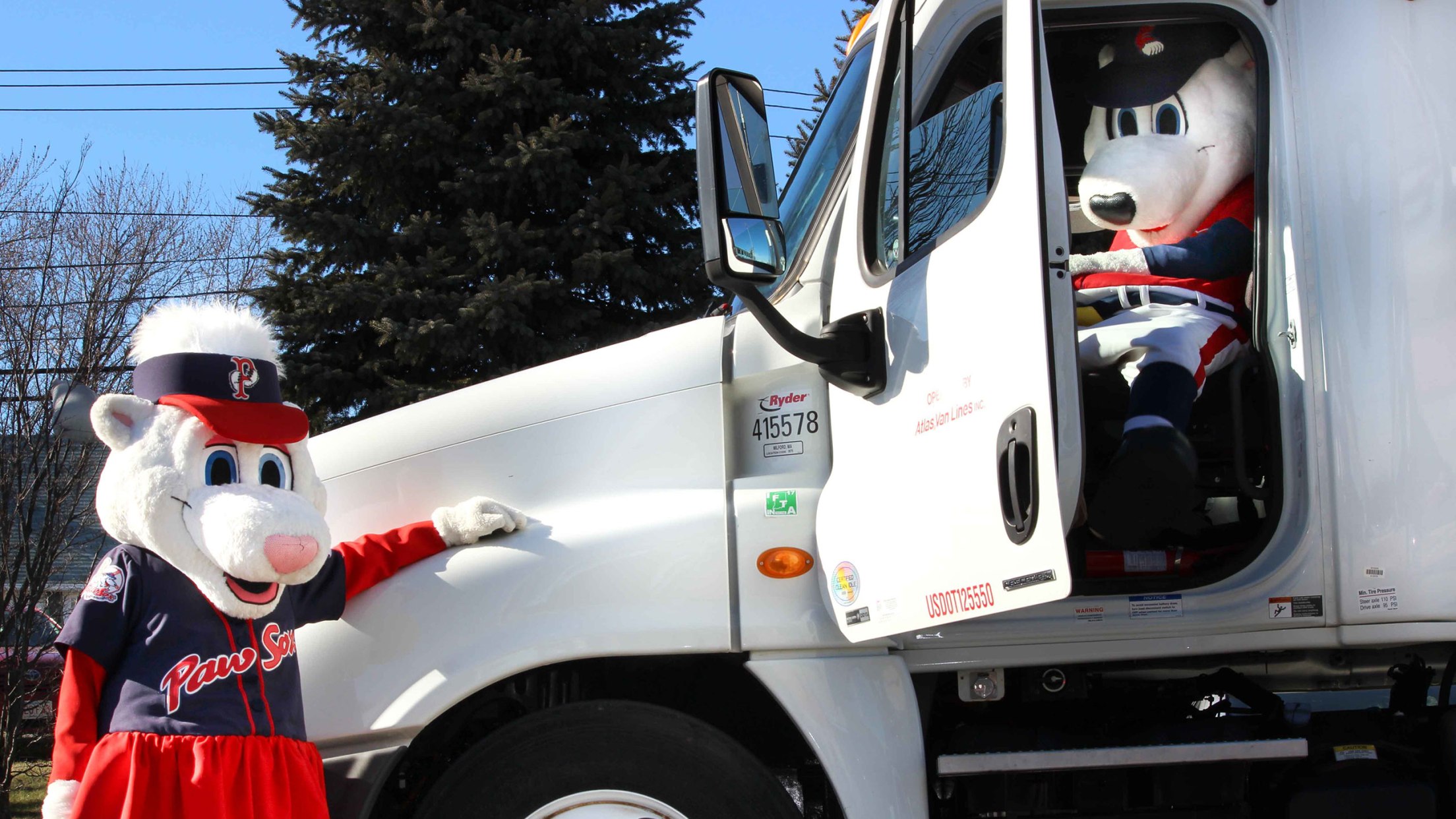 For the fourth straight winter, the Boston Red Sox Spring Training equipment truck will make a stop at McCoy Stadium on its way to Florida. On Monday, February 4 at approximately 1 pm, PawSox fans will welcome and then send the truck on its way to JetBlue Park in Fort
For the fourth straight winter, the Boston Red Sox Spring Training equipment truck will make a stop at McCoy Stadium on its way to Florida. On Monday, February 4 at approximately 1 pm, PawSox fans will welcome and then send the truck on its way to JetBlue Park in Fort Myers. Paws, Sox, club officials, dignitaries, and Linda Ruth Tosetti (the granddaughter of Babe Ruth) will all be on hand. Her visit comes two days before the Babe's 124th birthday!
In addition, in what has become a popular McCoy tradition on or near Groundhog Day every year, a number of St. Raphael Academy students will visit the ballpark on Monday morning and afternoon to "shadow" the PawSox front office. In honor of Groundhog Day (which is actually Saturday, February 2), the students will follow staff members throughout the day on Monday to get a glimpse of what a typical workday is like at McCoy.
Furthermore, the PawSox will be collecting non-perishable donations for the Rhode Island Food Bank at the event on Monday. Fans who bring a donation will receive a general admission ticket to Opening Night at McCoy (Thursday, April 11
when the PawSox host Syracuse at 6:05 pm).
The truck, which this year will be extra special considering it will be carrying cargo for the defending World Series Champion Red Sox, will be loaded in Boston starting at roughly 7 am on Monday and embark on its 1,480-mile trip from Fenway Park around noon. The vehicle will travel some 45 miles down the road and make a brief detour at McCoy Stadium, with fans of all ages invited to take photos, partake in other activities, and celebrate the long-awaited onset of spring. At approximately 1:45 pm, the truck will head back on the road to continue its journey south.
For the 21st straight year, Milford, MA native Al Hartz will drive the 53-foot truck, which will carry an assortment of baseball equipment and supplies, including: 20,400 baseballs, 1,100 bats, 200 pairs of batting gloves and helmets, 320 batting practice tops, 160 white game jerseys, 300 pairs of pants, 400 pairs of socks, 20 cases of bubble gum, and 60 cases of sunflower seeds. The celebration of Truck Day has been a Red Sox tradition since 2003 and signals the unofficial start of Spring Training.
All media outlets are welcome to cover this coming Monday. The truck will be parked on Mondor Way in front of the McCoy ticket office.
Boston Red Sox pitchers and catchers will conduct their first spring training workout in Fort Myers, FL on February 13. The PawSox home-opener at McCoy Stadium will take place on Thursday, April 11 when they host the Syracuse Mets at
6:05 pm.