Blue Wahoos Add Top Prospect Nunez and Midwest League ERA and Batting Average Leaders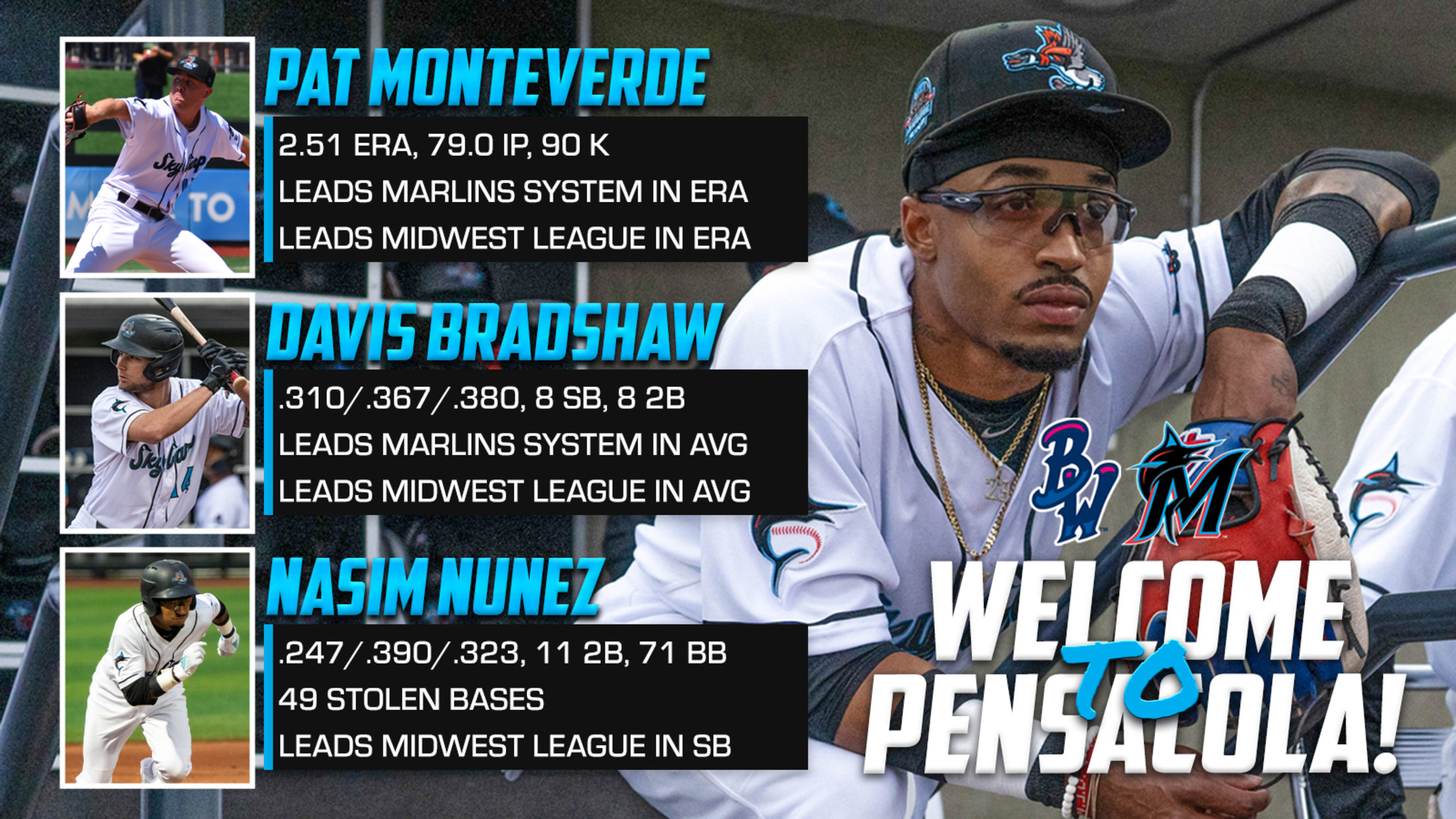 PENSACOLA, FL – Prior to their road series against the Montgomery Biscuits, the Pensacola Blue Wahoos made multiple roster moves, inluding adding top prospect infielder Nasim Nunez, starting pitcher Pat Monteverde, outfielder Davis Bradshaw, and infielder Demetrius Sims. Nunez, ranked as the Marlins #17 prospect by MLB Pipeline, hit .286
PENSACOLA, FL – Prior to their road series against the Montgomery Biscuits, the Pensacola Blue Wahoos made multiple roster moves, inluding adding top prospect infielder Nasim Nunez, starting pitcher Pat Monteverde, outfielder Davis Bradshaw, and infielder Demetrius Sims.
Nunez, ranked as the Marlins #17 prospect by MLB Pipeline, hit .286 with an extraordinary .480 on-base percentage for the High-A Beloit Sky Carp in the month of July. A tremendous defensive shortstop who could "contend for a Gold Glove in the big leagues right now" according to MLB Pipeline, Nunez leads all Marlins minor league players with 49 stolen bases this season. A second round pick in the 2019 Draft, the 21-year-old has hit .247 with 11 doubles and 71 walks this season in Beloit.
Monteverde, a 24-year-old lefty, leads all qualified Marlins minor league starting pitchers with a 2.51 ERA this season with the Beloit Sky Carp. An eighth round selection in 2021 from Texas Tech, Monteverde has struck out 90 batters in 79.0 innings across 15 starts for Beloit this season, leading the Midwest League in ERA.
Bradshaw, primarily a corner outfielder, leads all qualified Marlins minor league hitters with a .310 average this season in Beloit. He leaves the Midwest League as the league leader in batting average, holding a .310/.367/.380 slash line. The 24-year-old was an 11th round selection in the 2018 Draft from Meridian Community College (MS).
Additionally, infielder Demetrius Sims returns to Pensacola after playing 35 games with the Triple-A Jacksonville Jumbo Shrimp in 2022. The 2021 winner of the MiLBY Award for "Play Of The Year", Sims hit .196/.290/.275 with 17 stolen bases in Pensacola in 2021.
Concurrently, outfielder Victor Victor Mesa, infielder Ray-Patrick Didder, and starting pitcher Jeff Lindgren were promoted to Triple-A Jacksonville. The trio joins former Blue Wahoos pitchers Colton Hock, Cody Mincey, and Anthony Maldonado in Jacksonville following their promotions from Pensacola on Friday.