Pensacola's McCants, Three Blue Wahoos Players Earn 2022 Marlins Player Development Awards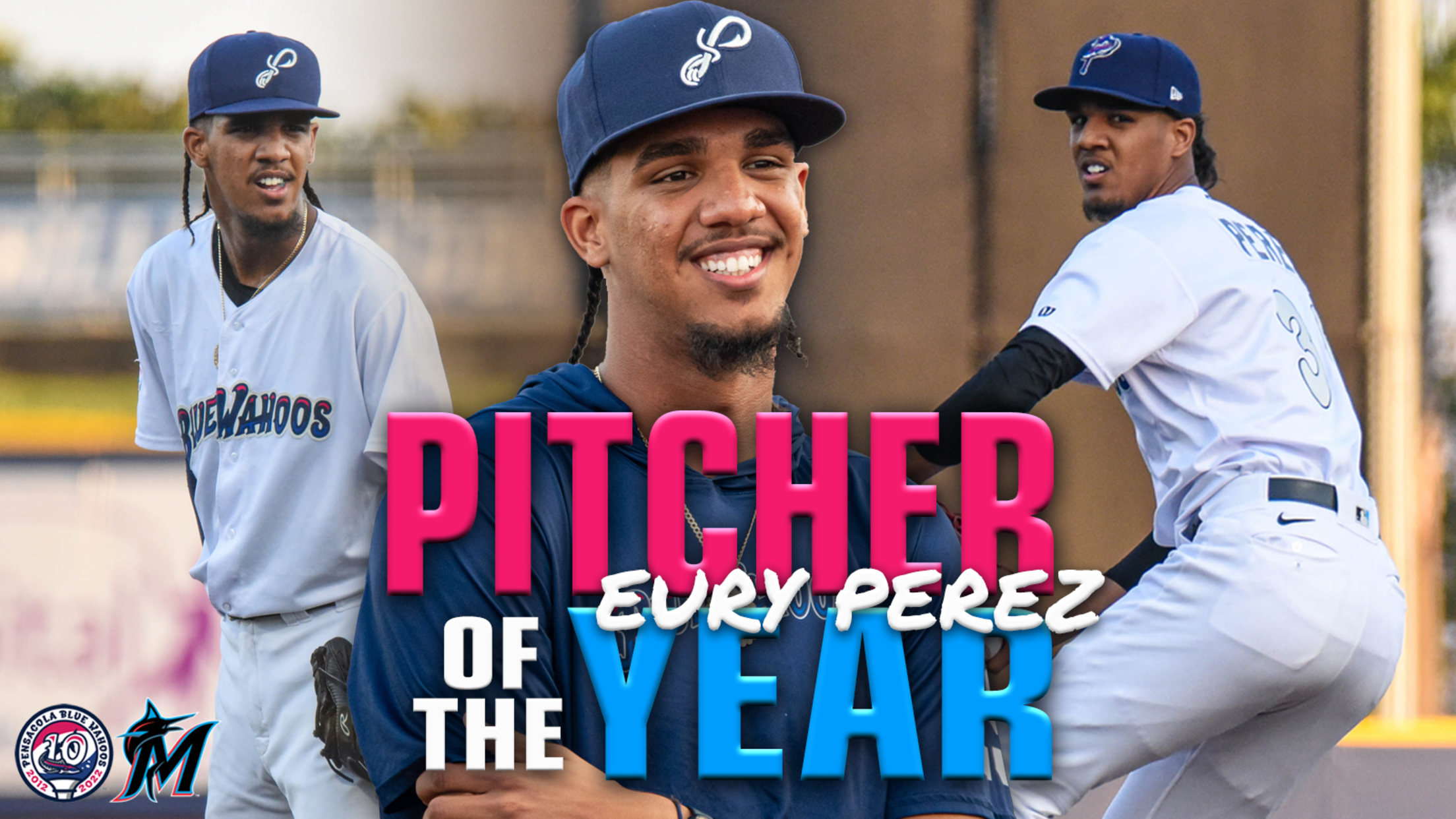 During the Miami Marlins' minor league spring training camp, Pensacola native Jordan McCants became friends with several players who greatly factored into the Blue Wahoos championship season. Guys like pitcher Eury Perez, shortstop Nasim Nunez and many others. "We became close," McCants said. "I got to meet Eury, Nasim, a
During the Miami Marlins' minor league spring training camp, Pensacola native Jordan McCants became friends with several players who greatly factored into the Blue Wahoos championship season.
Guys like pitcher Eury Perez, shortstop Nasim Nunez and many others.
"We became close," McCants said. "I got to meet Eury, Nasim, a lot of those guys, to get to know them and become cool with them."
They now have another special connection as recipients with Pensacola links in the 2022 Marlins Player Development Awards.
The group is led by Perez, the 19-year-old wunderkind, was named the Marlins minor league pitcher of the year, following his outstanding season with the Blue Wahoos. Perez is rated the Marlins' overall No. 1 prospect and was the Blue Wahoos starting pitcher against the Tennessee Smokies on Sept. 28 in the deciding game of their Southern League championship series.
Also earning the Marlins Player Development Awards was Nunez as the High-A MVP from his first half success with the Beloit Sky Carp. He played 38 games with the Blue Wahoos, after joining the Blue Wahoos on Aug. 2. Nunez, rated the Marlins' No. 24 prospect by MLB Pipeline, compiled 70 stolen bases in 2022, including 38 with the Blue Wahoos. He set career highs in combined totals this season with 41 RBI, 75 runs scored and 17 doubles.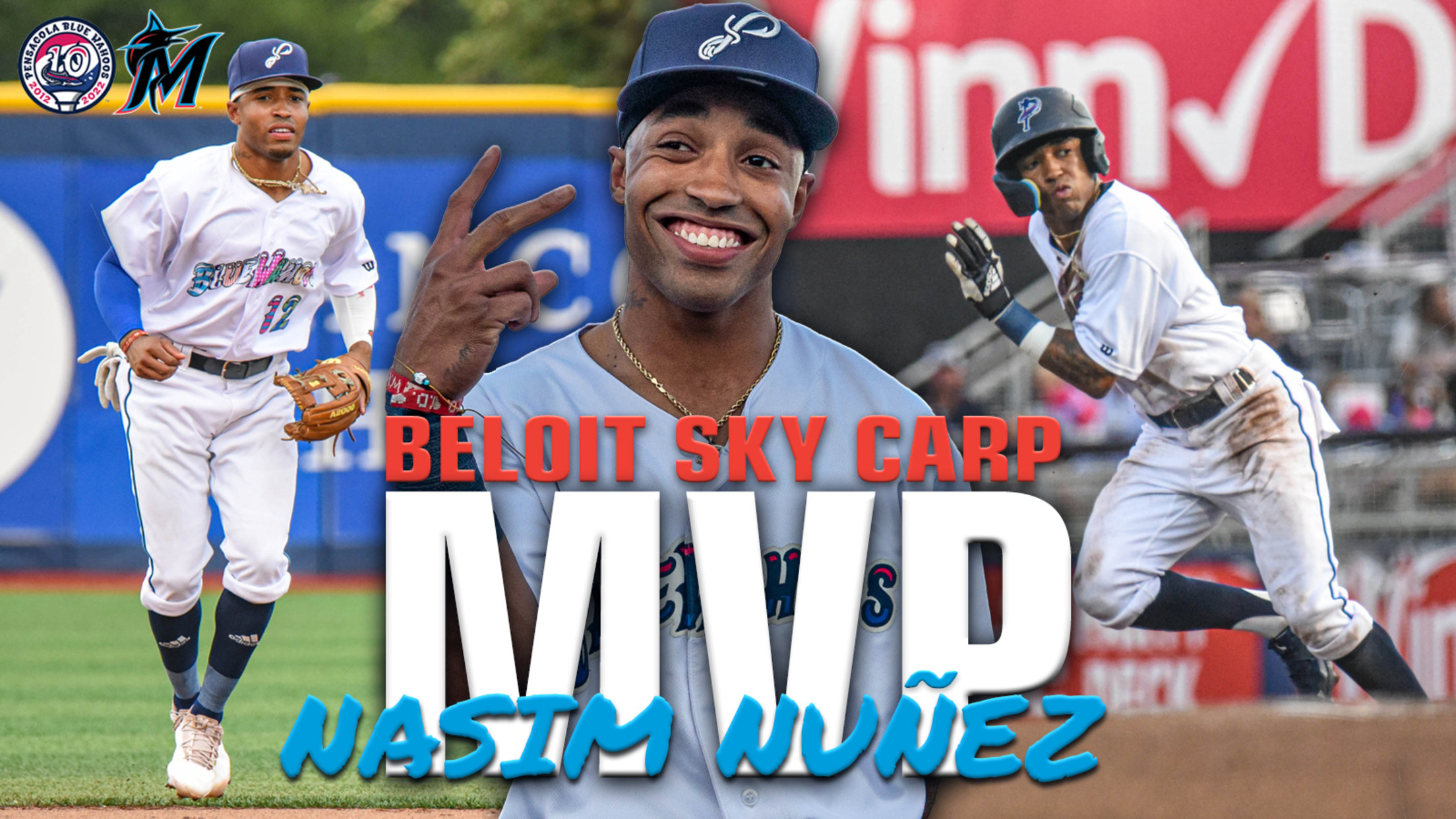 In addition, the Blue Wahoos first-half star, Troy Johnston, was named the Marlins' Double-A MVP, after batting .292 with a whopping .810 OPS (On-Base Percentage plus Slugging) in 85 games in Pensacola before getting promoted to Triple-A Jacksonville.
Johnston had 20 doubles, 10 homers, 49 RBI and 42 runs scored. He's the Marlins' No. 21 overall prospect by MLB Pipeline.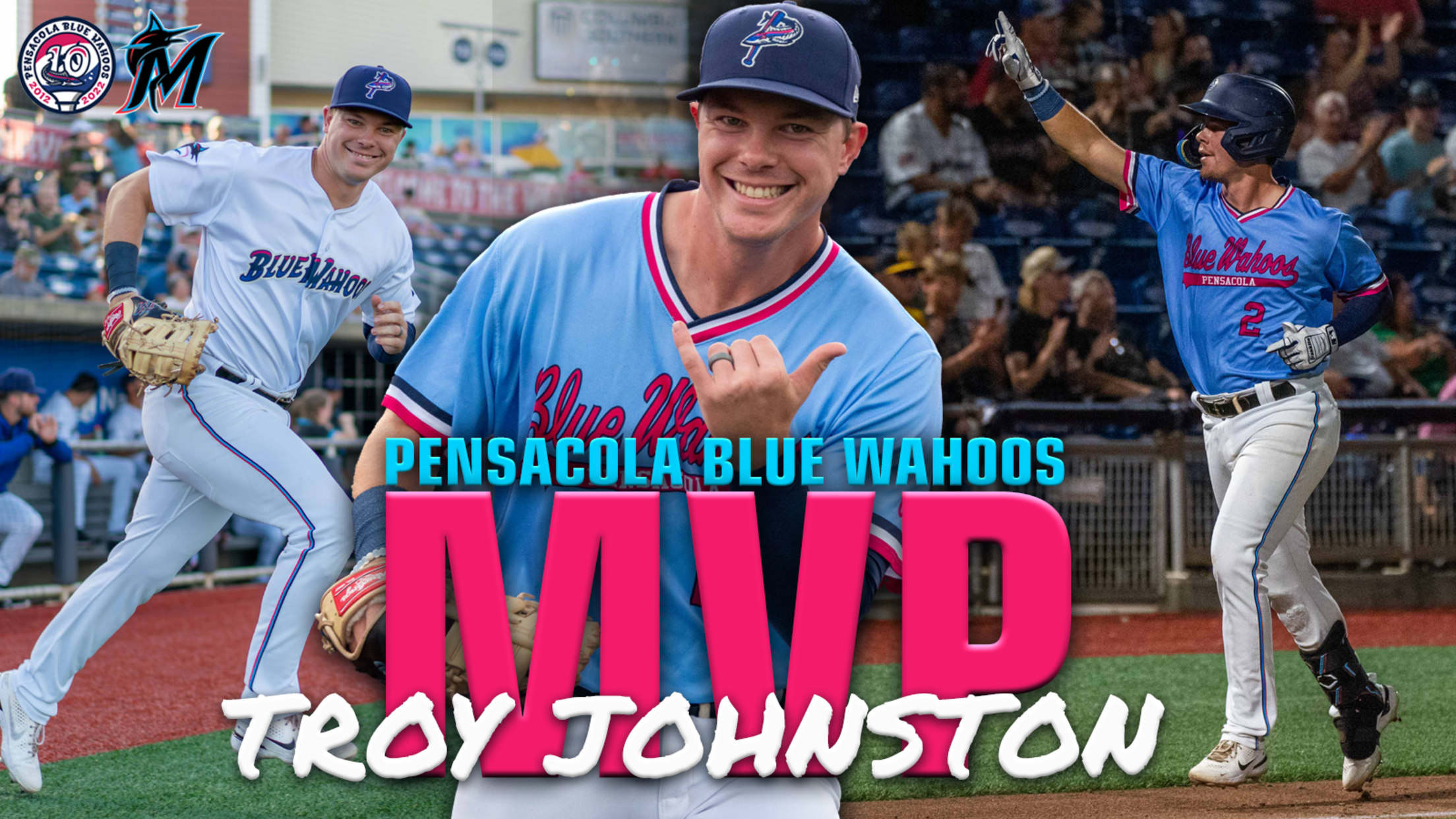 McCants, 20, a Pensacola Catholic graduate, spent his first full season with the Marlins' Florida Complex League (FCL) team in Jupiter. He joined with his roommate Noah Williamson to become co-recipients of the Marlins' 2022 Minor League Co-Service Members of the Year Award.
In the Jupiter and West Palm Beach area, where they represented the organization, Jordan spoke with kids, and helped introduce them to playing baseball and softball. The duo worked with Colleen Mitchell, manager of player care and service for the Marlins, to visit schools and community centers to help inspire kids.
."They volunteered for every single event," said Hector Crespo, the Marlins director of minor league operations. "Our service initiatives are built around youth baseball and youth softball, promoting the game, getting kids outside and getting a feel for what those sports and entail and about life.
"Jordan was by far, the pioneer of that group. He had conversations with these kids and just shared wisdom of his experiences and getting those guys excited about not only baseball, but life in general."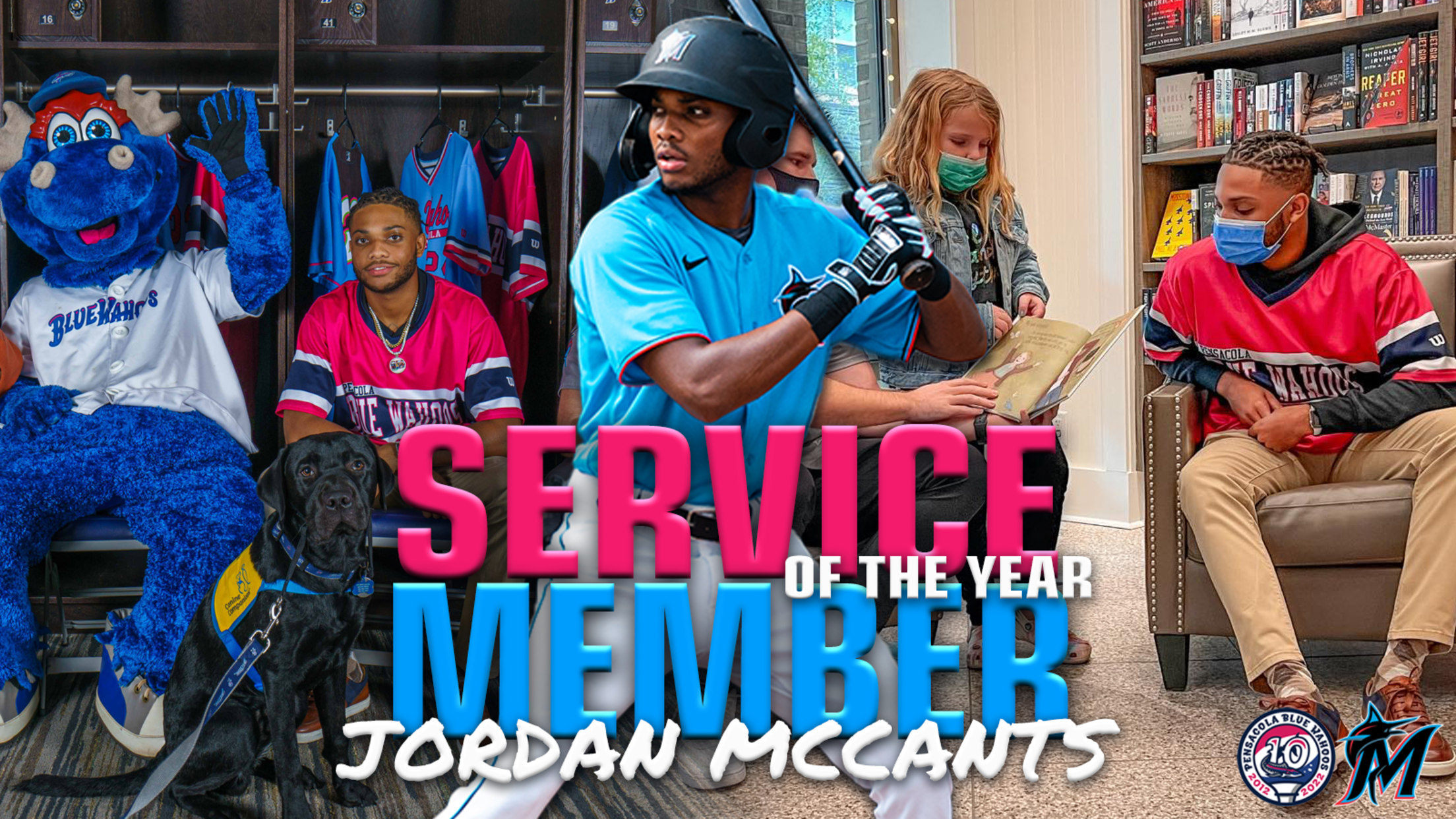 McCants, a versatile infielder, finished his season with the FCL Marlins in late August. He played in 50 games, batting .245 with nine doubles, five triples, 11 RBI and .342 slugging percentage.
"It was a test," McCants said. "We actually played about 70 games if you count the spring training games and we were down there in Jupiter for about eight months, so it's a long season.
"You had your good and bad days and it makes you realize how much you have to love the game of baseball in order to continue to play at the highest levels. I think that was the biggest test… to just keep being yourself.
"Pro ball tests you physically and mentally. You have to stay healthy. You have to try and just stay on the field and keep working. It was great overall experience."
McCants' said he followed the Blue Wahoos playoff run while back at home in Pensacola. He got to know several more Blue Wahoos players including catchers Will Banfield and Paul McIntosh, pitcher Patrick Monteverde, relievers Jefry Yan and Sean Reynolds, and Marcus Chiu, whose locker was adjacent during spring training.
"I know I'm going to forget names of some other guys, but it was good to meet them all and hopefully I will be in Pensacola one day as a player," said McCants, the third round pick of the Marlins in the 2021 draft.
The Blue Wahoos became the first Marlins' minor league affiliate since the 2014 Jacksonville Suns – formerly a Southern League member – to win a league championship.
"We are so proud of that group and obviously it starts with (team owner) Quint (Studer) and (team president) Jonathan (Griffith) and us having a good relationship with them," Crespo said. "And also, how they go above and beyond in taking care of our players. I can't thank them enough for the relationship and partnership we have with Pensacola.
"Our staff with (manager) Kevin Randel, (assistant coaches) Scott Seabol, Dave Eiland and Frankie Moore… I think they did an incredible job of keeping these guys focused each game.
"Of all the affiliates that we have, there probably wasn't as many (high rated) prospects as some other clubs. So it's even more impressive this staff was able to get this group together and credit to the players for camaraderie they showed and fight to win."
The Blue Wahoos' award winners were part of continued player movement throughout the minor league system. In the second half of the season, the Blue Wahoos had more than 70 roster moves.
"With the amount of injuries we had, we had a lot of guys who came up from High-A Beloit and helped that team win," Crespo said. "Just a complete team effort.
"It's incredible testament to our staff in Beloit for preparing these guys. We would never promote a guy if we didn't feel they were ready for the next level."
In addition to the Marlins awards, former Blue Wahoos pitcher Edward Cabrera, who made a couple injury rehab starts this season and was part of the Blue Wahoos 2021 team, was named Marlins rookie of the year by the Miami chapter of the Baseball Writers Association of America.
MIAMI MARLINS 2022 PLAYER DEVELOPMENT AWARDS
Player of Year – Yiddi Cappe' (Shortstop, Jupiter Hammerheads)
Pitcher of Year – Eury Perez (Pensacola Blue Wahoos)
Triple-A MVP – Charles Leblanc (Third baseman, Jacksonville Jumbo Shrimp)
Double-A MVP – Troy Johnston (First baseman, outfielder Pensacola Blue Wahoos)
High-A MVP – Nasim Nunez (Shortstop, Beloit Sky Carp)
Low-A MVP – Jose Salas (Infielder, Jupiter Hammerheads)
FCL MVP – Javier Sanoja (infielder, centerfield, FCL Marlins)
Dominican Summer League (DSL) MVP – Jose Gerardo (outfielder DSL Marlins)
DSL Miami MVP – Marco Vargos (Infielder, DSL Miami)
Service Members of the Year – Jordan McCants, Noah Williamson (FCL Marlins).