Blue Wahoos Holiday Gift Guide
10 great gifts for the baseball fan on your list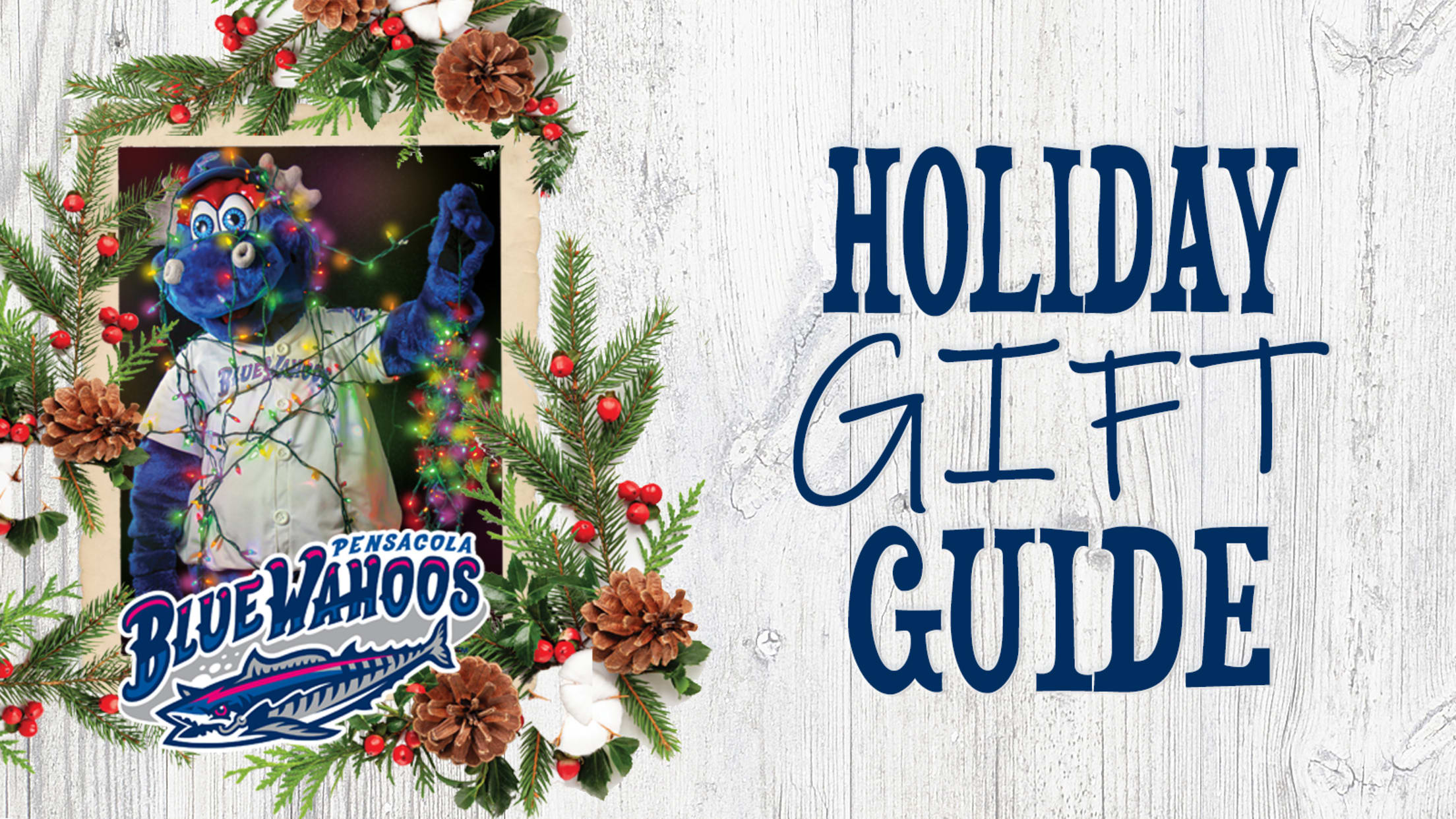 Take the hassle out of the holidays this year by picking up the perfect gift for the baseball fan in your life from the Blue Wahoos and save big during our 12 Days Of Christmas special!During each business day between December 6th and December 23rd, we'll be offering an exclusive
Take the hassle out of the holidays this year by picking up the perfect gift for the baseball fan in your life from the Blue Wahoos and save big during our 12 Days Of Christmas special!
During each business day between December 6th and December 23rd, we'll be offering an exclusive one-day-only special discount or deal on Blue Wahoos apparel, merchandise, and ticket packages both in-person at the ballpark and online!
Plus, we'll toss in a free Blue Wahoos Santa Hat with every order made between December 6 and December 23!
Here's how you can save each day:
Friday, December 6: Free bobblehead with any Flex or Mini Plan purchase
Monday, December 9: $5 stocking stuffers
Tuesday, December 10: 25% off all women's apparel
Wednesday, December 11: 25% off all men's apparel
Thursday, December 12: 25% off winter weather gear
Friday, December 13: 20% off beach gear
Monday, December 16: 20% off all headwear
Tuesday, December 17: 25% off all youth apparel
Wednesday, December 18: 25% off 47 Brand apparel
Thursday, December 19: 25% off Retro Brand apparel
Friday, December 20: Free Bubba Watson signed baseball with any $100 purchase
Monday, December 23: 25% off all Nike apparel
(all deals are while supplies last)
Visit the Bait & Tackle Store Online
Not sure what to get the baseball fan in your life? Check out our holiday gift guide below for 10 great gift ideas!
1. Season Tickets: The ultimate present for your favorite baseball fan! Gift them an entire season of walk-off wins, unforgettable moments, giveaways, and fireworks while unlocking exclusive Season Ticket Member benefits!
Full-Season Memberships start as low as $7.50 per game!
2. Mini Plan: Buying a gift for a busy baseball fan? That's okay! With a Blue Wahoos Mini Plan, gift any combination of 5 or more games during the 2020 season! Not sure what games to pick? Let us help by grabbing one of our popular pre-made plans like The Weekender (every Friday, Saturday, and Sunday game), the Giveaway Fridays Plan, or the Fireworks Plan (all 16 fireworks shows)!
Purchase your Mini Plan on Friday, December 6 and receive a Blue Wahoos bobblehead as a free stocking stuffer during our 12 Days of Christmas special (in-stadium pick-up only)!
3. Personalized Jersey: Create an unforgettable gift by customizing a Blue Wahoos replica jersey with the name and favorite number of your baseball fan on the back! Fully-customized jerseys are just $100, a bargain when you see the look on their face when they unfold their new jersey and see their name on the back on Christmas morning!
4. Game Used Jerseys: Gift a piece of Blue Wahoos history this Christmas and give the baseball fan in your life their favorite Wahoos player's game worn jersey! The Bait & Tackle Shop also has game used player jersey nameplates and select game worn hats!
5. Stocking Stuffers: Fill your favorite ballplayer's stocking with Blue Wahoos stocking stuffers including baseball card sets, logo baseballs, keychains, mini bats, tattoos, bumper stickers, pennants, and more!
Buy your stocking stuffers on Monday, December 9 and save big during the 12 Days of Christmas! All stocking stuffers will be just $5!
5. Ballpark Birthday Party: Two birds, one stone. Reserve your ballpark birthday party during the holiday season and start planning the best birthday party for your young ballplayer! We'll provide a ballpark meal and gift for each partygoer, a pre-game Cox Clubhouse picnic with a visit from Kazoo, recognition on the video board, and a Happy Birthday sing-a-long on the dugout! We can even add in an exclusive Blue Wahoos birthday cake!
7. Kazoo Merch: Everyone's favorite mascot headlines a broad selection of great children's holiday gifts! Grab a Kazoo plush or puppet, a copy his book Kazoo Makes The Team, Kazoo t-shirts, as well as other great gifts for kids! Choose from our large inventory of youth apparel including our ultra-popular Just Here For The Roach Run T-shirt!
Grab your gifts on Tuesday, December 17 and save 25% on all youth apparel during our 12 Days of Christmas!
8. Winter Apparel: Pensacola might be on the beach, but it gets cold in Twins Territory! Keep all the baseball fans in your life warm this holiday season with a Blue Wahoos sweatshirt, long-sleeved T, stocking cap, or knit headband!
Take 25% off all Winter Gear on Thursday, December 12 during our 12 Days of Christmas special!
9. Family Sunday Package: Take care of the entire family with just one gift this Christmas by securing your Family Sunday Plans for the 2020 season! Enjoy all 11 of our Family Sunday games packed full with family-friendly fun including post-game kids run the bases and family toss in the outfield as well as exclusive character appearances! Plans start at just $77 per person!
10. Gift Card: Can't decide what gift to get? Blue Wahoos Gift Cards can be used for tickets, in-stadium food, and on merchandise in the Bait & Tackle Store!