A Memorable Valentine's Weekend Proposal On Pitcher's Mound At Blue Wahoos Stadium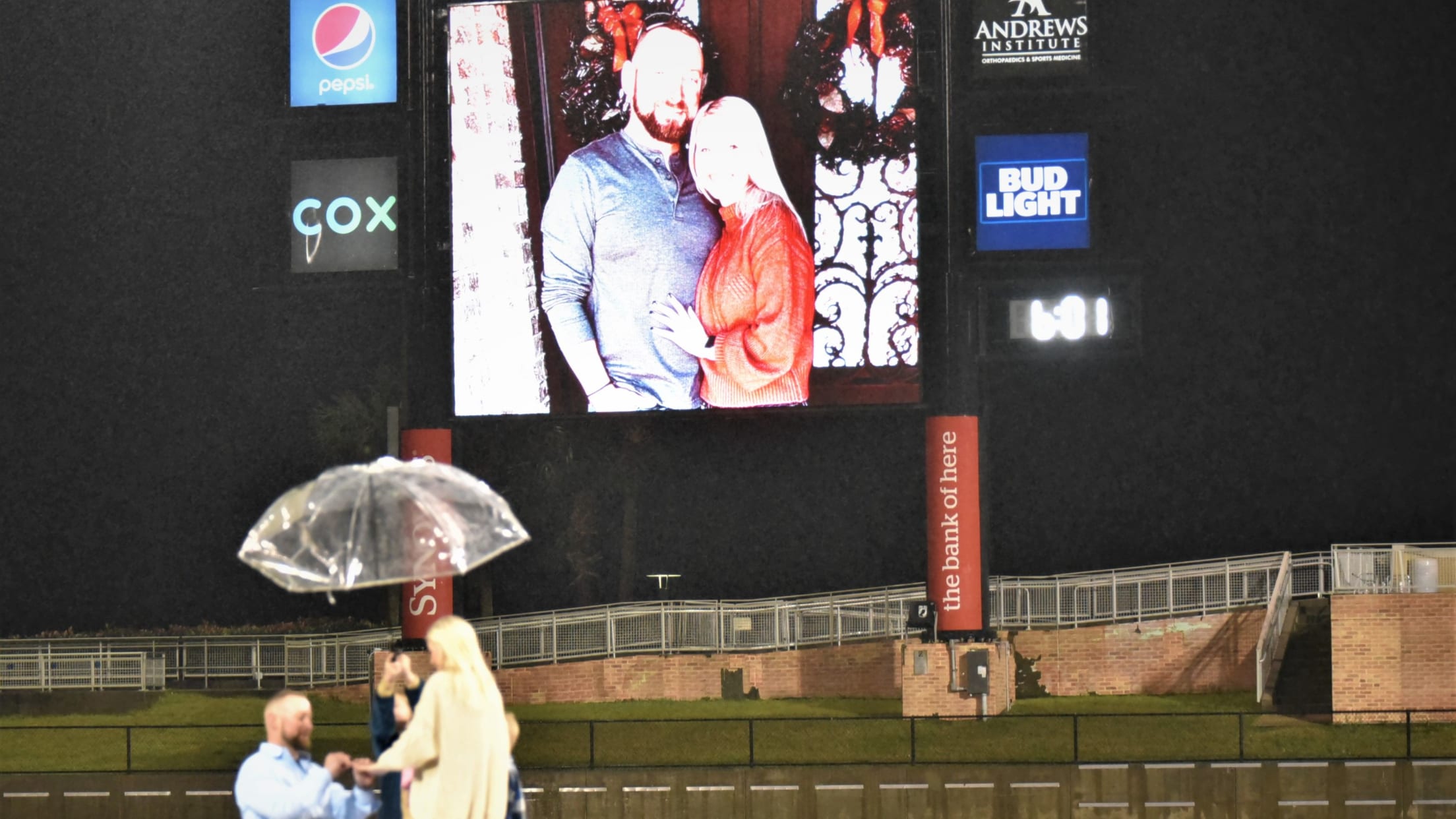 David Seckinger proposes to Lauren Chavers on Feb. 12, 2021 at Blue Wahoos Stadium, adding to stadium's special event memories. (Bill Vilona)
The light, steady drizzle on this night at Blue Wahoos Stadium fail to deter from the moment, a romantic 30-second proposal on the decorated pitcher's mound. David Seckinger dropped to one knee, engagement ring in hand, an umbrella held by daughter Taylor, while popping the question to Lauren Chavers. As
The light, steady drizzle on this night at Blue Wahoos Stadium fail to deter from the moment, a romantic 30-second proposal on the decorated pitcher's mound.
David Seckinger dropped to one knee, engagement ring in hand, an umbrella held by daughter Taylor, while popping the question to Lauren Chavers.
As she accepted with embrace, shocked with excitement, she then heard the surprise applause from family members watching in secrecy above third base from the Hancock-Whitney Club.
"Oh my gosh, I had no idea, but the music (as they walked out) kinda gave it away," said Chavers, smiling, her voice shaking with emotion.
Minutes earlier, the couple walked out on a white, sheet that had rose petals sprinkled on way from the dugout gate to the pitcher's mound, which was also wrapped in white. Candles were placed along the way.
Once the proposal was made, a congratulatory message instantly flashed on the video board with the couple's portrait. It made for a special Valentine's weekend moment. Another memory Feb. 12 to the stadium's array of unique events.
"Having the stadium all to yourself with the lights on, the soft music, the video board message… it's something that just feels special and can lend itself to an engagement," said Shannon Reeves, the Blue Wahoos' events director who booked the proposal event weeks earlier with the help of Chavers' sister, Brianna.
Seckinger had told his fiancé they were going to attend a kids' birthday party at the stadium. Taylor and her younger brother Luke were in on the secret.
"I just this was a good place to do it," Seckinger said. "I just felt like I wanted (proposal) to be here and I got help from my sister-in-law."
Afterward, the couple met with family and then had a reception inside the stadium's Better Homes and Garden Lounge on the first base side.
Blue Wahoos executive chef Travis Wilson prepared light food and the room was decorated with balloons, ribbons and signs.
"We try to make it really special," Reeves said. "We have the video board where you can show photos. And we can have the music over the speakers. To me, that's what makes it extra special. Especially the couples who have a connection to the stadium."
It's part of the options Blue Wahoos Stadium provides. Reeves has booked previous engagements and gender-reveal parties.
"And we can even go bigger," she said. "We could have everything set up in the Hancock-Whitney Club, turn off the lights, then after the proposal, turn on the lights to the club level and have everything set up there.
"So that would be really fun. Having all the room at the stadium, along with it being empty, gives us a lot of options for these kind of things to happen."