UWF Football Playoff Game Latest In Banner November At Blue Wahoos Stadium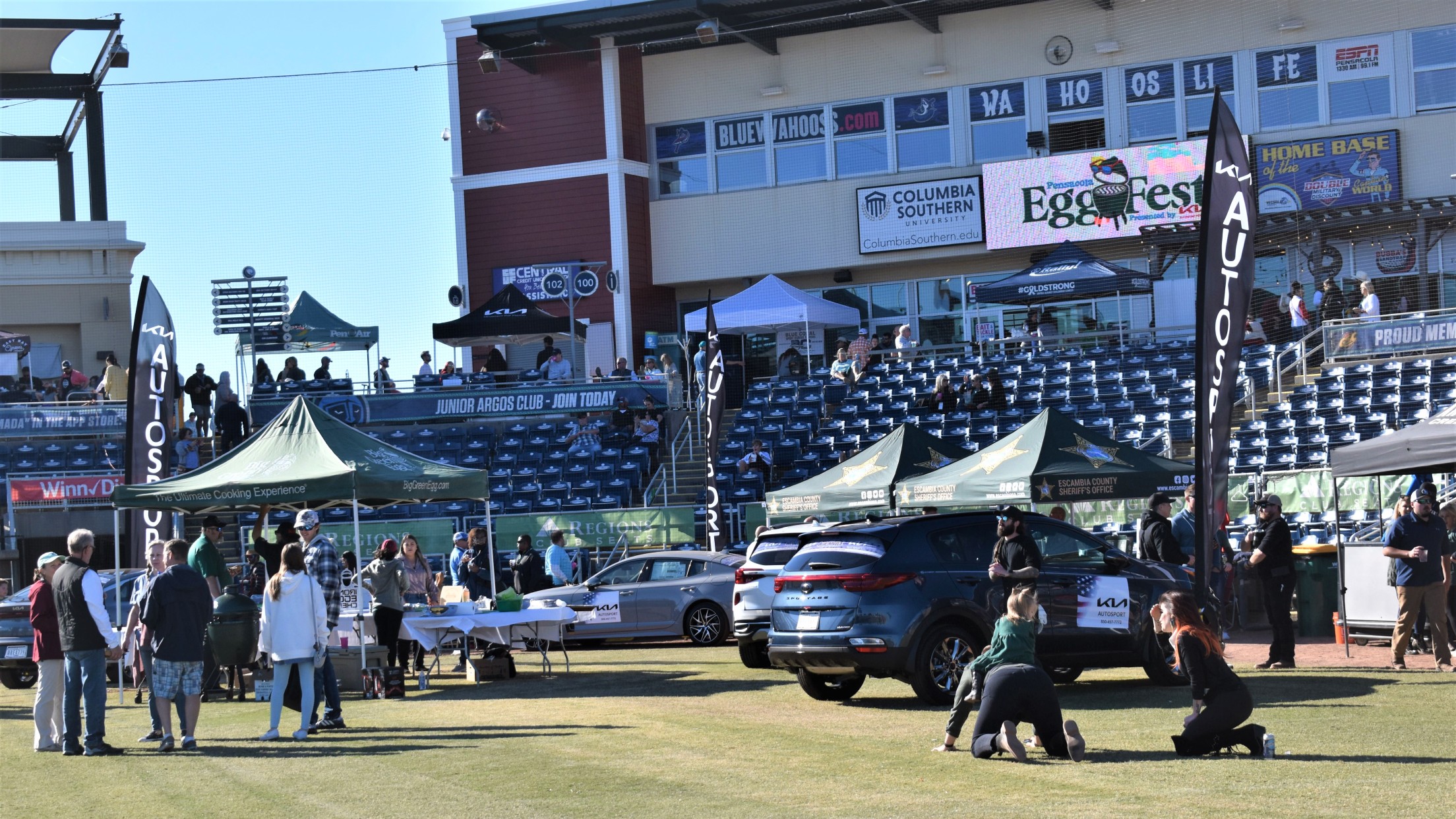 Pensacola EggFest returned Nov. 10 to Blue Wahoos Stadium, following last year's cancellation due to COVID-19 and continued the stretch of special fall season events at the ballpark. (Bill Vilona)
In past years, this has been the time when Blue Wahoos Stadium slowed down with events and activities. Not this year. Not now. Saturday's University of West Florida football game in the NCAA Division II playoffs, another stadium first, continues a breakthrough period for weekend events that began the first
In past years, this has been the time when Blue Wahoos Stadium slowed down with events and activities.
Not this year. Not now.
Saturday's University of West Florida football game in the NCAA Division II playoffs, another stadium first, continues a breakthrough period for weekend events that began the first week of October.
The six-week stretch continued of impactful events continued with the annual Pensacola EggFest on Nov. 14, one of the signature community gatherings during fall season. It happened a day after UWF attracted a record crowd of 7,100-plus for its game against Valdosta State.
"Since October 2nd, we've had huge events at the stadium every single weekend," said Shannon Reeves, the Blue Wahoos events manager. "Last weekend was sort of a grand finale of what has been huge weekends, huge community events.
"Historically, in my years here, we have seen a bit of a drop-off once November comes, but this year, events have stayed consistent through the end of the year, so we are super grateful for that."
The EggFest barbecue event, presented by Kia Autosport as the lead sponsor, was canceled a year ago due to the ongoing coronavirus pandemic. It returned in a big way.
There were 150 cooks, 83 Big Green Egg grill cookers used and more than 1,000 people attending to sample a wide variety of delicious food.
"It was a record event for us in all categories," said Jerold Hall, the Eggfest chairman. "We could have probably sold 2,000 tickets if we wanted, but we don't want to overwhelm the cooks and cooking teams. We feel like this is a good, manageable amount of people.
"When you add the cook teams, we typically have about 1,200 to 1,400 at the stadium. I don't know if we could even have this event without Blue Wahoos Stadium."
A record donation of beyond $40,000 will be made to local charities. Hall also factored an direct economic impact for Pensacola of more than $150,000 with several cooks or team members traveling to Pensacola on planes and bringing families.
This year's event allowed more open space by utilizing the field and having children and families enjoy the afternoon on the grass outfield.
"It is so fun," Reeves said. "EggFest has always been on a Sunday and this time, the weather couldn't be more perfect. There is a lot going on the field, which I think just spreads it out even more."
The busy weekend at the ballpark extended what has been a calendar packed with ticketed public events, along with private events like the Nov. 9 U.S. Marine Corps Birthday ceremony, attended by area Marines.
Blue Wahoos Stadium hosted the Soul Bowl Youth Football Games on Oct. 2, followed by the First City Art Center Pumpkin Patch the following weekend, followed by the Nitro Circus stunt action-sports show Oct. 14 and the first UWF home football game at the stadium since 2019 on Oct. 16.
Those events were followed by another UWF football game, Light Up Learning gala, a Halloween Trick-or-Treat Movie Night with fireworks and two high school homecoming parties.
"Just like so many other things, we are seeing more people, more tickets, better turnout," Reeves said. "People are excited to be out and about and we've seen this trend. People are happy to be out and not in their homes anymore.
"I keep joking with our (front office) team here at the Blue Wahoos, that next week it is going to slow down, and next week it will slow down. But it really doesn't. And it hasn't. And we are so grateful for that."
Pensacola EggFest began in 2013. It morphed from an idea that Hall had on a sandwich festival at Blue Wahoos Stadium. It was suggested by a former Blue Wahoos events director that Hall create a cookout with the Green Egg grills.
From that point the event grew to now when 36 Green Egg grill stations were set up on the stadium concourse and along the warning track area behind the grass infield.
Pen-Air Federal Credit Union, T-Mobile, media partner Cat Country 98.7 FM, along with other sponsors joined together to help put on the event.
The event gained further awareness when popular author Sean Dietrich, whose "Sean Of The South" podcast and newsletter has a wide following, along with his work in Southern Living and other publications, profiled the Pensacola EggFest in his latest work.
"It really just showcases Pensacola, too, and what makes our community special," Hall said.