Without A Season, The Blue Wahoos Have Pivoted To Fill Void With Variety Of Ballpark Events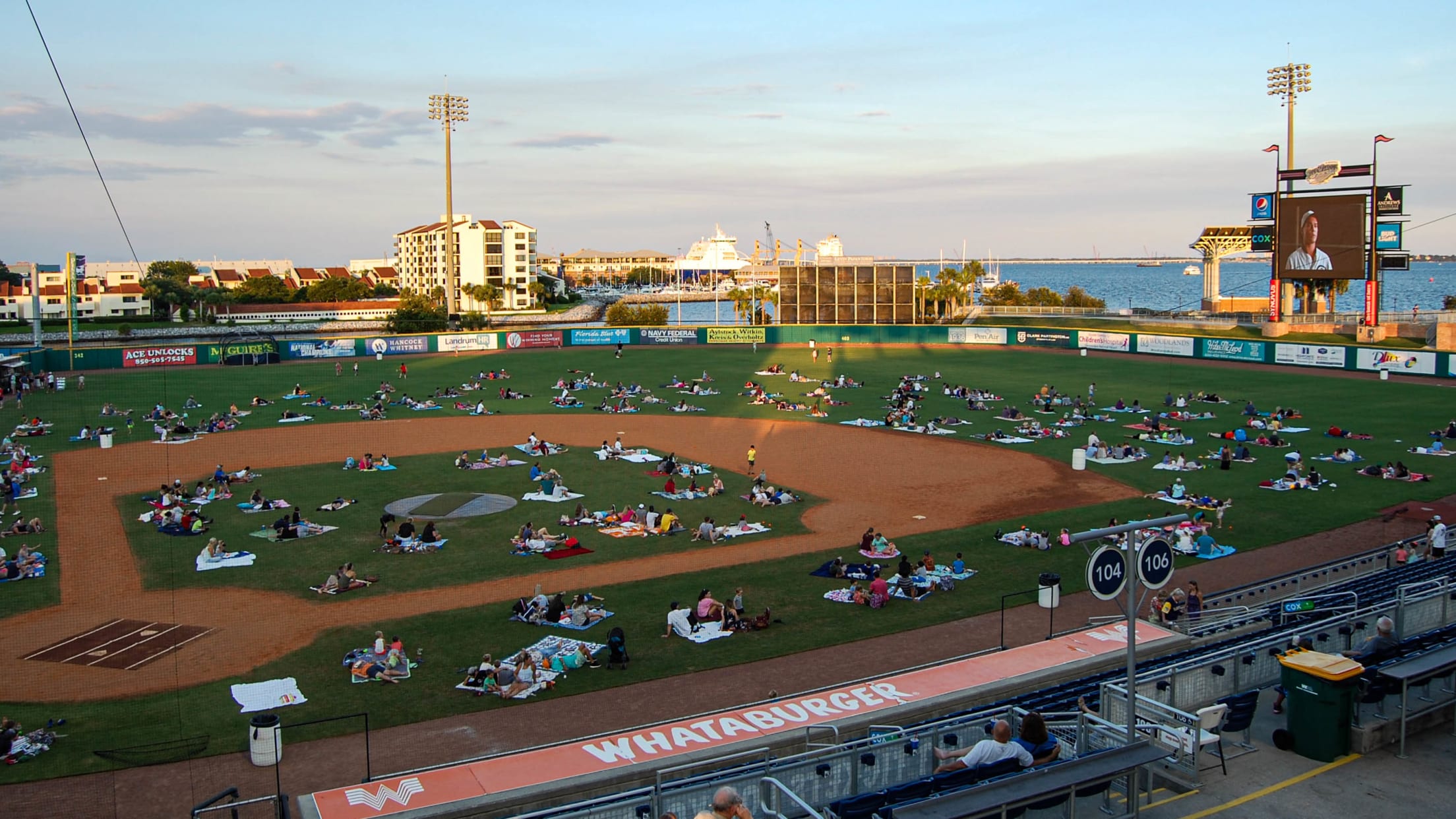 The first half of the 2020 Southern League season ended this week. Unfortunately, the Blue Wahoos have yet to play a game due to the COVID-19 pandemic and the chances that they play at all remain slim. While all 35 first half Blue Wahoos home game in Pensacola have been
The first half of the 2020 Southern League season ended this week.
Unfortunately, the Blue Wahoos have yet to play a game due to the COVID-19 pandemic and the chances that they play at all remain slim.
While all 35 first half Blue Wahoos home game in Pensacola have been postponed, that hasn't stopped the team from providing affordable family fun events in the ballpark.
Already, at just the halfway point of the season, more events have been held at Blue Wahoos Stadium this year than would have been held in an entire Minor League regular season.
The combination of stadium dining, trivia and bingo competition, disc golf, movie and fireworks nights, the creation of an Airbnb experience, along with other special events, have filled the void left by the baseball season and allowed Blue Wahoos Stadium to continue to function as a safe, fun gathering place for local families.
"As I have said throughout this year, this is probably my favorite year that I've ever had owning the Blue Wahoos. And it's the first year we haven't had baseball," said team owner Quint Studer.
"When Rishy and I got involved in 2005 to build a stadium in Pensacola, we said it was going to be a community melting pot, a neighborhood," Studer said. "We never said the stadium was only going to be used for baseball. We are really excited for what we are doing now."
Today, the Blue Wahoos would have hosted their 36th home game of the season, kicking off the second half of their schedule. Instead, they'll host a Thirsty Thursday '90s Trivia competition, their 85th event in the stadium since April.
When Major League Spring Training was shut down and the start to the season was postponed, the Blue Wahoos acted quickly to find safe new ways to utilize their ballpark, beginning with curbside pick-up concessions offering throughout the week.
Once it became permissible in May to allow the public inside the stadium, the team's front office staff joined together to brainstorm and create events that would allow the team's fans to enjoy the ballpark again.
Those ideas included turning the ballpark into an Airbnb, the first ever stadium Airbnb offering in the country, which hosted guests 20 nights during the month of June.
The team also joined with co-owner Bubba Watson to create a disc golf course on the field, giving fans unprecedented access to the ballpark on 15 dates. More disc golf opportunities are being added for future months.
The team has also hosted a series of Movie and Fireworks Nights, welcoming families into the ballpark for the low price of just $5 to enjoy a movie on the stadium video board followed by a fireworks show. Over 1,000 guests have enjoyed each of the team's weekly movie showings.
The team's award-winning concessions team has also been busy at work, offering in-stadium dining for lunch, dinner, and Sunday brunch at the ballpark and hosting immensely popular trivia and BINGO nights.
Added up, the team enters the day Thursday having hosted 84 total events inside the ballpark over the past two months. When curbside lunch, dinner, and family meal kits are considered, it equates to more than 150 different non-baseball events held at the ballpark since March.
"I think it shows we have a lot of creativity within this team and staff," said Anna Striano, the Blue Wahoos merchandise and community relations manager.
"We know how to pivot, we know how to be innovative," said Bailie Tate, who has made a transition from group sales manager to directing the team's Airbnb experience, which has attracted global attention and guests from across the nation.
"I think we know how to be persistent and we know how to persevere," she said. "The employees here have the mindset to be that way and it's been a team effort."
The Blue Wahoos have led a way throughout minor league baseball. The adage of imitation being the sincerest form of flattery applies here.
Other MiLB teams have followed with dining experiences, movie nights, other events.
"If you look around at what other teams are doing, we are not only leading teams in ideas, but also when teams are doing the same ideas, we are outperforming them as well in terms of people," said team president Jonathan Griffith. "That says something about our team and staff, but also about how our community has rallied behind our team even without baseball. We are really doing a lot of great things here and it's really making a difference for a lot of families as well."
Even with all of the non-baseball events the Blue Wahoos have produced, the team will still fall far short of the revenue generated by 70 home baseball games.
Studer has acknowledged on public webinars and video conferences that the team will sustain a net loss in 2020 of several million dollars.
Despite the projected losses, the Studer family guaranteed all Blue Wahoos employees that they will keep their job throughout the year in early June and that no staff will be furloughed.
"While this will increase financial losses this year, investing in our staff now will make us stronger when baseball returns," Studer wrote about the decision to keep the team's staff on in a letter. "Our mission as an organization is to improve the quality of life in our city, and keeping our staff employed meets this mission…allowing us to continue to offer safe community events at our ballpark."
Without baseball, the organization has set new internal goals for the year.
"This is the year that we are going to value our succes not on our revenue over expenses," Studer said. "Rather, it's the emotional bank account we are building with this community to make great relationships. That is what I am focused on. I'm really excited with what we are doing.
"The reason it has been so enjoyable for me is that I am still seeing us have such a great community impact. I am seeing us make great statements. Whether it's Juneteenth, what we did there showing the Jackie Robinson Movie. Whether it was the Father's Day event Saturday night that Rishy and I were at, or others, it's making a difference."