Another Record For Burdick, But Blue Wahoos Drop Fourth In A Row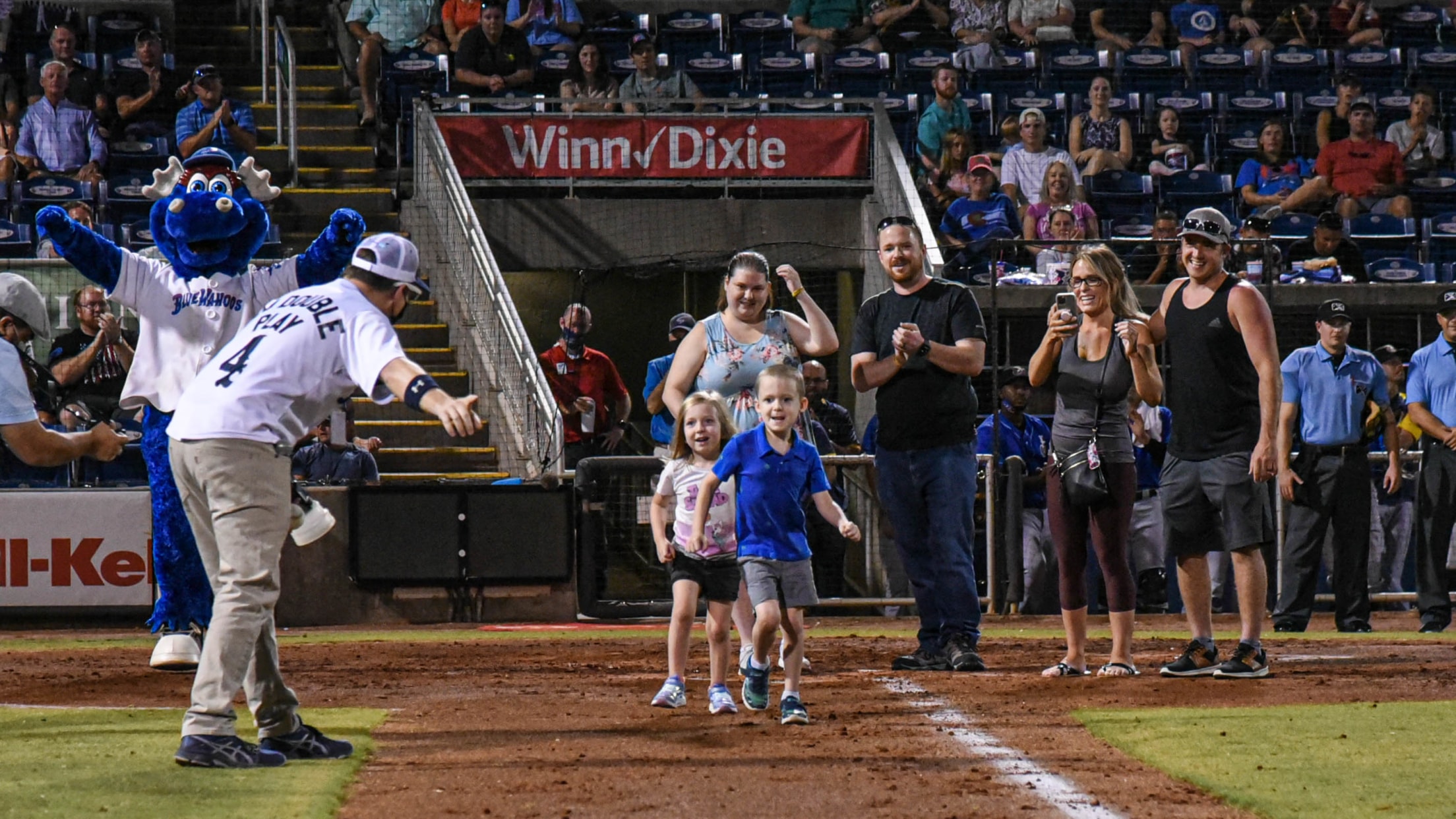 Six-year-old Samson Boardwyne begins his Home Run For Life experience Friday night during the Blue Wahoos-Shuckers game after the boy recovered from a rare form of Leukemia. (Daniel Venn)
In the top of the first inning, Peyton Burdick set another Blue Wahoos record with his 75th walk of the season, surpassing Jesse Winker, who had 74 in 2015, before making his eventual rise into the Cincinnati Reds lineup. Unfortunately for the Wahoos, the record came in another defeat as
In the top of the first inning, Peyton Burdick set another Blue Wahoos record with his 75th walk of the season, surpassing Jesse Winker, who had 74 in 2015, before making his eventual rise into the Cincinnati Reds lineup.
Unfortunately for the Wahoos, the record came in another defeat as the Shuckers won their fourth in a row with a 4-2 victory over the Wahoos Friday night at Blue Wahoos Stadium.
Will Stewart (L, 5-8) turned in a quality start despite taking the loss. He allowed four runs (only three earned) in six innings. For the fourth straight game, the Shuckers took the lead first, this time with a solo home run from Korry Howell in the top of the top of the fourth. Biloxi then added two more runs in the fifth before an error allowed another run to score in the sixth.
Pensacola got on the board in the sixth inning. Kameron Misner led off the inning with a single. After a walk and a fielder's choice, Chris Chinea singled home Misner to make it 4-1. Griffin Conine followed with an RBI single, which cut the deficit down to 4-2. After an infield single, the rally came to an end after Santiago Chavez hit into an inning ending double play.
Pensacola looked like they had another rally brewing in the seventh when the Wahoos had runners on first and third with only one out.
The rally came to an end when Burdick struck out and interfered with catcher Brent Diaz on his throw to second base as Misner attempted to steal, thus ending the inning. Pensacola hit into two double plays in addition to the interference.
With the fourth straight loss, coupled with Birmingham's fourth straight win, Pensacola is 3.5 games out of the second playoff spot. Friday's defeat sealed Pensacola's first series loss this season against Biloxi.
The penultimate home game of the 2021 season is Saturday, beginning at 6:05 PM CT. RHP Jeff Lindgren (5-8, 4.09) will get the start for Pensacola, while Biloxi has yet to name tomorrow's starter. The game will be available at MiLB.TV and BlabTV.
Top performers: Griffin Conine went 2-for-4 while Kameron Misner was 2-for-3. Burdick went 0-for-1 with two walks.
GAME NOTABLES
--- The game included a special moment for 6-year-old Samson Boardwyne, who had a Home Run For Life ceremony, sponsored by Ascension Medical Sacred Heart.
As a preschooler, he was diagnosed with a rare form of leukemia, following an emergency room visit and blood transfusion at the Studer Family Children's Hospital. He has since returned for multiple follow-up stays but is now in an outpatient program.
The boy is now undergoing a chemotherapy program to keep the cancer from coming back since it disappeared. He was able to start first grade this year, has a very social personality and enjoys playing with his 2-year-old sister.
The recognition happened after the third inning with both teams' players and coaching staffs lining the bases as the crowd cheered.
--- The first 2,000 fans through the gates received a Blue Wahoos beach towel, courtesy of game sponsor Florida Blue. The promotion item is annually the most popular with a crowd of fans waiting outside when the main gate opened at 5:30 p.m.
--- The National Anthem was performed by Stephanie Leavins. There was also a singing of God Bless America during the game.
--- Global Business Solutions Inc. presented $1,000 scholarships to pair of qualified recipients who are entering a cyber-security course program.
BLUE WAHOOS WEEKEND FINALE
WHO: Biloxi Shuckers vs. Blue Wahoos
WHEN: Saturday and Sunday.
WHERE: Blue Wahoos Stadium.
GAMETIMES: Saturday's game is 6:05 p.m. start; Sunday is 4:05 p.m.
RADIO: ESPN-Pensacola (99.1 FM, 1330 AM), Chris Garagiola on play-by-play.
PROMOTIONS: SATURDAY: 2022 schedule poster giveaway. Plus final post-game fireworks show of season. There will also be a special tribute to the 20th year since the horrific 9/11 terrorist attack. SUNDAY: Team photo giveaway, plus kids able to run bases and families play catch in outfield.
TICKETS: Available online at www.bluewahoos.com or at stadium box office during business hours*. *