Blue Wahoos Burdick Grateful For Place In Team History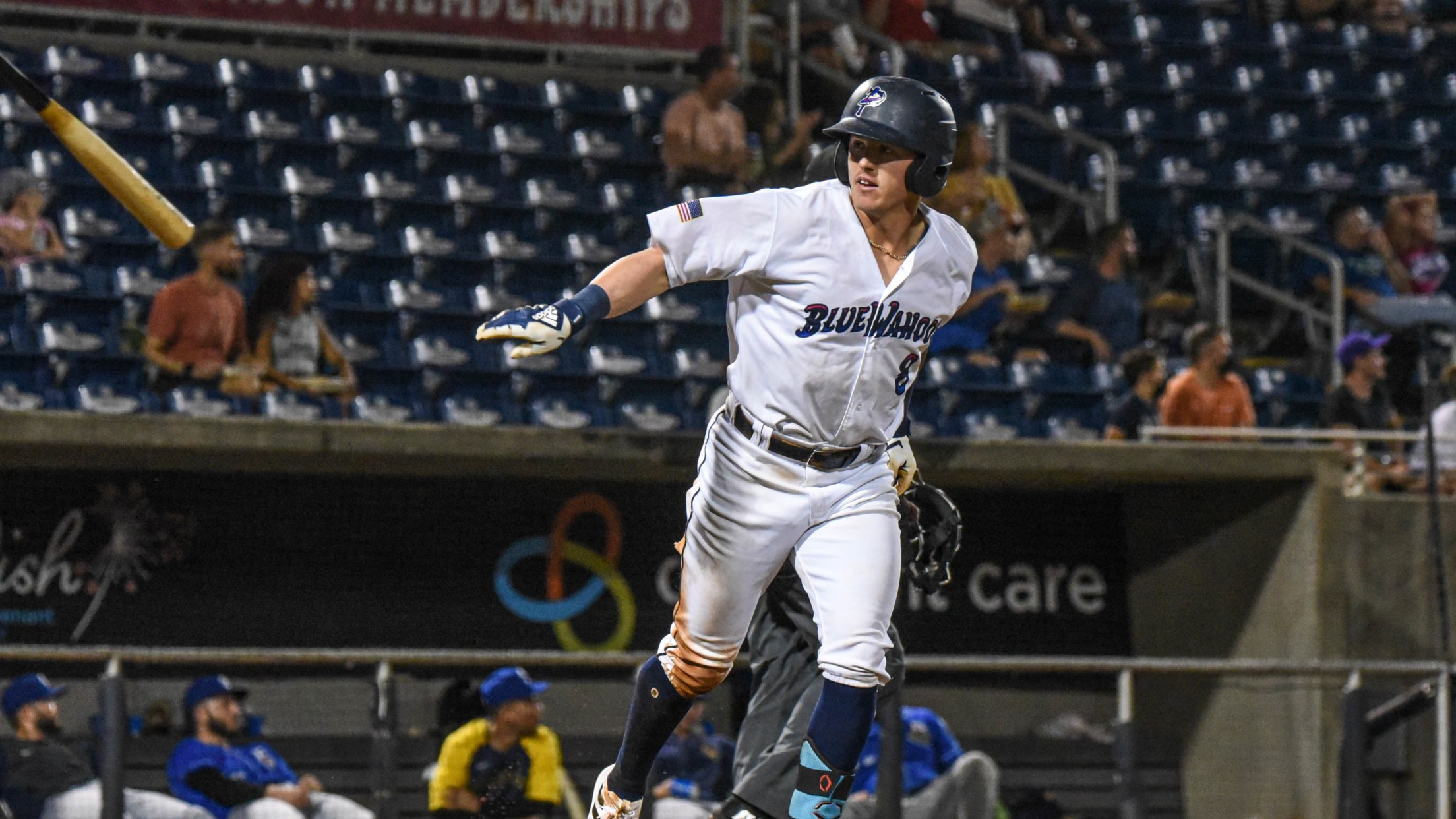 Peyton Burdick flips his bat Sept. 8 after hitting his record-setting home run for Blue Wahoos. He added another on Sept. 9 in loss to Biloxi Shuckers. (Daniel Venn)
Peyton Burdick has found himself digging deeper to push through the toll of a long, grinding baseball season. "I've just been trying to show up and compete hard every day, because at this point in the season, you're kinda running on adrenalin," he said. His grit has led to a
Peyton Burdick has found himself digging deeper to push through the toll of a long, grinding baseball season.
"I've just been trying to show up and compete hard every day, because at this point in the season, you're kinda running on adrenalin," he said.
His grit has led to a place in Blue Wahoos history.
The 24-year-old Ohio native, who has been one of the top players in Double-A this season, followed his record-setting home run Wednesday with another cannon shot Thursday, amid the team's 5-2 loss against the Biloxi Shuckers at Blue Wahoos Stadium.
Burdick's latest blast, a two-run homer in the third inning, was No. 22 in 2021, extending the all-time team mark for most single-season home runs – all hit while with the Blue Wahoos -- in Pensacola's 10-year, franchise history.
"It's pretty cool," Burdick said, managing a smile through the disappointment of the team's third consecutive loss Thursday. "There is a lot of great names on that list."
The previous top two names on the home run list – Aristides Aquino and Travis Blankenhorn – both reached the major leagues. Aquino as outfielder with the Cincinnati Reds; Blankenhorn with his time earlier this season as infielder with the New York Mets, after making his MLB debut a year ago with the Minnesota Twins.
"It's pretty awesome to join that list," said Burdick, who passed Aquino (20 HRs in 2018) for the Wahoos club record with Wednesday's 21st homer. Blankenhorn hit 18 homers in 2019 – the lone season the Blue Wahoos were the Twins' Double-A affiliate.
His home runs on consecutive nights are part of Burdick's strong carryover from August and continued impressive totals in other categories.
Burdick, a third round selection by the Miami Marlins in the 2019 draft from Wright State (Ohio) University, leads the Double-A South with most runs scored (70) and most walks (74), which enhance his .233 overall batting average.
He entered Thursday's game ranked second in the league for most homers, fourth in on-base percentage (.377), sixth in total bases (167) and 10th in slugging percentage (.469).
"You're just trying to go out there and compete in every game and finish the season strong with a good final push," he said, explaining his mindset.
After going without a homer since Aug. 11, his blasts in back-to-back games this week were no-doubters in the same inning both nights.
"It's pretty awesome," said Burdick, rated the Marlins No. 15 overall prospect by MLB.com. "I've been trying to hit all over the field and be an overall good hitter. It was good to finally square one up (Wednesday) and put a little backspin on it. Felt pretty nice."
His two-run homer Thursday gave the Blue Wahoos (54-52) a short-lived lead. The Shuckers answered with Korry Howell's solo homer in the fourth inning off starter Zach McCambley.
The Shuckers (41-65), who entered this series mired in last place, have been spoilers in the Blue Wahoos' playoff chase.
Three consecutive losses halfway through the Blue Wahoos final homestand have dropped Pensacola behind Birmingham and Chattanooga in a race for second-place and chance to face first-place Mississippi Braves in the Double-A South playoff series later this month.
The Shuckers took the lead Thursday with a bases-loaded walk in the fifth inning, then tacked on two more runs in the ninth off Blue Wahoos' top closer Colton Hock.
The teams combined to strike out 30 times in the game. The Blue Wahoos had only two flyball outs in the game and only one base runner from the fourth inning through the eighth.
The series continues Friday night on Giveaway Friday with the first 2,000 fans receiving a Blue Wahoos beach towel, courtesy of game sponsor Florida Blue.
GAME NOTABLES
--- Former Auburn Tigers basketball coach Sonny Smith, who led the Tigers to their first NCAA Tournament appearance in 1984 with Charles Barkley as the top star, attended the game to help promote a book he has co-authored.
Smith, now 84, along with Lou Vickery, 80, an Alabama native and graduate of Escambia County High in Atmore, who went on to a minor league baseball career, published a book entitled "Winning The Head Game: Key To Elite Athletic Status."
It went on sale through Amazon.com on August 24. Vickery played nine minor league seasons from 1959-1967, rising to Triple-A during his career. He signed with the St. Louis Cardinals in 1959 and played the bulk of his career with that organization.
--- The game was also the final Pensacola Mullets Night of the season with Pensacola wearing the aqua Mullets' jerseys.
--- Prior to the first pitch, there was a teacher parade amid a large group of Escambia County public schoolteachers at the game.
BLUE WAHOOS WEEKEND
WHO: Biloxi Shuckers vs. Blue Wahoos
WHEN: Friday through Sunday.
WHERE: Blue Wahoos Stadium.
GAMETIMES: Friday's game starts at 6:35 p.m. Saturday's game is 6:05 p.m. start; Sunday is 4:05 p.m.
RADIO: ESPN-Pensacola (99.1 FM, 1330 AM), Chris Garagiola on play-by-play.
PROMOTIONS: FRIDAY -- Wahoos Beach Towel for first 2,000 fans. SATURDAY -- Final post-game fireworks show of season. SUNDAY: Team photo giveaway, plus kids able to run bases and families play catch in outfield.
TICKETS: Available online at www.bluewahoos.com or at stadium box office during business hours.