Jesse Winker Heads Former Blue Wahoos Best Of 2021 MLB Season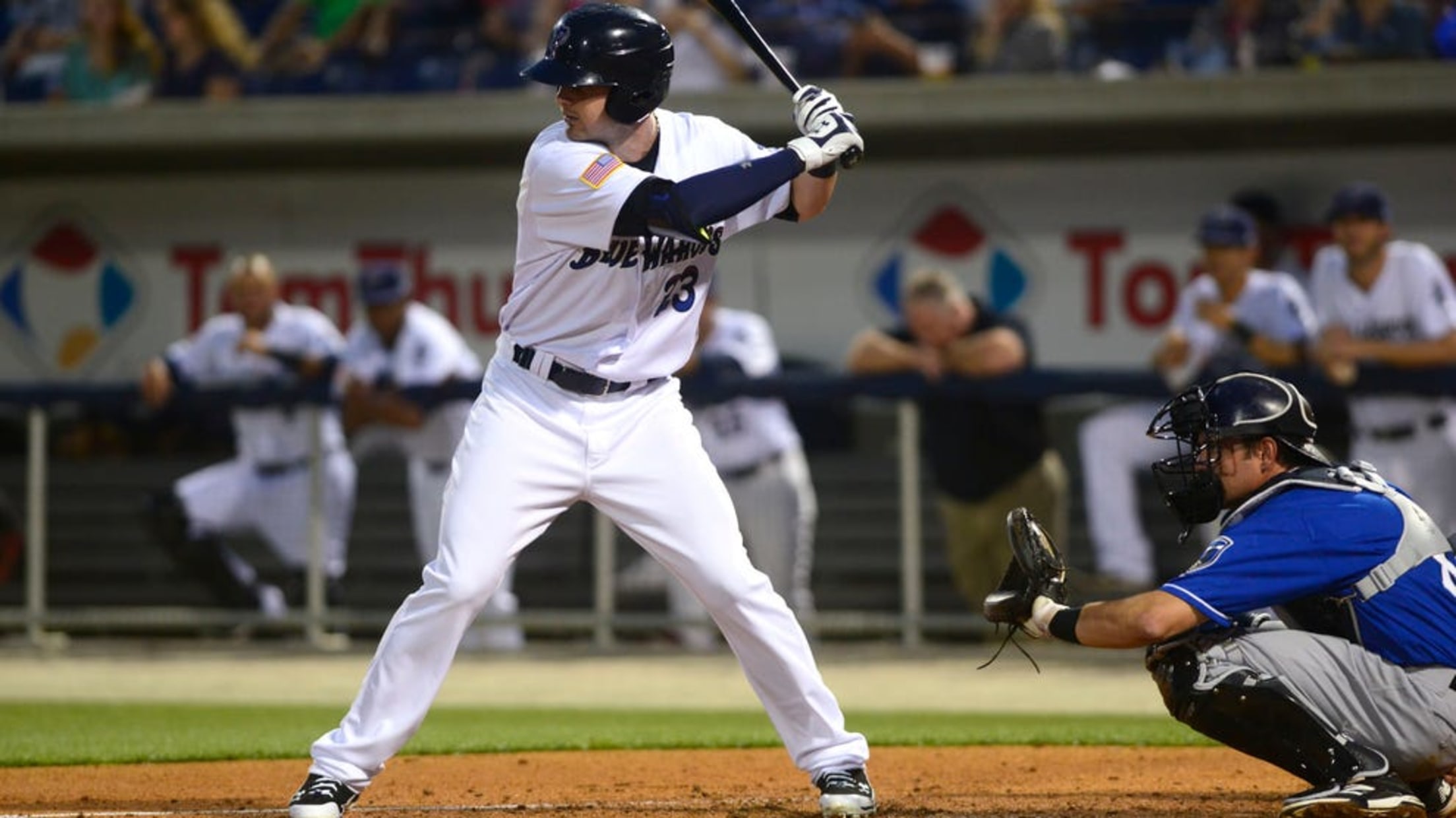 Former Blue Wahoos' Jesse Winker, who played in 2014-2015 in Pensacola, leads the 2021 list of ex-Wahoos players with standout years this season in the Major Leagues. (Photo courtesy of Pensacola News Journal)
There were many former Blue Wahoos players in 2021 with solid seasons or memorable debuts in Major League Baseball. Jesse Winker, however, was a cut above the rest with his breakout year and recognition among the top National League outfielders. In a year where the Blue Wahoos celebrated their 100th
There were many former Blue Wahoos players in 2021 with solid seasons or memorable debuts in Major League Baseball.
Jesse Winker, however, was a cut above the rest with his breakout year and recognition among the top National League outfielders.
In a year where the Blue Wahoos celebrated their 100th former player to reach the major leagues across three different affiliations, Winker led the way.
The Cincinnati Reds left fielder, who played in Pensacola during the 2014 and 2015 seasons, became the first former Blue Wahoos player to start in an MLB All-Star game. He was voted into the lineup for the July 13 game at Coors Field in Denver, following a first half of the season when he was among the NL top hitters.
There are now 103 former Blue Wahoos players who have made MLB debuts, including 15 players in 2021.
Winker, a first-round pick by the Reds in 2012, while a Florida prep star at Orlando's Olympia High, finished the season with a .305 average, but his year was cut short by an intercostal muscle strain in mid-August.
The injury essentially wiped out the rest of the season. He tried to return for one game before reaggravating the injury and didn't play again.
But the numbers he posted before the injury were among the best in MLB. He was leading the National League in doubles (32), total bases (235) and was fifth in batting average (.307). Unfortunately, injuries have been a part of Winker's past three full seasons.
"It's frustrating," said Winker, speaking to the Cincinnati Enquirer before the final game of 2021. "It seems like this is something that I always have to talk about…. Injuries in my career. I'm just going to go all in on whatever I can do to prevent anything going forward."
Winker, a played 144 games in part of two seasons for the Blue Wahoos. The bulk of his time was 2015 when he batted .282 with 13 homers and 55 RBI in 123 games. That led into his MLB debut with the Reds in 2017.
The Blue Wahoos were the Reds Double-A affiliate for seven seasons, beginning with the inaugural 2012 season. Many of this season's top performers among former Wahoos, are connections with the Reds.
The one minor league season (2019) when the Blue Wahoos were the Minnesota Twins' affiliate continues to chart players from that team reaching the big leagues.
Pensacola's new affiliation in 2021 with the Miami Marlins also produced some special connections. Three players, led by pitcher Edward Cabrera, made their MLB debut with Miami after playing earlier this year with the Blue Wahoos.
Here's a list of notable players.
1) Jesse Winker (OF) Cincinnati Reds. (2014-15 Blue Wahoos). Breakthrough season included recognition among best National League outfielders before injury.
2) Tyler Mahle (P) Reds. (2017 Blue Wahoos). Became among the top pitchers in the National League, posting a 13-7 record with a 3.75 ERA. Led the Reds in wins, strikeouts (210), starts (33) and was second-best in ERA. Mahle created one of greatest moments in Blue Wahoos history with his incredible, 9-inning, perfect game on April 22, 2017 against the Mobile BayBears in Hank Aaron Stadium.
3) Luis Arraez (INF) Minnesota Twins. (2019 Blue Wahoos). Once again, he led the Twins in batting average among players logging 100 or more games. Arraez hit .294 with 17 doubles and 42 RBI. His 48 strikeouts were the fewest among Twins' every-day players.
4) Miguel Rojas (INF) Miami Marlins (2012 Blue Wahoos). The 32-year-old is Miami's longest tenured player, joining the organization in 2014 after his career began with the Reds, then LA Dodgers. He was Miami's unofficial team captain and batted .265 in 132 games. A great defensive player, the Marlins are expected to sign him to contract extension.
5) Luis Castillo (P) Reds. (2017 Blue Wahoos). The righthander made all 33 scheduled starts in 2021. After struggling to a 1-8 record in his first 11 starts, Castillo was sensational the rest of the way. He went 8-1 for the Reds with a 2.73 ERA and finished just shy of his career high in innings pitched with 187.
6) Bailey Ober (P) Twins. (2019 Blue Wahoos). Moved into the Twins starting rotation in June and made 20 starts, finishing 3-3 with a 4.19 ERA in his rookie season. Remarkable comeback after elbow injuries in 2018 and 2019 and not pitching in 2020 with the minor league seasons cancelled by COVID-19.
7) Brusdar Graterol (P) LA Dodgers. (2019 Blue Wahoos). The power-throwing reliever is the Blue Wahoos only connection to the remaining four MLB teams vying for the World Series. Graterol appeared in 34 regular-season games as a middle reliever, posting a 3-0 record. But he gained global social media buzz during the NLDS when he recorded a 102-mph pitcher on a slider. It typifies how the popular Graterol amazes in throwing 100-plus MPH pitches without looking like he exerts much energy.
8) Edward Cabrera (P) Marlins (2021 Blue Wahoos). After five games as a Blue Wahoos starter this season, posting a 2-1 record and 2.77 ERA, Cabrera continued his climb that led into his MLB debut Aug. 25 with the Marlins. He made seven starts for Miami with 0-3 record, but he's expected to be part of team starting rotation in 2022. One of those starts was Sept. 18 with 2021 Blue Wahoos catcher Nick Fortes making his MLB debut.
9) Billy Hamilton (OF) Chicago White Sox. (2012 Blue Wahoos). Now with his 7th different MLB team, the speedster is still going. He played 71 games in 2021 for the White Sox, after playing the 2020 shortened season with the cross-town Cubs.
10) Travis Blankenhorn (INF). NY Mets (2019 Blue Wahoos). What a wild year, after Blankenhorn began the year with the Twins, then played for the Toronto Blue Jays, before finishing the season with the Mets, including multiple trips from Triple-A to the big leagues. He finished with 48 games played and a .174 averge.
OTHER NOTABLES
Nick Fortes (C) Marlins. (2021 Blue Wahoos) - - Will go into spring training as a contender for one of the Marlins' two catcher positions, after hitting four home runs, including one in his MLB debut, during the 21 games with the Marlins. He batted .290 in those games.
Sam Clay (P) Washington Nationals (2019 Blue Wahoos) – Appeared in 58 games as a middle reliever with 0-5 record and 5.61 ERA.
Jorge Alcala (P) Twins (2019 Blue Wahoos) – Pitched in 59 games in middle relief for the Twins, going 3-6 with solid 3.92 ERA.
Dusten Knight (P) Baltimore Orioles (2019 Blue Wahoos) – Though he only pitched a short time as Blue Wahoos closer in 2019, he was a fan favorite for his backflips. After eventful two years, he made his MLB debut with Baltimore Orioles on Aug. 4 this year and appeared in seven games.