Chiefs Defeat LumberKings 4-2 Saturday
Billings' three hits lead Peoria in win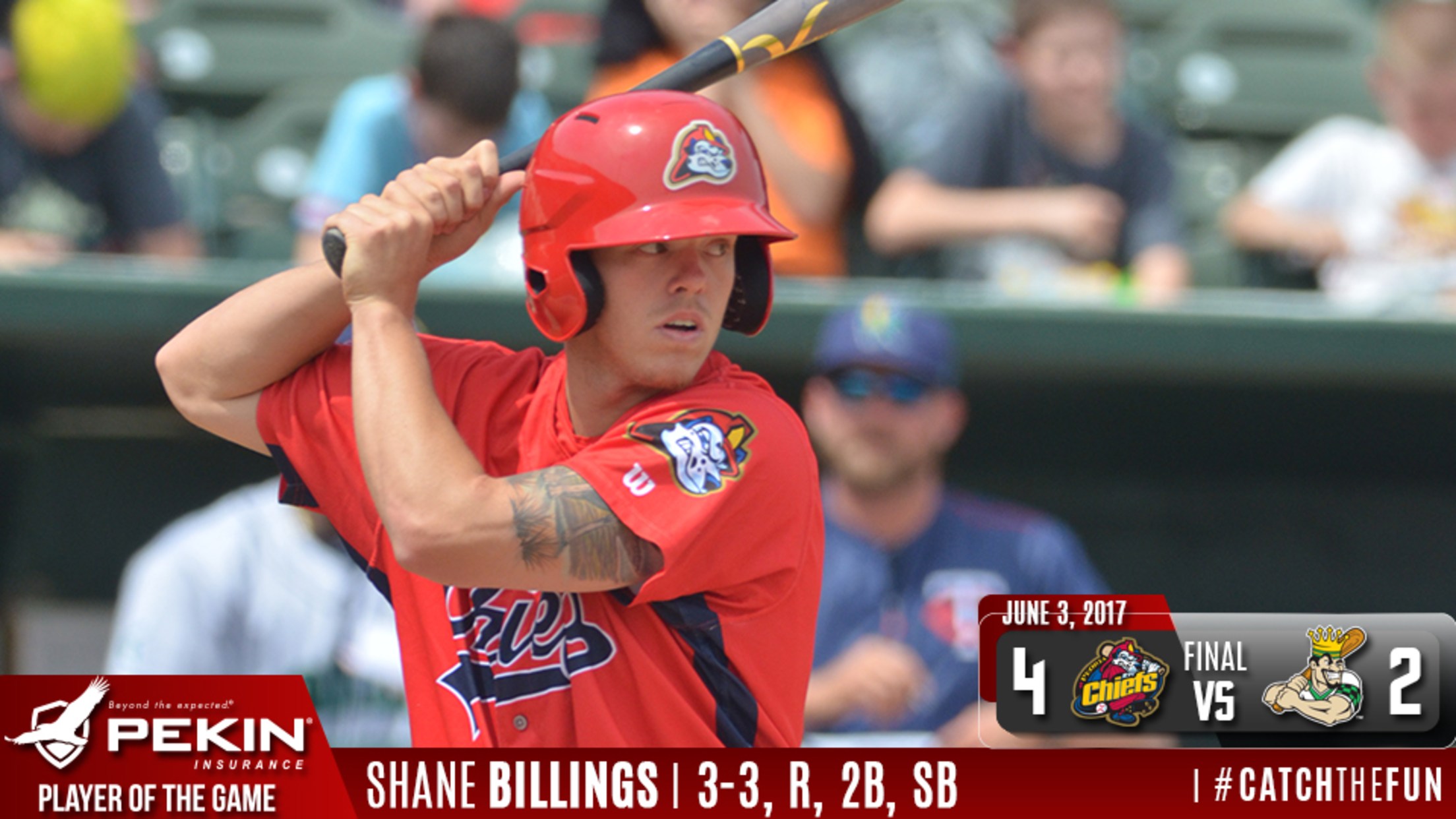 Clinton, IA - The Peoria Chiefs won game two of a three-game series with the Clinton LumberKings by a final score of 4-2 on Saturday night at Ashford University Field. Peoria is 23-32 overall and will play the series finale on Sunday afternoon with a 2:00 p.m. first pitch.    Clinton
Clinton, IA - The Peoria Chiefs won game two of a three-game series with the Clinton LumberKings by a final score of 4-2 on Saturday night at Ashford University Field. Peoria is 23-32 overall and will play the series finale on Sunday afternoon with a 2:00 p.m. first pitch.
Clinton scored in the first inning for the second straight day, this time against Chiefs starter Austin Sexton. With one out Bryson Brigman reached on an error and went to second when Joe Rizzo walked. Nick Thurman walked with two outs to load the bases and Nick Zammarelli III singled to score Brigman and give Clinton a 1-0 lead. Sexton got Dimas Ojeda to ground into a fielder's choice to end the inning and the threat.
The Chiefs took their first lead of the series in the third against Clinton starter Brandon Miller. Vince Jackson and Juan Yepez struck back-to-back singles and Shane Billings laid down a sacrifice bunt to advance both runners. Jackson scored on Stefan Trosclair's sacrifice fly to right field and Andy Young singled to center field to score Yepez and give the Chiefs a 2-1 lead.
Peoria extended their lead in the ninth inning. Clinton reliever Jeffeson Medina walked Vince Jackson to start the inning, Shane Billings singled with one out, and Nick Plummer walked to load the bases. Trosclair popped out to shortstop for the second out of the inning, but with two outs Andy Young singled to left field to plate Jackson, and Billings scored on an error in left field on the same play to give the Chiefs a 4-1 lead.
Eric Carter took the mound in the ninth to close out the game for Peoria, but issued a one-out walk to Brigman who stole second base. Rizzo singled to center field and Brigman scored to make it a 4-2 game, but Carter struck out the final two batters to end the game.
Sexton allowed one unearned run on four hits with two walks and two strikeouts in the no decision. Frederis Parra (1-0) threw 2 2/3 shutout innings in a win while allowing two hits and a strikeout. Brady Bowen got a hold and went 2 1/3 innings with two hits, a walk, and two strikeouts. Carter earned his fifth save of the season while allowing one run, one hit, and one walk over an inning of work with three strikeouts.
Notes… Sexton made his first start for the Chiefs, and first since August of last year… Davis had a four-game hit streak snapped… Jackson and McCarvel extended their hit streaks to five games, which are the longest active streaks for Peoria… Jackson's five-game hit streak is a season long and McCarvel's ties his season long… Peoria struck out 13 times tonight, which ties a season-high that was set on April 13 at Beloit… The Chiefs are 11-11 this season when wearing their red jerseys… Peoria was 1-for-11 with runners in scoring position and held Clinton to 2-for-12 with runners in scoring position… Billings has seven multi-hit games this season, two of which are three-hit games…The Chiefs wrap up the three-game series with Clinton with a 2:00 p.m. first pitch on Sunday… The Chiefs send LH John Kilichowski (0-5, 6.31) to the mound against Clinton RHP Ronald Dominguez (0-2, 3.43)… The broadcast can be heard, starting with the Pre-Game Show at 1:45 p.m. on www.peoriachiefs.com/listenlive which also has downloads for a free app on the iPhone, iPad, Blackberry and Android…The broadcast is also available on the Peoria Chiefs Network in the Tune-In Radio App.