Chiefs Even Series on Late-Inning Hit By Pitch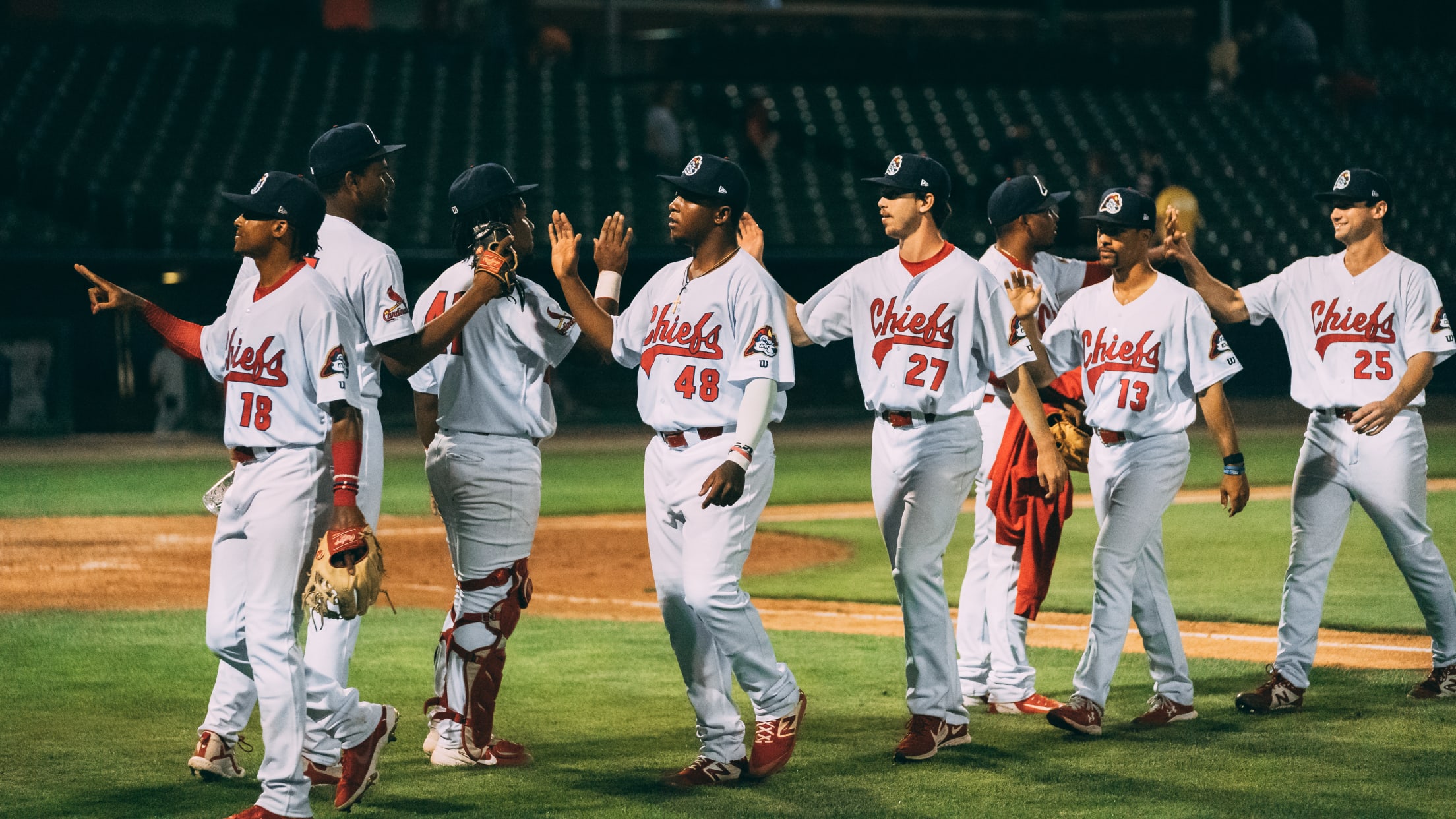 Site: Peoria, Ill. (Dozer park) Score: Peoria Chiefs 4, Quad Cities River Bandits 3 Records: Peoria Chiefs (13-19), Quad Cities River Bandits (20-11) Next Chiefs Game: Thursday, June 10 -- vs. Quad Cities River Bandits, 6:35 p.m. Peoria, Ill. -- The Peoria Chiefs bounced back Wednesday night after dropping the
Site: Peoria, Ill. (Dozer park)
Score: Peoria Chiefs 4, Quad Cities River Bandits 3
Records: Peoria Chiefs (13-19), Quad Cities River Bandits (20-11)
Next Chiefs Game: Thursday, June 10 -- vs. Quad Cities River Bandits, 6:35 p.m.
Peoria, Ill. -- The Peoria Chiefs bounced back Wednesday night after dropping the series opener on Tuesday. The Chiefs were outhit on the night but were still able to beat the Quad Cities River Bandits 4-3.
It was a pitcher's duel early, as Nick Trogrlic-Iverson and A.J. Block traded zeroes into the fourth, when Quad Cities struck first on a sacrifice fly to right field.
The Chiefs got that run back plus one more in the bottom of the inning. With two on and two out, Francisco Hernandez doubled to the gap in left center to give Peoria their first lead, a 2-1 advantage.
The Chiefs tacked on another in the fifth, when Jhon Torres doubled off the center field wall.
Trogrlic-Iverson went back to the mound for the sixth inning but a double from Tyler Gentry forced his exit, with the Chiefs lead cut to 3-2.
The score would remain 3-2 until the seventh, when Jeison Guzman homered off the batter's eye in center. Guzman was playing in his first game since returning from the Olympic qualifier.
The Chiefs pulled ahead for good in the 8th inning, after back-to-back singles, Chandler Redmond was intentionally walked to load the bases for Zade Richardson. The Chiefs catcher was ahead in the count 2-0 when he was hit by a pitch on the hand. Richardson picked up 11th RBI in painful fashion but it gave the Chiefs a lead they would not relinquish.
In the ninth, Leonardo Taveras earned his second save of the year, as he recorded a game-ending double play.
The Chiefs will look to gain an advantage in the series tomorrow night against the River Bandits. RHP Jack Ralston is set to be on the mound for Peoria facing off against LHP Angel Zerpa. Tomorrow is also Thirsty Thursday at Dozer Park. Domestic drafts will be available starting at $2.
Single Game Ticket Information
June single game tickets are now on sale! Tickets can be purchased online or at the box office Monday-Thursday from 9 a.m. - 4:30 p.m. and on Friday's from 9 a.m. - 3 p.m. The box office will be closed for lunch daily between 11:30 a.m. – 1 p.m. Tickets for July, August and September will be available at a later time.
The Peoria Chiefs are locally owned and operated and play their games at Dozer Park. The Chiefs are a committed community asset and premier entertainment venue for families and individuals in Central Illinois.