Chiefs Homer Four Times in 11-2 Win
Hudzina returns with homer, four hits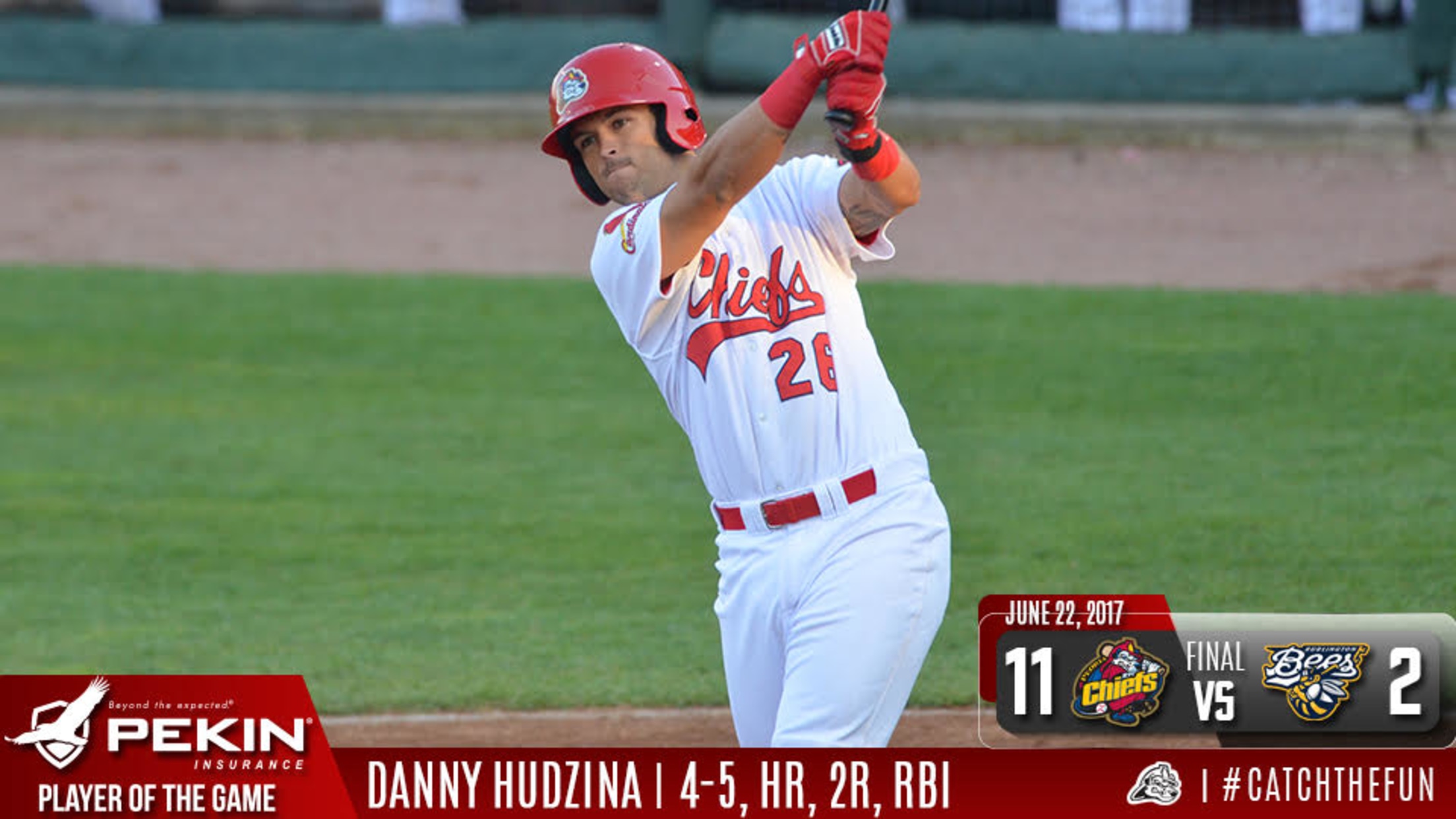 Burlington, IA - The Peoria Chiefs scored seven runs in the top of the first inning and cruised to an 11-2 win over the Burlington Bees Thursday night in the second half opener. The Chiefs hit four home runs to win their third straight game to move to 1-0 in the
Burlington, IA - The Peoria Chiefs scored seven runs in the top of the first inning and cruised to an 11-2 win over the Burlington Bees Thursday night in the second half opener. The Chiefs hit four home runs to win their third straight game to move to 1-0 in the half and 31-39 overall.
Shane Billings got the offense going immediately as he hit his first professional home run on the fourth pitch of the game off Jose Suarez. Stefan Trosclair followed with a double and newcomer Matt Fiedler launched a two-run homer to left for a 3-0 lead. With one out JR Davis doubled to left and Juan Yepez drew a walk. Danny Hudzina singled to right to load the bases and Dylan Carlson gave the Chiefs a 5-0 lead with a double to left. Jose Martinez singled the Chiefs to a 6-0 lead and Burlington changed pitchers after Suarez faced nine batters and got just one out. Ronnie Glenn took over and the Chiefs took a 7-0 lead on an error by shortstop Roberto Baldoquin before the Bees got out of the inning.
Fiedler led off the second inning with a double to left and moved to third on a groundout. With two outs, Yepez singled home Fiedler for an 8-0 lead and Hudzina put two on with his second single of the game. Carlson singled to shallow center but Yepez was thrown out at the plate to end the inning.
Peoria extended the lead in the fourth with two more homers. Fiedler led off with a single and Ryan McCarvel launched a no-doubter to left for a 10-0 lead and his seventh homer of the season leads the active Chiefs. After a double play, Hudzina crushed the Chiefs fourth homer of the game, his first since April 21 and Peoria led 11-0.
Burlington tallied their first run of the game in the fourth inning against Austin Sexton. Jack Kruger doubled, moved to third on an infield groundout and scored on another groundout. Kruger drove home their second run as well when he homered off Frederis Parra in the seventh inning.
Sexton (3-1) earned the win as he allowed one run on six hits over 5 2/3 innings. He struck out three, walked three and hit one while avenging a loss to the Bees from six days ago. Parra allowed one run on two hits while striking out one in 1 2/3 innings. Max Almonte allowed one hit and struck out one in one inning while Eric Carter struck out two and allowed a hit in his shutout inning.
Notes…The Chiefs are in first place for the first time this season…Peoria has tied a season high with three straight wins, also done April 11-13 and May 30-June 1…Billings has a 14-game hit streak after hitting his first professional home run in his 375th career at-bat…Hudzina homered for the Chiefs April 20 and April 21 in Wisconsin…He was sent to extended spring training May 13 before returning Thursday…He tied a career high with four hits…Fiedler is the first Chiefs player to homer in his first at-bat with the team since Carlson did so on opening night, also at Burlington…The Chiefs tied a season-high with four home runs…All nine Chiefs starters had at least one hit and eight scored a run…The seven runs scored in the first inning are a season high for runs in an inning for the Chiefs…The Chiefs are 19-7 when scoring at least five runs in a game and 7-5 in the opener of a road series… The series continues Friday at 6:30 p.m. as the Chiefs send RHP Juan Perez (1-0, 3.16) on the mound against Bees RHP Joe Gatto (4-5, 3.47)…The broadcast can be heard, starting with the Pre-Game Show at 6:15 p.m. on www.peoriachiefs.com/listenlive which also has downloads for a free app on the iPhone, iPad, Blackberry and Android…The broadcast is also available on the Peoria Chiefs Network in the Tune-In Radio App.