Chiefs Lose 9-8 Wednesday at QC
Parra allows nine runs in setback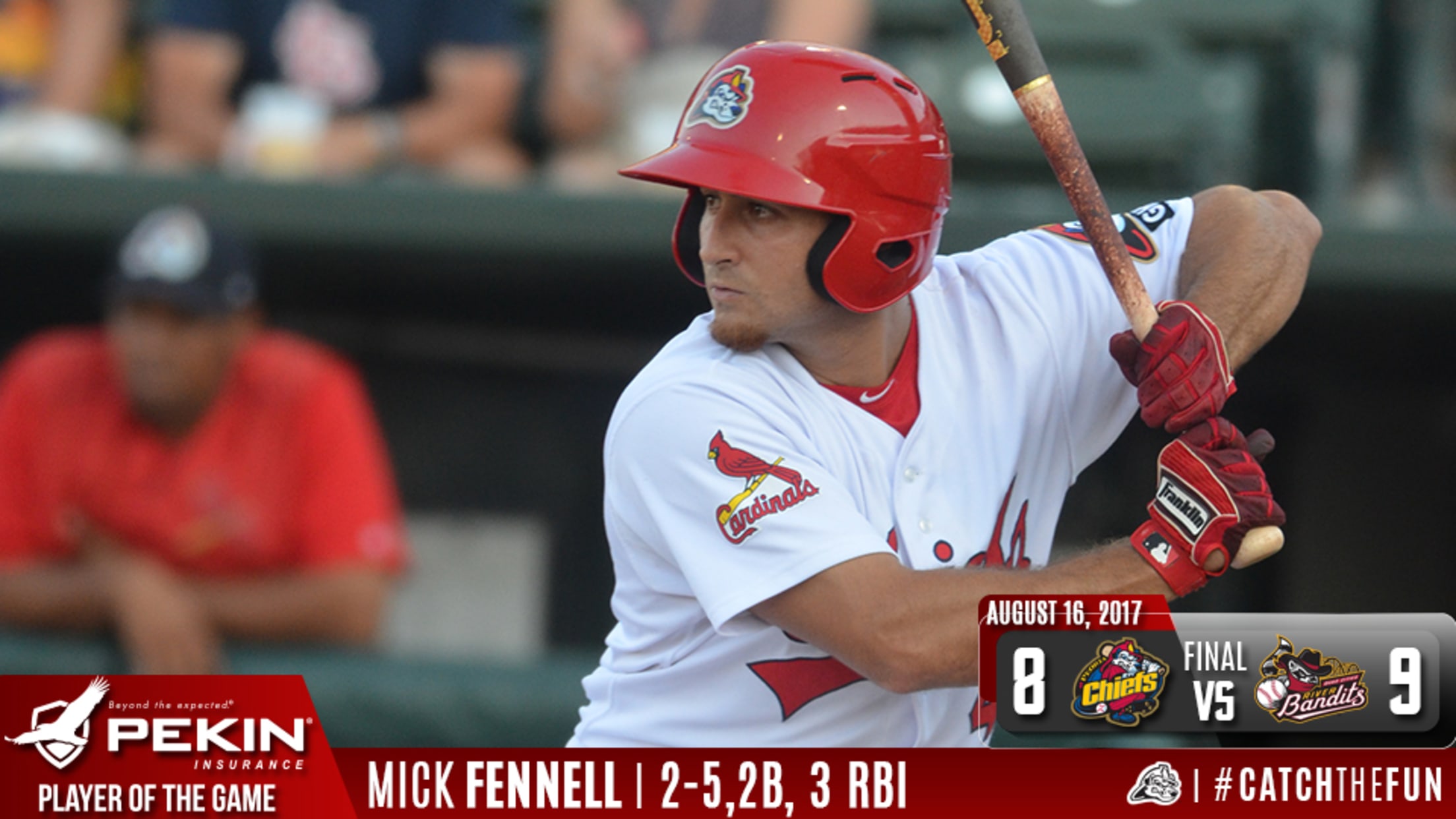 Davenport, IA - The Peoria Chiefs allowed nine runs in the first three innings and their rally back fell a run short in a 9-8 loss to the Quad Cities River Bandits Wednesday night. With the Beloit Snappers being rained out, the Chiefs are tied for the wild card lead
Davenport, IA - The Peoria Chiefs allowed nine runs in the first three innings and their rally back fell a run short in a 9-8 loss to the Quad Cities River Bandits Wednesday night. With the Beloit Snappers being rained out, the Chiefs are tied for the wild card lead at 27-25 with 18 games to play.
The Chiefs jumped out to an early lead against River Bandits starter Carlos Sanabria in the second. Stefan Trosclair walked with one out and Dylan Carlson doubled to right. With two down Matt Fiedler singled home both runners to give the Chiefs a 2-0 lead.
The lead was short lived as Frederis Parra struggled in the bottom of the inning. He quickly walked the bases loaded and Quad Cities got on the board with a sacrifice fly from Ray Henderson. Luis Payano singled to left to tie the game and Quad Cities took a 3-2 lead as Carlson misplayed the ball in left of an error. Leadoff man Ronnie Dawson made it 5-2 with a mammoth homer to right, his 14th of the season and third against the Chiefs in Iowa.
The Chiefs put two on base in the top of the third with no outs but Brian O'Keefe hit into a double play and Ryan McCarvel grounded out. The Bandits went back to work against Parra in the bottom of the third. Abraham Toro-Hernandez led off with a 425-foot homer toward the Mississippi River for a 6-2 Quad Cities lead. With one out Josh Rojas singled with two batters later Chas McCormick singled. Henderson reached on an infield single and two runs scored on an error by Danny Hudzina at third. Ronnie Williams took over for Parra and a double by Payano capped a four-run inning and gave Quad Cities a 9-2 lead.
Peoria chipped away against Sanabria in the fourth. Trosclair walked again and Carlson hit his seventh homer of the season, a two-run shot to right to cut the Quad Cities lead to 9-4. Fiedler singled with one out and moved to third on a single by Nick Plummer. Mick Fennell cut the lead to 9-5 with a fielders' choice after Quad Cities changed pitchers.
In the sixth the Chiefs narrowed the gap against Yohan Ramirez. With one out Hudzina singled to center and Fielder singled to put two on base. Plummer was hit by a pitch to load the bases and Fennell doubled to left to cut the lead to 9-7. Kramer Robertson reached on an infield single as Plummer scored to make it a 9-8 game but Fennell had to hold at second. O'Keefe popped up to second and McCarvel struck out to end the inning.
The Chiefs put the tying run on base in each of the last two innings but couldn't get past first base. Fennell was thrown out trying to steal second to end the eighth and after Robertson led off the ninth with a single, O'Keefe flew out and McCarvel hit into a game-ending double play.
Parra (3-5) allowed a season-worst nine runs on six hits and three walks over 2 2/3 innings while not recording a strikeout. Williams allowed three hits while walking three over 2 2/3 shutout innings as he struck out five. Colton Thomson walked three and struck out two over 1 2/3 hitless and shutout innings. Leland Tilley retired all three batters he faced with one strikeout.
Notes… The Chiefs scored more than two runs in a game for the first time since a 12-4 win at Clinton last Tuesday…Parra allowed nine runs, the most by a Chiefs hurler during this second Cardinals affiliation…The last Chiefs hurler to allow nine runs on a game was Gerardo Concepción on June 11, 2012 against Kane County…The last to allow more than nine was Robert Hernandez when he allowed 10 on August 7, 2007 against Great Lakes…Parra allowed 11 runs on 16 hits in a start for the GCL Cardinals on July 1, 2015…Trosclair drew two walks and is tied for fifth in the MWL with 54…The Chiefs have allowed 105 home runs this season, third most in franchise history passing the 104 allowed in 2007…O'Keefe has hit into a career-high 14 double plays this season and 35 in his Chiefs career…He has five double plays in 12 August games…O'Keefe and McCarvel were a combined 0-for-10 with two strikeouts and two double plays…The other seven Chiefs all reached base…Robertson has 13 multi-hit games and five with three hits or more…Carlson was a late addition for an ill Juan Yepez…He homered for the first time since July 7 at Cedar Rapids, a span of 111 at-bats…The Chiefs are 4-9 against Quad Cities, 2-8 in Iowa as the River Bandits clinched the season series with Tuesday's win…The series continues Wednesday at 6:35 p.m. as the Chiefs send LH Austin Warner (2-2, 2.70) to the mound against Bandits RH Ronel Blanco (5-3, 3.49)…The broadcast can be heard, starting with the pregame show at 6:20 p.m. on www.peoriachiefs.com/listenlive which also has downloads for a free app on the iPhone, iPad, Blackberry, and Android… The broadcast is also available on the Peoria Chiefs Radio Network in the Tune-In Radio App.