Chiefs Walk Off Rattlers Monday Night
Whalen knocks in winning run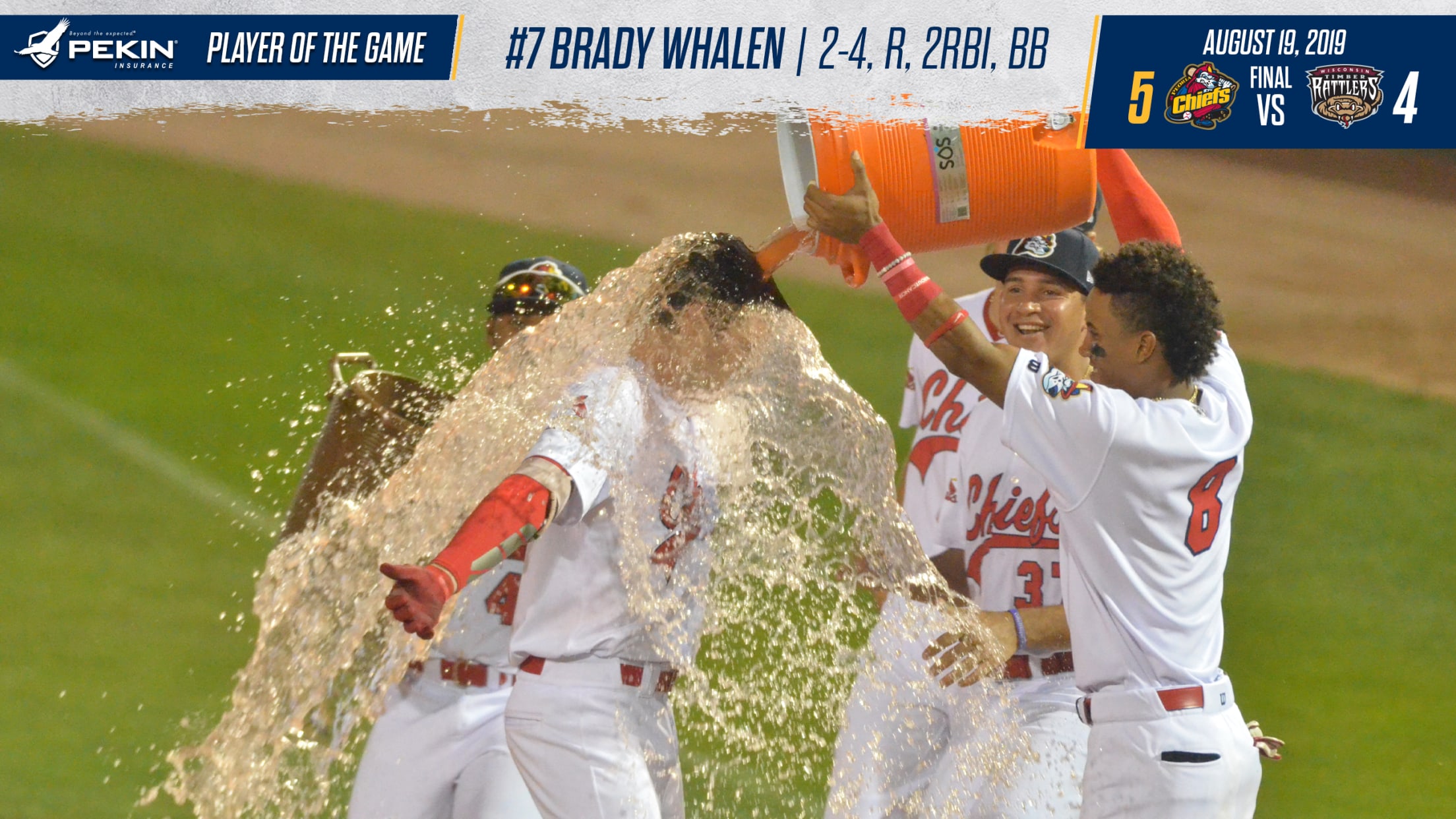 Peoria, IL - After blowing a 4-1 lead the Peoria Chiefs rallied for a 5-4 walkoff win courtesy of Brady Whalen and a one-out single that beat the Wisconsin Timber Rattlers. Whalen went two-for-four with two RBI and a run scored earning the Pekin Insurance Beyond the Expected Player of
Peoria, IL - After blowing a 4-1 lead the Peoria Chiefs rallied for a 5-4 walkoff win courtesy of Brady Whalen and a one-out single that beat the Wisconsin Timber Rattlers. Whalen went two-for-four with two RBI and a run scored earning the Pekin Insurance Beyond the Expected Player of the Game.
After surrendering a run in the top of the second, the Chiefs immediately tied the game against Wisconsin starter Justin Jarvis. With two outs, Wadye Ynfante walked and advanced to second on a single by Josh Shaw. Ynfante scored the tying run on a single by Edwin Figuera, but Shaw was thrown out at third to end the inning.
Peoria took the lead in the bottom of the third. Jonatan Machado led off with a double and advanced to third after tagging up on Delvin Perez's fly ball to center field. Machado scored the go-ahead run after Whalen reached on a fielding error by Wisconsin first baseman Chad McClanahan. With Whalen on first, Carlos Soto and Alexis Wilson walked to load the bases and Brandon Riley worked a walk to force in Whalen for the 3-1 Chiefs lead.
The Chiefs continued to build their lead in the bottom of the fourth against Wisconsin reliever Joey Matulovich. With one out, Machado singled and stole second. With two outs, Whalen hit a bloop single to left to score Machado for the 4-1 lead.
Peoria entered the bottom of the ninth tied with Wisconsin at four. Figuera led off with a single against reliever Adam Hill. With one out, Perez reached on a fielder's choice and Figuera reached second on a fielding error. With runners on first and second Whalen singled to score Figuera to give the Chiefs the walkoff win.
Dalton Roach took the no-decision, pitching 5 1/3 innings allowing three runs, two earned on six hits with four walks and five strikeouts. Franyel Casadilla pitched 1 2/3 shutout innings allowing one hit with one walk and one strikeout. Freddy Pacheco (1-3) earned the win, pitching two innings while allowing one run on two hits with two walks and two strikeouts.
The Chiefs continue their seven-game homestand with Wisconsin on Tuesday at 6:35 p.m. The broadcast can be heard, starting with the Pre-Game Show at 6:20 p.m. on the Peoria Chiefs Tune-In Page, which is free and also has a free app for smartphones and tablets. The game is also available on MiLB.TV for subscribers.
Tuesday, August 20 is the final Taco Tuesday of the season with $2 tacos at the concession stands. It's also Thanks for Your Service Tuesday where all Veterans and First Responders receive up to four (4) tickets at $3 each with a valid ID. Humana Silver Sluggers receive up to one (1) free ticket to all Tuesday home games thanks to the Humana Silver Sluggers Program. Fans 55 and older can sign up for Humana Silver Sluggers by filling out a form at the front desk or by calling 309-680-4000.
Individual game tickets, group tickets and season ticket packages, including full-season, a 35-game ticket package, an 18-game ticket package or a Flex Plan are currently on sale by calling 309-680-4000. Individual game tickets are also on sale with the Dozer Park Box Office open Monday - Friday from 10:00 am - 5:00 pm and online at www.peoriachiefs.com which also lists all of the season's promotions. Game times and promotions are subject to change.