Series Preview: Peoria vs. Quad Cities pt. II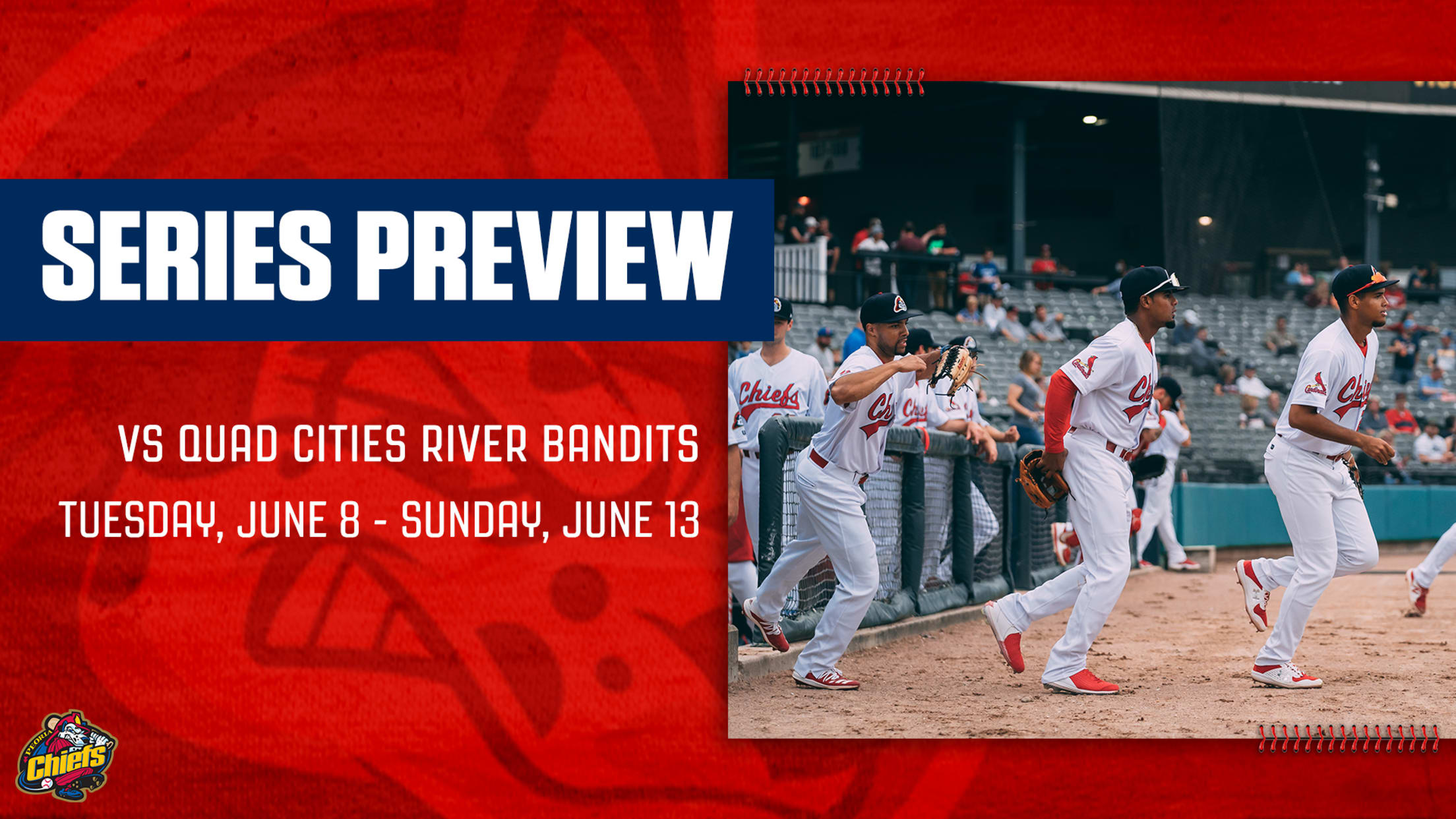 PEORIA, Ill. -- Offense was the key for the Peoria Chiefs last week as they split the series against the Wisconsin Timber Rattlers. With the 12-game road trip series in the books, Peoria sits at 12-18 at the first quarter mark of the season. Up next is a series at
PEORIA, Ill. -- Offense was the key for the Peoria Chiefs last week as they split the series against the Wisconsin Timber Rattlers. With the 12-game road trip series in the books, Peoria sits at 12-18 at the first quarter mark of the season. Up next is a series at home against the Quad Cities River Bandits, the second between the two teams.
Last Series vs. Quad Cities
In their last series versus Quad Cities, Peoria struggled and lost five out of six games. The lone win for Peoria came on May 20 off the back of back-to-back home runs from Francisco Hernandez and Pedro Pages. Quad Cities outscored Peoria 28-10 in the series and was limited to only three runs in the final three games.
Who to Watch For: Quad Cities
Tyler Gentry
Gentry hit well in Quad Cities' last series against Beloit. In that series, he slashed .389/.520/.889 with three home runs and 11 runs batted in. The second game of the series saw Gentry hit two home runs along with driving in six runs. Look for Gentry to help carry the load for the River Bandits this week.
Asa Lacy
The Royals 2020 first-round draft pick's stats might not look that attractive to the eye test. But he had his best outing of the season against the Chiefs on May 19, striking out six batters on three hits in five innings pitched. Lacy is scheduled to pitch for Quad Cities on Friday. It will be interesting to see what the Chiefs have learned about Lacy after their last go-around against him.
Vinnie Pasquantino
Pasquantino is the proven power bat of the River Bandits ballclub. His 10 home runs and 26 runs batted in lead the High-A Central. Three of his home runs came against Peoria during the last series. The Chiefs have to be careful when pitching to Pasquantino because he could get a hold of a pitch at any time.
Chiefs Last Series
Offense was the story for Peoria as the bats were hot in Appleton. The Chiefs offense started clicking after being shut out in Tuesday's opener. Throughout the series, the Chiefs mashed 10 home runs and 64 total hits to split the series. The high mark came on Saturday where the Chiefs scored 12 runs on 17 hits. Additionally, Peoria managed to record 10-plus hits in four of the six games during the series. Five of their 10 home runs came on Friday, when Brady Whalen hit three home runs while Zade Richardson hit a pair himself. After being held in check by Quad Cities three weeks ago, this upcoming series will be a huge test for the Chiefs offense.
Who to watch for: Peoria
Leandro Cedeno:
Cedeno has started to pick things up after a poor start to the season. In the last two games, he is 7-for-10 with three doubles and three runs batted in. Cedeno has also raised his batting average to .203. It will be interesting to see whether Cedeno continues to hit against the tough Quad Cities pitching staff.
Brady Whalen
Whalen's bat caught fire during the last series, hitting four home runs and driving in seven runs. This includes a three home run, six RBI game on Friday. When Whalen hits the ball in the air, good things are going to happen. Good things will happen if Whalen continues to hit well for Peoria.
Zade Richardson
All four of Richardson's home runs have come against Wisconsin this season. Three of them came in the last series, including a two homer game on Friday. Richardson recorded only one hit against Quad Cities the first time around. Now that he has seen their pitching first hand, it will be interesting to see any adjustments Richardson makes in his approach to the plate compared to the last series against the River Bandits.
Jack Ralston
Ralston has been a bright spot for Peoria's pitching staff this season. 16 of his 37 strikeouts have come in his last two starts. Additionally, his 2.59 ERA leads all qualified pitchers on the Chiefs' pitching staff. When Ralston pitches well, there's a good chance the Chiefs will win the ballgame. It is crucial for him to pitch well against a tough Quad Cities team.
The Peoria Chiefs are locally owned and operated and play their games at Dozer Park. The Chiefs are a committed community asset and premier entertainment venue for families and individuals in Central Illinois.