Bedrosian leading the charge to Anaheim
From Cal League to big leagues, Halos advance through Golden State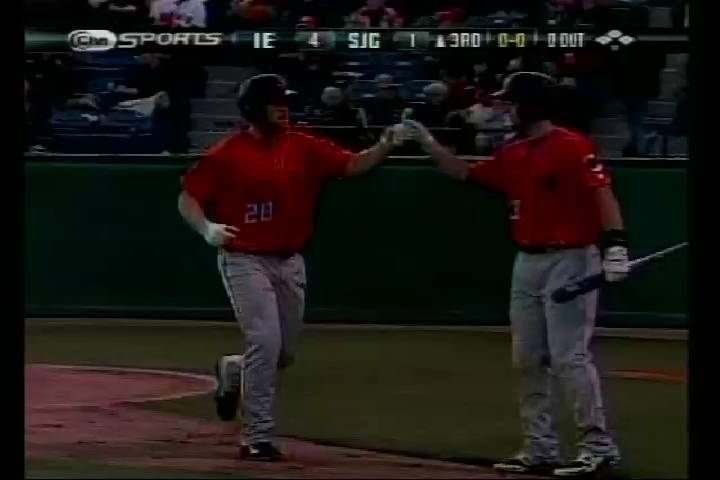 By Kelsie Heneghan / MiLB.com | October 13, 2014 10:00 AM
This offseason, MiLB.com is honoring the players -- regardless of age or prospect status -- who had the best seasons in their organization. We're taking a look at each team to determine the outstanding seasons in Minor League Baseball. Select a team from the dropdown below.
Though this organization doesn't rank high on many prospect lists, several youngsters proved valuable in the Angels' pursuit of the American League West title. While closing in on the AL's best record, Los Angeles called up 11 players as soon as rosters expanded in September.
"We may not have as many top-quality prospects, but throughout our organization -- and that's the opinion of people that write articles and so be it -- but what we try to do as a coaching staff and as an organization is, we're trying to make a player elevate his game," Class A Advanced Inland Empire manager Denny Hocking said. "It's not so much about Draft status when you put that Angel uniform on."
Those sentiments are evident among the Angels' top performers this season, with All-Stars ranging from rookies to Major League veterans.
Angels Organization All-Stars
Catcher -- Jett Bandy, Arkansas (93 games): Bandy learned a lot about himself as a player during a stint in the Arizona Fall League last year, and the results were a jump in his home run total from from four in 2013 to 13 this season. Angels director of player development Bobby Scales said that, prior to the AFL, the 24-year-old backstop was too "amped up."
"Just him being tired showed him that if he is just calmer, that things will work better for him in his swing. And that's exactly what happened," Scales said. "The thing that really accelerated with Jett this year was his pitch-calling and handling of the staff."
Bandy also enjoyed his best season defensively, throwing out 40 percent of would-be basestealers while committing only three errors.
First base -- Dennis Raben, Inland Empire (105 games): Raben began the season in independent ball, and even though he didn't join the 66ers until the end of April, he led the organization with 31 homers and 94 RBIs. Scales said the 27-year-old was brought to Inland Empire to "act as a stabilizer in the lineup," and it was his leadership skills -- as well as his bat -- that shined for the 66ers.
"It was maybe, in his mind, his last opportunity to make a name for himself, and knowing that, he just put so much pressure on himself to do everything great. I think that was probably his mind-set when he came in," Hocking said. "When he finally started to hit the ball and get comfortable, he did some amazing things."
Second base -- Andrew Daniel, Orem (63 games): The Angels took Daniel in the 11th round of June's Draft in what appears, for now, to be a steal. Spending most of his time in the leadoff spot, the 21-year-old ranked second in the organization with a .340 batting average (trailing only Owlz teammate Bo Way).
"He has a very simple, very nice, very compact approach at the plate, a very quick swing. It's very fundamentally sound," Scales said. "Everything he does is just sound. It's nothing that's going to scream at you when you watch on video or jump at you when you watch him play, but he barrels a lot of balls, his pitch selection is very good and there's something to work with there."
Third base -- Luis Jimenez, Salt Lake (117 games), Los Angeles (18 games): Coming off a shoulder injury that limited him to 85 games in 2013, Jimenez took advantage of more playing time this year. Called up twice to fill in for injured players in Anaheim -- and again in September -- the 26-year-old totaled 21 homers and 76 RBIs, both of which rank in the top five in the system.
"Luis did a great job. He's just tremendous," Scales said. "He has an infectious personality, he has an infectious energy, he loves to play baseball. On top of that, he produced in the big leagues and at the Triple-A levels. The next obstacle for Luis is, is he going to be able to translate that to the Major League level should he get another opportunity? Time will tell."
Shortstop -- Shawn O'Malley, AZL Angels (three games), Arkansas (three games), Salt Lake (89 games), Los Angeles (11 games): After spending his first seven seasons with the Rays, O'Malley found a comfort level with the Angels in 2013. This year, his second campaign in the organization proved to be his best yet as he set career highs with 11 triples, 47 RBIs and a .317 average, all while spending two stints on the disabled list.
"He played well, especially in the second half of the year, and obviously, he got his first chance in the big leagues this September," Scales said. "It's an interesting package because he can play extremely hard and he can do some things, so he could be a good asset for us."
Outfielders
Bo Way, Orem (32 games), Burlington (29 games): This was a great year for Way -- and not just because he finished in the top 10 in MiLB.com's Moniker Madness. After the Angels drafted him in the seventh round out of Kennesaw State, he lit up the Rookie-level Pioneer League with 46 hits and 27 RBIs in 32 games. That success earned him a promotion to Class A, where he picked up hits in 24 of his last 27 games.
When all was said and done, the 22-year-old's composite .347 average led all Angels Minor Leaguers. Though Way was only 13-for-21 on the basepaths, Scales said he's been working to understand optimal stealing situations.
"Bo is a left-handed hitting, right-handed throwing center fielder who can run a little bit, can swing the bat, he drives the ball to the gap, but his game is mainly line drives," Scales said. "Guys that have enough skill and have that thirst for knowledge, in terms of the game of baseball, they're going to go a long way. Bo is going to go a long way and going to play a while."
---
• Honorable mentions and outtakes from the Angels Organization All-Stars
---
Chad Hinshaw, Burlington (59 games), Inland Empire (65 games): There's no doubt about Hinshaw's speed. In his first full season, the 24-year-old led the system with 41 steals while getting caught 15 times. Speed also set him apart defensively as Hinshaw committed only two errors all season.
"He knows what kind of player he is and he can have an impact on the bases and he can have an impact on defense," Hocking said. "When he gets on the bases, he's really looking to take advantage of his speed, any little nuance that the pitcher will give him in order to steal a base.
"His speed plays in center field to where he can develop a pitching staff. I always talk about guys who can develop -- Chad can run down mistakes that are barreled up in the gap and make doubles into outs a lot of the time."
Brennan Boesch, Salt Lake (95 games), Los Angeles (27 games): Boesch is no youngster, but his bat certainly came to life this season. The 29-year-old led the Pacific Coast League with a .332 average, .636 slugging percentage and 1.017 OPS. He set Salt Lake franchise records with his slugging percentage and by reaching base in 11 straight plate appearances in August.
"He had a tremendous year in the Minor Leagues, there's no question," Scales said. "Everyone's going to say, 'Well he did it in Salt Lake.' Well, that's true. He did it in Salt Lake, he did it in the PCL, but somebody had to do it and he did."
After ranking second in the system with 25 homers and 85 RBIs, the big league veteran opted for free agency and will test the market this offseason.
Utility player -- Sherman Johnson, Inland Empire (136 games): When Hocking noted in Spring Training that Johnson would be on his roster, he was excited, not just because of Johnson's baseball prowess but also because of the role model the 24-year-old would be.
On the diamond, Johnson ranked third in the system with 78 RBIs and fourth with 17 homers and 26 steals. The Florida State product provided plenty of flexibility on the lineup card, playing four positions.
"He doesn't make a lot of mistakes between his ears out there," Scales said. "We're all going to make mistakes, but very rarely is he not in the correct position; very rarely is he not in the right place on the baseball field."
Right-handed starter -- Drew Rucinski, Arkansas (26 games), Los Angeles (three games): Since returning from a stint in independent ball last year, the 25-year-old has been a dominant starter for the Angels. He ranked second in the system this season with 140 strikeouts and fourth with 10 wins.
"The work ethic this young man has is unmatched by anybody in our organization. He truly is an absolute warrior when it comes to preparation and not just physically but mentally," Scales said. "He knows exactly who he is on the mound -- he doesn't try to do anything but what he knows he can do. When he goes out, he will absolutely battle you like he's in a street fight, as long as he has the ball and he's on the mound."
The Angels' No. 20 prospect notched a 3.15 ERA with the Travelers, then made his first trip to the Majors, where he allowed four runs on nine hits with eight strikeouts over 7 1/3 innings.
Left-handed starter -- Tyler DeLoach, Inland Empire (21 games), Arkansas (six games): Although he was slated to be the 66ers' No. 5 starter out of Spring Training, DeLoach quickly changed the organization's view of him. He led the system with 14 wins and 161 strikeouts in 27 games, including 25 starts.
After posting a 1.72 ERA over five outings in July, it was off to Double-A, where DeLoach compiled 4-0 record in six Texas League starts.
"TD was by far the best pitcher we ran out there this year, starter or reliever, that pitched inside, to the point where I believe he wound up with 16 hit batters, but he never let that affect him," Hocking said. "He can dictate using both sides of the plate. I think that's where he got his strikeouts."
Relief pitcher -- Cam Bedrosian, Inland Empire (5 games), Arkansas (30 games), Salt Lake (eight games), Los Angeles (17 games): Bedrosian found success at each Minor League level he reached this season, leading the organization with 18 saves. In 43 appearances, the Angels' fifth-ranked prospect tossed 36 scoreless outings while holding opponents to a .109 average and 18 walks.
Although the dominance did not translate to the Majors -- he sported a 6.52 ERA in 17 appearances -- the Angels called on Bedrosian five times this season.
"I know his big league numbers don't reflect the kind of year he had in the Minors, but when you go to a ballpark and you watch him do it, the ball looks like it's coming out at about 90, 91 and all of a sudden you look on the board and it says mid- to upper-90s," Scales said. "He went from 95-97, but it looks so easy and effortless. The command is very good."
Kelsie Heneghan is a contributor to MiLB.com. Follow her on Twitter @Kelsie_Heneghan. This story was not subject to the approval of the National Association of Professional Baseball Leagues or its clubs.
View More