Blair, Lamb lead group of D-backs All-Stars
Prospects rack up strikeouts, hits in bunches during big 2014 season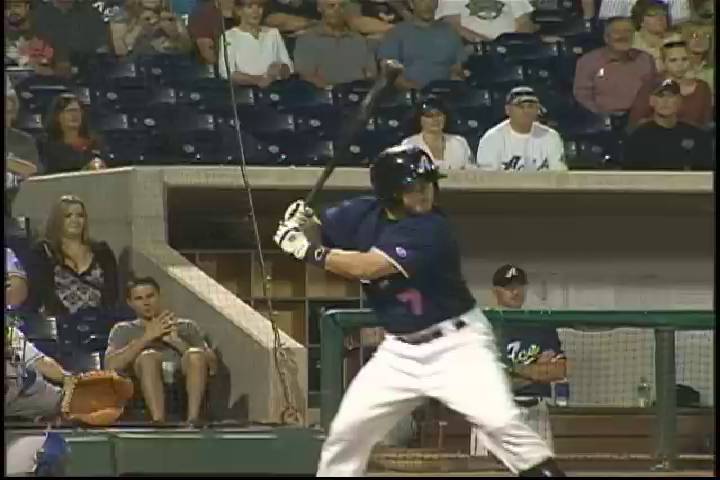 By Sam Dykstra / MiLB.com | September 29, 2014 10:00 AM
This offseason, MiLB.com is honoring the players -- regardless of age or prospect status -- who had the best seasons in their organization. Starting today with the Arizona Diamondbacks, we're taking a look at each team to determine the outstanding seasons in Minor League Baseball.
No one wants to be in the darkness of a division cellar, but sometimes just a little bit of light can be cause for hope.
It was a rough season for the D-backs, who finished with fewer than 70 wins for the first time since 2010 and the fourth time in their brief history. However, there is reason for optimism coming from the Minor League system. Arizona affiliates finished with a .564 winning percentage (473-365) that ranked second behind the Rangers (.565). Five of the team's eight squads made their respective playoffs, with short-season Hillsboro capturing the Northwest League title.
That success has those in the Minor League department of the D-backs front office excited for the future at the top.
"You always have an eye on the Major League team, obviously," D-backs director of player development Mike Bell said. "It was a down year, but I think we're the guys in the Minor League department that are viewing this as an opportunity. We've been able to send a lot of Minor League players to the Majors and get them some experience. We've got a great group of young core players that have emerged, and once we get healthy, we'll start winning next year. Right now, for me, it's all about the opportunity for these young guys."
D-backs Organization All-Stars
Catcher -- Blake Lalli, Reno (93 games): The D-backs signed the 31-year-old to a Minor League deal last offseason as a way to provide organizational depth behind the plate. He thrived as a veteran presence, putting up a .275/.340/.373 line and throwing out 40.6 percent of would-be basestealers -- the third-highest mark in the Pacific Coast League behind leader and teammate Bobby Wilson (54.1 percent). Without a spot on the 40-man roster, however, Lalli -- who played 22 games in the Majors with the Cubs in 2012 and Brewers in 2013 -- never got the call to Arizona.
"When we signed him, we thought we were getting an offensive-first catcher, but he proved to be more than that," Bell said. "It was incredible, the job they did at blocking the ball, calling the game, holding the running game. We were fortunate that we stayed healthy at that position in the big leagues, but man, he should be a big leaguer."
First baseman -- Rudy Flores, Visalia (132 games): After being taken by the D-backs in the 21st round of the 2012 Draft out of Florida International University, Flores showed nice pop in his first full season at Class A South Bend in 2013, producing an .865 OPS with 19 homers and 64 RBIs. He took his power to a new level by leading the organization in homers (28) and RBIs (100) while producing a .301/.354/.528 line for the Rawhide. He was especially good in the second half, when he had a .349/.398/.628 line with 18 homers and 57 RBIs in 67 games. His Cal League-leading 189 strikeouts could be an issue as he climbs the chain, however.
Second baseman -- Garrett Weber, Mobile (54 games), Reno (57 games): "There's not a huge difference in stuff," Weber said in July upon his promotion to Triple-A, and his production certainly backs up that claim. The 25-year-old right-handed hitter saw his line go from .282/.327/.369 with Mobile (a noted difficult spot for hitters) to .353/.405/.552 in Reno (a much more offensively friendly environment). In fact, his .353 average was fourth-highest among PCL hitters after July 1, the day of his Aces debut. Weber played mostly at second base at both levels but also saw time at first, third and in left field.
Third baseman -- Jake Lamb, Mobile (103 games), Reno (five games), Arizona (33 games): Last season was a chance for Lamb, a 2012 sixth-rounder out of Washington, to break onto the prospect scene, but a wrist injury limited him to 69 games. No matter. He was healthy and very productive in 2014.
The 23-year-old left-handed hitter led the Southern League with a .318 average and .949 OPS and tacked on 14 homers, a triple, 35 doubles and 79 RBIs in 103 games with the BayBears. He was moved up for a brief stint with Reno, where he went 9-for-18 with a homer and four doubles, before getting the call to the Majors in early August. There's speculation that Lamb's offensive ascension made the D-backs comfortable dealing Martin Prado to the Yankees on deadline day. Although Bell wasn't involved in that decision, he praised the younger third baseman.
"He was on a natural progression there, and it appeared he was ready to help our club in the big leagues," Bell said. "He's doing that exactly now. ... [The Prado trade] was a Major League move. My job is to help our staff in terms of the Minors stuff. But when I was asked, I felt like Jake was ready for the bigs."
Shortstop -- Andrew Velazquez, South Bend (134 games): Velazquez drew some of the biggest headlines in the system, indeed in all of the Minors, when he set the Minor League record by reaching base in 74 straight games between late April and July. That's especially notable because the 2012 seventh-rounder put up a .319 on-base percentage during a 65-game go-round with South Bend last year. Upon returning to the Midwest League, he finished with a .290/.367/.428 line and a circuit-best 15 triples and 50 steals. But his biggest 2014 legacy will remain The Streak.
"That ended up turning into a nice development tool for him because of the pressure he faced with it," Bell said. "It was all over Twitter and social media. I mean, everyone was talking about it to him. For a young kid to go through that and handle it like he did, it was huge. You're obviously playing to win, but you're also trying so damn hard to reach base every game. When it ends, you have to reset the clock, and he did that."
Outfielders
Justin Williams, Missoula (46 games), South Bend (28 games): The D-backs grabbed Williams in the second round of the 2013 Draft when he was only 17 years old and moved him from the infield to left. Because of his relative youth, the organization decided to keep him back and start him at Rookie-level Missoula. The left-handed power swinger proved plenty adept for the level, batting a Pioneer League-best .386 with a .904 OPS in 46 games and finishing with a 28-game hitting streak for the Osprey before being promoted in early August. He held his own in the Midwest League as he ended with a .284/.348/.461 line in 28 games. Although Williams showed he can handle Class A pitching in spite of his youth, the front office doesn't regret holding him back.
"Maybe I'm conservative, but I prefer to move guys in a positive direction," Bell said. "You can't replace confidence. So once these guys are swinging the bat well, that goes with them and it's easier to move guys then. We put Justin in a level where he's comfortable and made sure he got off to a good start. We could have moved him earlier. But we wanted to keep him in position for the batting title, and once we thought he had that, we sent him on."
Alex Glenn, Visalia (124 games): The case of Glenn is similar to that of Flores, albeit with more speed. Glenn was able to take advantage of the Cal League and smacked 24 homers, second-most in the system and 13 more than he hit last season with South Bend. He also ranked fourth among D-backs farmhands with 89 RBIs and fifth with 22 steals (22) to go with a .285 average and .872 OPS.
Socrates Brito, Visalia (128 games): Speaking of speed, Brito earned this spot after finishing second in the system with 38 steals, trailing only Velazquez. All in all, the native of the Dominican Republic -- who played primarily in right, where his arm is well suited -- had his best season yet at the plate, putting up a .293/.339/.429 line with 10 homers (six more than his previous career high), five triples and 30 doubles.
Utility player -- Andy Marte, Reno (126 games), Arizona (six games): Marte, the former big-time Braves prospect who famously was dealt first to the Red Sox and then to the Indians before the 2006 season, finished second in the PCL with a .329 average and sixth with a .919 OPS. He shared the Aces team lead with 19 homers and was second behind Mike Jacobs with 80 RBIs. Marte went 3-for-16 with a homer and three RBIs during a six-game stay with the D-backs but was designated for assignment to make room for Lamb and eventually finished the season with Reno.
Right-handed starter -- Aaron Blair, South Bend (six games), Visalia (13 games), Mobile (eight games): At the start of the season, Blair -- the 36th overall pick in 2013 -- might not have been on the short list of hurlers most likely to lead the Minor Leagues in strikeouts. (Tyler Glasnow or Henry Owens would have been safer picks.) But thanks to a 60-grade fastball and a much-improved curve, Blair blew by hitters in his first full campaign and eventually finished second with 171 punchouts over 154 1/3 innings. He posted his best ERA (1.94) at the Double-A level, and the D-backs are hopeful that he'll use that as a springboard to the Majors in 2015.
"We don't think he has to make any big jumps, development-wise, going forward," Bell said. "Between him and Braden Shipley, we felt like South Bend was a good spot to get their feet under them, then challenge them a little bit more in Visalia. We had every reason to believe they could compete in Mobile and end there. It looks like an aggressive move when guys move three times in a season, but for him, it was pretty conservative and he responded well. Aaron will start next season in the Minors, but we expect he'll be knocking down the door for the Majors at some point, too."
Left-handed starter -- Andrew Chafin, Mobile (nine games), Reno (17 games), Arizona (three games): The 24-year-old returned to Double-A to start 2014 after going 10-7 with a 2.85 ERA in 21 starts there last year. Relying on his sinking stuff, he dominated again, posting a 1.96 ERA in nine starts before being bumped to Triple-A for the first time. Chafin's numbers weren't nearly as good in the PCL -- 5.34 ERA, 1.62 WHIP, .298 average against in 92 2/3 innings -- but there is some solace in that his Triple-A road numbers (3.28 ERA, 1.33 WHIP in 46 2/3 innings) were vastly superior to those at Aces Ballpark (7.43 ERA, 1.91 WHIP in 46 innings). He made a pair of scoreless starts, allowing eight hits and a walk over 15 innings, in the PCL playoffs, and held his own in three starts with the D-backs, giving up six runs on 13 hits over 14 innings.
"He's one of the toughest guys we have in this organization," Bell said. "He wants the ball in every game. I saw him pitch a great game against Omaha in the playoffs, and he came in two days later and said he wanted to pitch that night. Of course, we didn't let him, but that was genuine. He's not just throwing it out there. He's a real tough guy that rises to the challenge. He's answered the bell in the Majors, and right now, that's what we're looking at more than any struggles he had at Reno."
Reliever -- Enrique Burgos, Visalia (55 games): Simple enough, Burgos had one of the best seasons by a Minor League reliever. What jumps out first is that the 23-year-old right-hander struck out 83 batters over 54 2/3 innings for an insane K/9 rate of 13.7. What's more, he notched a save in 29 of 30 chances and finished with a 2.47 ERA, 1.15 WHIP and .188 opponents batting average in the California League. The Panama native also cut his BB/9 rate down from 9.5 in 2013 at Class A South Bend to a much more respectable 4.3 this season.
Signed as a 16-year-old in 2007, he'll head to the Arizona Fall League to test his impressive fastball-slider mix against some of the game's top prospects.
"Where he was seven years ago, he was a young kid but a big man then who was just trying to get his body parts to work together," Bell said. "First, every bit of credit goes to him for being strong and listening to the staff. A lot of staff stood by his side and helped support him. ... Not trying to fix him, just letting him develop on his own terms.
"Just to watch him compete, he's a man now. He could have moved levels at the halfway mark, but he found himself in a nice role at the back ends of the game with the pressure on the line, and we thought that was the best spot for him."
Sam Dykstra is a contributor to MiLB.com. This story was not subject to the approval of the National Association of Professional Baseball Leagues or its clubs.
View More