Colon graduates to bigs, leads Royals stars
After a taste, infielder and others look for more than a cup of coffee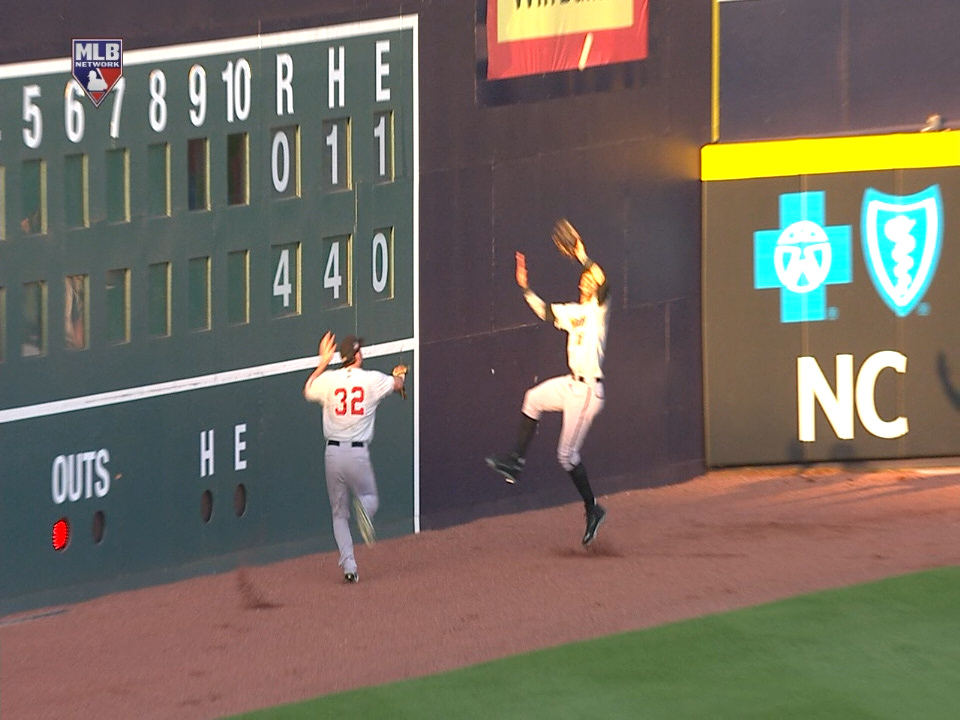 By Kelsie Heneghan / MiLB.com | November 24, 2014 10:00 AM
This offseason, MiLB.com is honoring the players -- regardless of age or prospect status -- who had the best seasons in their organization. Today, continuing with the Kansas City Royals, we're taking a look at each team to determine the outstanding seasons in Minor League Baseball.
With help from 12 homegrown players, the Royals returned to the World Series after a 29-year postseason drought. But with more Minor League talent on the verge of the Majors, the City of Fountains may not have to wait as long for its next playoff run.
"Our goal has always been, and I think our motto is, to develop from within. Our market size is our market size, our Major League payroll is what it is," said Scott Sharp, the Royals director of player development. "I think, ideally, the way that we're going to be able to be productive at a Major League level is that we're going to have Minor Leaguers that turn into productive Major League players. and I think we had a chance to see that this fall."
Along with Kansas City's chase for a ring, Omaha captured its second straight Triple-A National Championship with a stacked lineup that featured many players who will be vying for roster spots come spring. While the hitters chomp at the bit at the upper levels, Class A Advanced Wilmington grabbed the spotlight with its dominant pitching staff.
Royals Organization All-Stars
Catcher -- Francisco Pena, Omaha (96 games), Kansas City (one game): Sometimes a change of uniform makes all the difference. For Pena, it was an organization -- as well as physical -- change that brought on his best season. After spending his first seven seasons in the Mets system, the 25-year-old Dominican signed with the Royals last offseason.
Pena joined the Storm Chasers then blew past his previous career highs of nine homers and 44 RBIs with 27 dingers and 61 RBIs, earning his first Major League callup.
"His body has changed a lot since he signed and he's getting strong, he's getting more physically fit, he's matured as a hitter," Sharp said. "He did a nice job behind the plate, I know our pitchers enjoyed throwing to him, so we were really pleased with … what we got out of Francisco and we feel like he has a really bright future in this organization."
First base -- Matt Fields, Omaha (125 games): After leading the organization in RBIs and home runs last season, Fields continued to rank near the top of Royals farmhands offensively. Two years after coming out of retirement, the 29-year-old slugger topped the system with 81 RBIs and was second with 28 long balls.
"He's got such enormous overall power. He can mishit balls and get them out of the ballpark," he said. "It was good to see him go up and make the adjustment to the pitching and not be overwhelmed by the advanced level."
Second base -- Johnny Giavotella, Omaha (114 games), Kansas City (12 games): Though a logjam has caused the 2008 second-round pick to bounce between Triple-A and the Majors over the past four seasons, Giavotella is making the most of his time when he gets in the batter's box.
The 27-year-old hit .306 -- mostly from the three-hole -- with 33 doubles and 47 walks to just 36 strikeouts while in Omaha. He was called up to fill in for an injured Omar Infante in May, while also returning to Kansas City in September. As Giavotella adds versatility in the field -- spending time in the infield and outfield throughout his career --a big league roster spot could be his to earn come March.
Third base -- Cheslor Cuthbert, Northwest Arkansas (96 games), Omaha (25 games): Since he was signed at 17 in 2009, the Nicaragua native has often been one of the youngest players on the roster. But as he advances through the system, the Royals' No. 15 prospect is figuring out how to take each at-bat like a veteran.
"He's approaching a number of at-bats in the Minor Leagues that we should really start to see what type of player he's going to be. I think that's kinda what we saw this year," Sharp said. "He's just become a little bit more comfortable at the plate, understanding who he is as a hitter, just kind of maturing."
After batting .276 with 48 RBIs over 96 games in the Texas League, Cuthbert got the call to the Pacific Coast League, where he ripped a solo shot in the Triple-A National Championship Game.
Shortstop -- Corey Toups, Idaho Falls (57 games): Coming out of Sam Houston State, the 21-year-old faced an adjustment period as he made his professional debut, but for Toups it only lasted eight games. After the quiet start, the shortstop prospect hit .378 over his next 25 games and continued his hot hitting through the season.
Toups ranked second in the organization with a .335 average and, though he only played in 57 games, his 64 RBIs put him third in the system. The Texas native also showed a lot of patience at the plate, finishing second in the Pioneer League with 43 walks.
"He's a guy that our analytics department really targeted going into the Draft, just as an isolated on-base guy who can swing the bat and he also draws a lot of walks," he said. "He has a lot of plate discipline. He did a nice job developing throughout the summer."
Utility player -- Christian Colon, Northwest Arkansas (2 games), Omaha (86 games), Kansas City (21 games): The 25-year-old began his year with Rookie of the Year honors in the Puerto Rican Winter League and ended it with a big RBI in the American League Wild Card Game. After the 25-year-old posted a .296/.360/.385 slash line with 37 RBIs over his first 74 games, Colon got the call to the Majors to make his debut.
"I don't think there was a whole lot more that Christian had to do to improve in the Minor Leagues. He is a good baseball player, very productive," Sharp said. "I just think it was his natural rate in terms of when he was ready for the Major Leagues. He proved to us and proved to himself he was ready to move and ready to do it."
The versatile infielder split most of his time between second and short but also spent 13 games at the hot corner, potentially giving Royals manager Ned Yost plenty of options next spring.
Outfielders
Carlos Peguero, Omaha (104 games), Kansas City (four games): Like Pena, Peguero was refreshed by a change in organization. Looking for a left-handed-hitter with power, the Royals acquired the 27-year-old from the Mariners in January and that is exactly what they got. Posting his best numbers since 2009 in the California League, Peguero led the system with 30 homers and ranked second with 76 RBIs.
The Dominican Republic native struggled early but worked with Storm Chasers hitting coach Tommy Gregg and improved throughout the season, culminating in a red-hot August. Peguero totaled 15 long balls, 32 RBIs and a .311 average in the final month of the campaign before getting the call to Kansas City.
Whit Merrifield, Northwest Arkansas (44 games), Omaha (76 games): The 25-year-old started off the season strong -- .278 average with five dingers and 20 RBIs -- but really stepped his game up when he was promoted to the Pacific Coast League.
"He's a baseball player. Not the flashiest of tools, but when the game starts, he's the guy you want at the plate, he's the guy you want the ball hit to," Sharp said. "He can play all over the field."
With the Storm Chasers, Merrifield had a .340 average over 76 games, leading to a .319 composite average that led all full-season Royals. His consistency at the plate carried into the playoffs as the South Carolina product posted a .386/.413/.636 slash line en route to a Triple-A National Championship.
---
• Outtakes from Scott Sharp and honorable mentions on the blog »
---
Paulo Orlando, Omaha (136 games): Growing up in Brazil, Orlando got a late start on his baseball career, but at 29, he is finally making up for lost time. This year, the outfielder showed his offensive versatility, ranking third in the Royals with 34 stolen bases, fifth with 63 RBIs and topping the Storm Chasers with 151 runs scored, but it was his work with the glove that turned heads.
Patrolling center, but taking turns in left and right, Orlando committed just two errors this season.
"He's very instinctual, he makes up huge ground because he has such big strides, his routes are really good, his reads are really good," Sharp said. "He's had to make up a lot of ground given his baseball background, or lack of it, and he's started to do that and he's really starting to believe in himself."
Right-handed starter -- Glenn Sparkman, Wilmington (29 games): Transitioning from the bullpen, the 6-foot-2 hurler took charge of the Blue Rocks' rotation with an organization-leading 1.56 ERA over 121 innings. Over his 29 games -- 18 starts -- Sparkman issued just 25 free passes while fanning 117 Carolina League foes to pick up league Pitcher of the Year honors.
Sharp saw improvement in the right-hander's breaking ball, but his fastball and changeup remain his go-to pitches.
"He's just able to execute in the stirkezone a lot at an extremely high rate," he said. "The game just doesn't faze him, the competition doesn't scare him, and I think that's what allows him to be so aggressive in the strikezone."
Left-handed starter -- Sean Manaea, Wilmington (25 games): After a torn hip labrum delayed his professional debut by a season, the Royals third-ranked prospect made his presence known when he finally was able to play. Though Manaea got off to a slow start, he turned things around in July, sporting a 1.96 ERA in the second half of the season.
"He has electric stuff and he just made a really nice adjustment throughout the year," Sharp said. "I think when he was selected, the idea was that he is going to be a dominant left-handed starter, and that's what those guys do -- they strike people out and he did it."
The southpaw blew past Carolina League opponents with an organization-leading 146 strikeouts -- including a 12-punchout game -- over 25 starts.
Relief pitcher -- Mark Peterson, Wilmington (33 games), Northwest Arkansas (12 games): Following a tough first full season with Class A Lexington, Peterson's confidence grew as his ERA shrunk this year. The right-hander led the Blue Rocks with 22 saves while posting a 1.31 ERA across 33 appearances before getting promoted to Double-A.
With the higher level came a slight rise in his ERA -- ending the year with a 1.42 composite -- but Peterson finished the season atop the Royals Minor League system with 25 saves in 30 opportunities while striking out a career-high 46.
Kelsie Heneghan is a contributor to MiLB.com. Follow her on Twitter @Kelsie_Heneghan. This story was not subject to the approval of the National Association of Professional Baseball Leagues or its clubs.
View More