Reds boast strength at lower levels, pitching
Winker, Lively, Blandino now established as high-potential players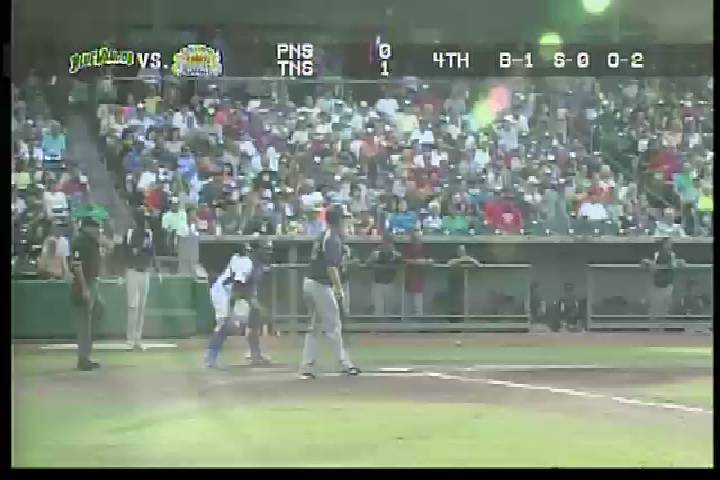 By Josh Jackson / MiLB.com | November 6, 2014 10:00 AM
This offseason, MiLB.com is honoring the players -- regardless of age or prospect status -- who had the best seasons in their organization. We're taking a look at each team to determine the outstanding seasons in Minor League Baseball. Select a team from the dropdown below.
For the Reds' Minor League system, 2014 was a tale of two seasons -- the best of times and the worst of times. The Double-A and Triple-A teams combined to go 128-155, with both Louisville and Pensacola finishing last in their respective divisions. But the Class A Advanced Bakersfield Blaze went 78-62 to win a first-half title and reach the California League semifinals. Class A Dayton was 68-70 but narrowly missed the playoffs with a 36-32 first half. The Rookie-level Billings Mustangs (41-35) were Pioneer League champions.
"It was a lot of fun [seeing the Mustangs win]," said Reds director of player development Jeff Graupe. "The thing I found so impressive about Billings is how they developed a team environment and a team mentality from Day 1, especially since, being a short-season team, they didn't have a lot of opportunity to play together in the past. They did a great job with the guys that [senior director of amateur scouting] Chris Buckley brought in, and with some of the guys who were already there."
As for the losing seasons at the upper levels, Graupe was disappointed but not concerned.
"Obviously, you want to have winning teams everywhere, and we did our best to do that. At the upper levels, I think we saw the effects of injuries not only on those clubs, but injuries in the Majors," he said. "At the lower levels, we were able to keep those clubs intact, and we had success there."
Reds Organization All-Stars
Catcher -- Joe Hudson, Dayton (80 games), Bakersfield (14 games): It isn't often that a player bats .236 and earns honors, but Hudson is a defensive whiz at a crucial and challenging position.
Hudson caught 45 would-be thieves in the Midwest League, and only 41 stole successfully off him. He posted a .988 fielding percentage over 700 1/3 innings at that level. In the California League, he threw out six runners stealing, and just five got by him.
"He blocks balls very well, and I think he threw out over 50 percent of basestealers," Graupe said. "He handled that quality staff at Dayton very well, and he moves well and does everything behind the plate."
Graupe and the Reds also believe that Hudson's offensive skills will significantly improve as he continues to develop.
Honorable mention: Rossmel Perez was nearly as adept at the plate as Hudson was behind it. He batted .321 over 81 games between Double-A Pensacola and Triple-A Louisville.
First baseman -- Marquez Smith, Bakersfield (120 games), Pensacola (14 games): True, Smith was a 29-year-old veteran playing most of the season in Class A Advanced ball, but at any age, at any level, leading all of affiliated baseball in RBIs is no small feat. Smith plated 131 while batting .311. He hit 30 home runs and crossed the dish himself 93 times.
"We knew his talent and experience were ahead of the league," Graupe admitted.
But Smith was even more valuable than the numbers suggest.
"What Marquez did a real nice job of was embracing his role on the [Bakersfield] team. The effect he had in that lineup on [Jesse] Winker and [Seth] Mejias-Brean and other guys on that team. … His presence was really important there, and he was a real professional."
Second baseman -- Juan Perez, Bakersfield (120 games): In repeating the Cal League, Perez improved almost across the board. He struck out 21 fewer times than he did in 2013 while putting up a .307 on-base percentage, hitting 13 home runs and collecting 70 RBIs.
"Juan is a guy who had played all over the field. We let him settle in at second this year, and he really took advantage of that [stability] with his bat," Graupe said. "He's a left-handed hitter with the ability to drive the ball, especially for a kid with his frame, and he runs well. He plays well at second, too."
Third baseman -- Seth Mejias-Brean, Bakersfield (69 games), Pensacola (65 games): Mejias-Brean batted .270 while whacking 14 homers and 15 doubles and had a .368 on-base percentage, but it's his glove that really makes him a special prospect.
"He's as steady as they come," said Graupe. "He's athletic enough to make the rangy plays to both sides, and he has a strong arm, but what impresses me the most is his ability to constantly turn the everyday standard groundballs into outs. He's really an efficient fielder, and he makes good decisions."
Shortstop -- Alex Blandino, Billings (29 games), Dayton (34 games): At Stanford, Blandino spent the bulk of his playing time at third baseman, but the Reds moved him to short and sent him to the Pioneer League after drafting him with the 29th overall pick this year.
He played well enough there that Cincinnati plans to have him do it again next season. There was a lot to like about his offensive performance, too.
"This kid is a very, very intelligent player," Graupe said. "He has an advanced feel for hitting. He controls the zone, and he has good power."
He had 30 extra-base hits and drove in 32 runs over 63 games.
Outfielders
Kyle Waldrop, Bakersfield (65 games), Pensacola (66 games): Waldrop absolutely scorched his way through the Cal League, batting .359 through the first half of the season. In the Southern League, he hit .315 with 17 doubles, three triples and eight homers in 66 games. The combined .338 mark was the highest in the entire organization.
His total of 14 homers was a bit down (he hit 21 last year), but he combined for a .385 on-base percentage compared to a .304 mark in 2013.
"That's something we teach organizationally, but it takes the individual to put it into practice. He has plus raw power, and I think when he was younger, he was a little pull-happy," Graupe said. "He tried to generate power by pulling the ball instead of hitting the ball where it was pitched. This year, he used the full field to hit."
Jesse Winker, Bakersfield, (53 games), Pensacola (21 games): The season started gangbusters for the Reds' top position-player prospect, as he had a .317 average and 13 homers through his Cal League assignment. After he got the bump to Pensacola, Winker scuffled until a wrist injury ended his season prematurely. Still, he posted a combined on-base percentage of .399 and a .518 slugging percentage.
"I'm disappointed his year was cut short at Double-A," Graupe said, "because I think he would have made the adjustment and put up big numbers in the Southern League."
Winker was also an asset on defense in both leagues.
"His defense improved a lot. He made a couple of nice plays cutting off balls at the wall, and I think he really took that to heart and saw what he could do," said Graupe.
Sebastian Elizalde, Dayton (55 games), Bakersfield (66 games): Elizalde played for Monterrey in the competitive but unaffiliated Mexican League from 2010-13. He was 18 when he debuted, and he batted less than .300 in just one of those seasons (.276, in 2012).
The Reds grabbed him, and he responded by putting up a .380 on-base percentage while whacking 16 homers and collecting 71 RBIs while playing all three outfield positions and spelling at first base across two levels.
"He hit for average, and he drives the ball to all fields," Graupe said. "He does everything you preach. He's great at finding a way to get on base and giving difficult at-bats."
Utility -- Juan Silva, Bakersfield (67 games): A fourth outfielder rather than a true utility player, a thumb fracture cut Silva's season short and still he led the system in stolen bases and was an all-around standout performer.
Silva batted .310 and got aboard in better than 42 percent of his plate appearances. In his abbreviated season, he also showed an ability to connect with a bit of power, socking 14 doubles, three triples and four homers.
"I was disappointed the injury happened when it did. He was really running with the opportunity to have everyday playing time," Graupe said. "He had always done a great job coming off the bench and being prepared to hit whenever, but he was really scrapping for at-bats and just preparing for the opportunity when it came. This season, we carved out everyday playing time for him, and he really took advantage of it."
Right-handed starting pitcher -- Ben Lively, Bakersfield (13 games), Pensacola (13 games): Lively was a fourth-round pick last year, and his 2014 campaign rocketed him to the No. 6 spot on MLB.com's rankings of the Reds system. The 22-year-old Florida native came out and dominated in the California League, putting up a 0.74 ERA through his first eight starts there. He struck out 10 in back-to-back April games, and whiffed 95 in 75 innings there.
"Obviously, Bakersfield, and the whole league, favors hitters. He neutralized opponents' lineups and mixed his pitches well." Graupe said. "Any time you put up an ERA in the ones for the better part of two months, you go beyond what everyone could hope for, especially since we challenged him to go right into the Cal League and spend the whole year there."
Lively forced a promotion, though. After making the big jump to Pensacola, he had a 3.88 ERA and piled up 76 strikeouts in 72 innings. He walked 52 over the course of the whole season.
---
• On the blog: Robert Stephenson's good year with bad results »
---
Left-handed starting pitcher -- Amir Garrett, Dayton (27 games): Garret, a 6-foot-5 southpaw, was also a college basketball player until he committed to baseball fulltime this August. That seems like a pretty good decision. In 2014, he held opponents to a .231 average while striking out 127 over 133 1/3 innings. He had a 3.65 ER,A threw two shutouts and improved more and more as the summer wore on.
"I believe if you put his second-half numbers against any lefty in the Minors, and almost any starting pitcher in the Minors, they'll stack up. He was dominant," Graupe said. "What impressed me was hearing that he got better and better every month. That makes sense, since this was his first full, dedicated season in baseball."
Reliever -- Alejandro Chacin, Dayton (48 games): Chacin was second in the Reds' Minor League system with 20 saves (in 25 opportunities), and he whiffed 84 compared to 28 walks over 65 1/3 innings. Working in Class A for the second straight season, Chacin improved from 2013's 2.91 ERA to a 2.34 mark.
"Chacin showed the ability to shorten games in the Midwest League," Graupe said. "He's 20 years old, and he mixed two pitches for strikes and commanded the ball at all times. He had prolonged success this year."
Josh Jackson is a contributor to MiLB.com. This story was not subject to the approval of the National Association of Professional Baseball Leagues or its clubs.
View More