Rockies' George cycles in 16th pro game
Sixth-round pick hits first triple, completes feat with single in eighth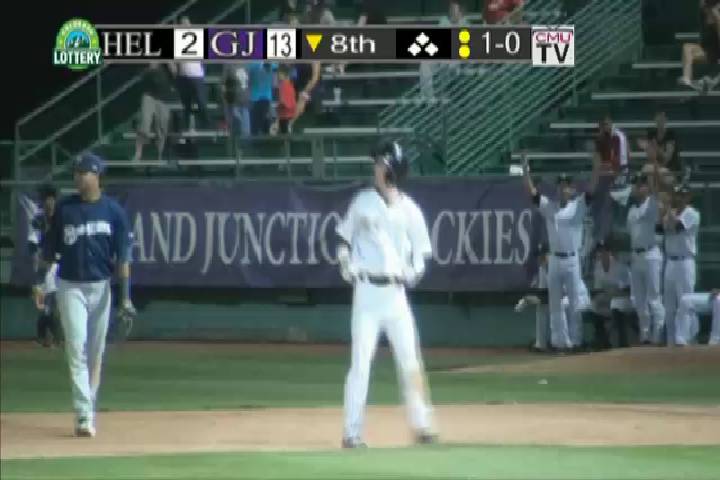 By Josh Jackson / MiLB.com | July 13, 2014 1:48 AM
Forrest Wall offered some advice to Max George before his teammate's last at-bat on Saturday night.
"He said, 'If you're thinking about stretching it into a double, just stay on first,'" the Rockies prospect recalled.
The way it turned out, George wasn't even tempted to go for two. The ball he plunked into shallow left-center field with two outs in the eighth inning had single written all over it, which meant George had hit for the cycle.
A month after he was drafted in the sixth round by his hometown Rockies, George went 4-for-4 with four RBIs and three runs scored in Rookie-level Grand Junction's 13-2 win over visiting Helena.
"It was a blast tonight," he said. "I was having fun with it."
George, who was born in the Denver suburb of Parker, Colorado, had extra reason to be thrilled with the performance: it came just 16 games into his professional career. He hit for the cycle exactly a month to the day since signing with the team he grew up rooting for.
"I was always a Rockies fan. I grew up in Denver and I've always wanted to be a Rockie," the graduate of Aurora's Regis Jesuit High School said. "My coaches and my teammates have helped me a lot with the process."
His parents and a few friends were in attendance at Suplizio Field and watch him accomplish the rare feat.
The 18-year-old shortstop was hit by a pitch with the bases loaded in his first plate appearance, then followed a third-inning double with a solo homer in the fifth. The blast off Josh Uhen was George's second since turning pro.
With runners on second and third and two outs in the sixth, again facing Uhen, George slapped a triple to deep center field. He knew that hitting for the cycle was within reach.
"After the triple, I realized it," he said. "But I still just wanted to put the ball in play and hit it hard."
Two innings later, he took two pitches outside the strike zone from Donnie Hissa. He made contact on the third offering.
"I was just trying to stay relaxed and not do too much," George explained. "I got a pitch to hit and I blooped it over the shortstop's head."
Standing on first base, George allowed himself a moment to react.
"I was excited," he said. "The fans were having fun with it and I was just trying to soak it all in and enjoy it."
George's cycle was the first in the Pioneer League this season and the first for the team since relocating from Casper in 2012. David Kandilas pulled off the trick for the franchise on June 25, 2011.
Wall, the 35th overall pick in this year's Draft, was 2-for-4 with two RBIs, two walks and a run scored.
Rockies reliever Logan Norris allowed a hit and struck out two in two inings of scoreless relief to improve to 3-0.
Josh Jackson is a contributor to MiLB.com. This story was not subject to the approval of the National Association of Professional Baseball Leagues or its clubs.
View More