Dalbec hits three homers in 8-7 loss at Trenton in 12
First three-homer game as a Red Sox affiliate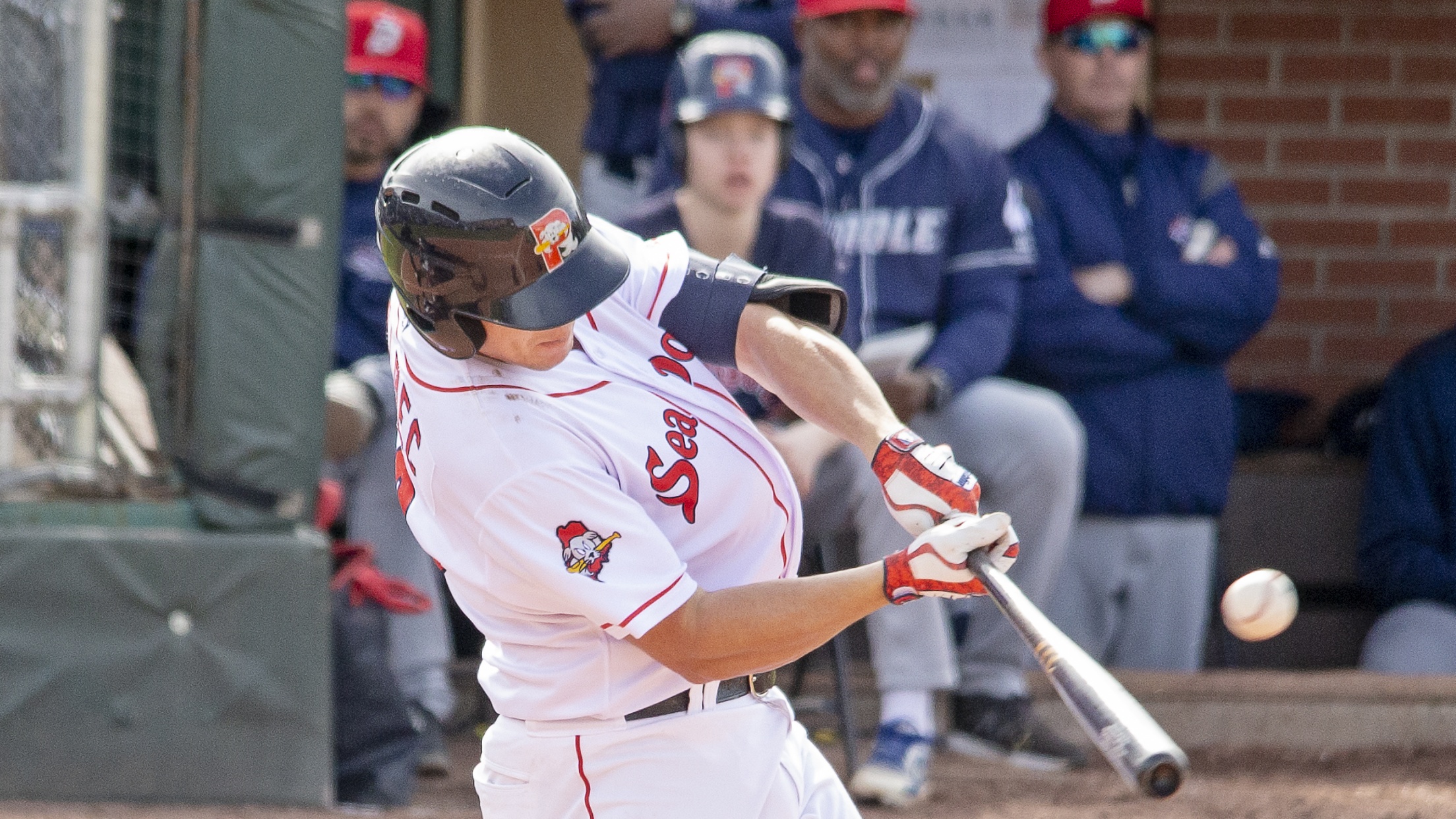 Trenton, NJ - The Trenton Thunder (21-10) scored five two-out runs on four consecutive hits and defeated the Portland Sea Dogs (11-21), 8-7 in 12 innings on Saturday night at Arm & Hammer Park. 
Trenton, NJ - The Trenton Thunder (21-10) scored five two-out runs on four consecutive hits and defeated the Portland Sea Dogs (11-21), 8-7 in 12 innings on Saturday night at Arm & Hammer Park.
3B Bobby Dalbec made history, becoming the first Sea Dog as a Red Sox affiliate to hit three homers. Portland had two previous three-homer games as a Marlins affiliate: Alex Gonzalez 5/24/97 vs. New Britain and Randy Rigsby 7/11/02 @ New Haven.
Portland snapped a 3-3 tie in the 12th inning when Jerry Downs scored the go-ahead run on a wild pitch. With two outs, Brett Netzer smacked a two-run homer to right field. Bobby Dalbec followed his third homer (#6) of the game.
In Trenton's 12th, Wendell Rijo started the rally with an RBI single, his fourth RBI of the game. Ben Ruta and Chris Gittens brought the Thunder within one run on consecutive RBI singles. Zach Zehner nailed a two-run triple for the walk-off win.
RHP Domingo Acevedo (W, 5-1) earned the win, despite four runs (three runs) allowed over two innings pitched. RHP Jordan Weems (L, 0-1) allowed all five runs (four earned) in 2/3 of an inning.
Rijo gave Trenton and an early 2-0 lead with a two-run homer in the first off Dedgar Jimenez. Jimenez tied a team-high with seven innings pitched on just three runs, his fourth consecutive quality start.
Dalbec hit his first homer in the fifth inning, and Rijo responded with a two-out RBI double in the fifth. Dalbec nailed his second homer in the sixth and scored the tying run on an error in the eighth.
Durbin Feltman worked two perfect innings (career-high), and Adam Lau was scoreless over two frames in extra-innings. The Sea Dogs had six hits but four from Dalbec (4-for-5, 3 HR, 3 RBI, 2B).
The Sea Dogs and Trenton Thunder wrap-up a three-game series on Sunday afternoon with a 1:00 PM start from Arm & Hammer Park. Lefty Kyle Hart (2-4, 2.60) is on the mound for Portland, and Dustin Pedroia is expected to play. Radio coverage on the WPEI U.S. Cellular Sea Dogs Radio Network begins at 12:45 PM. The game is available on the tune-in app and MiLB.TV.
Tickets for the next homestand (May 13-15) can be purchased at 207-879-9500 or seadogs.com. Book your nine inning vacation today!