We're Hiring: Director, Field Services/Head Groundskeeper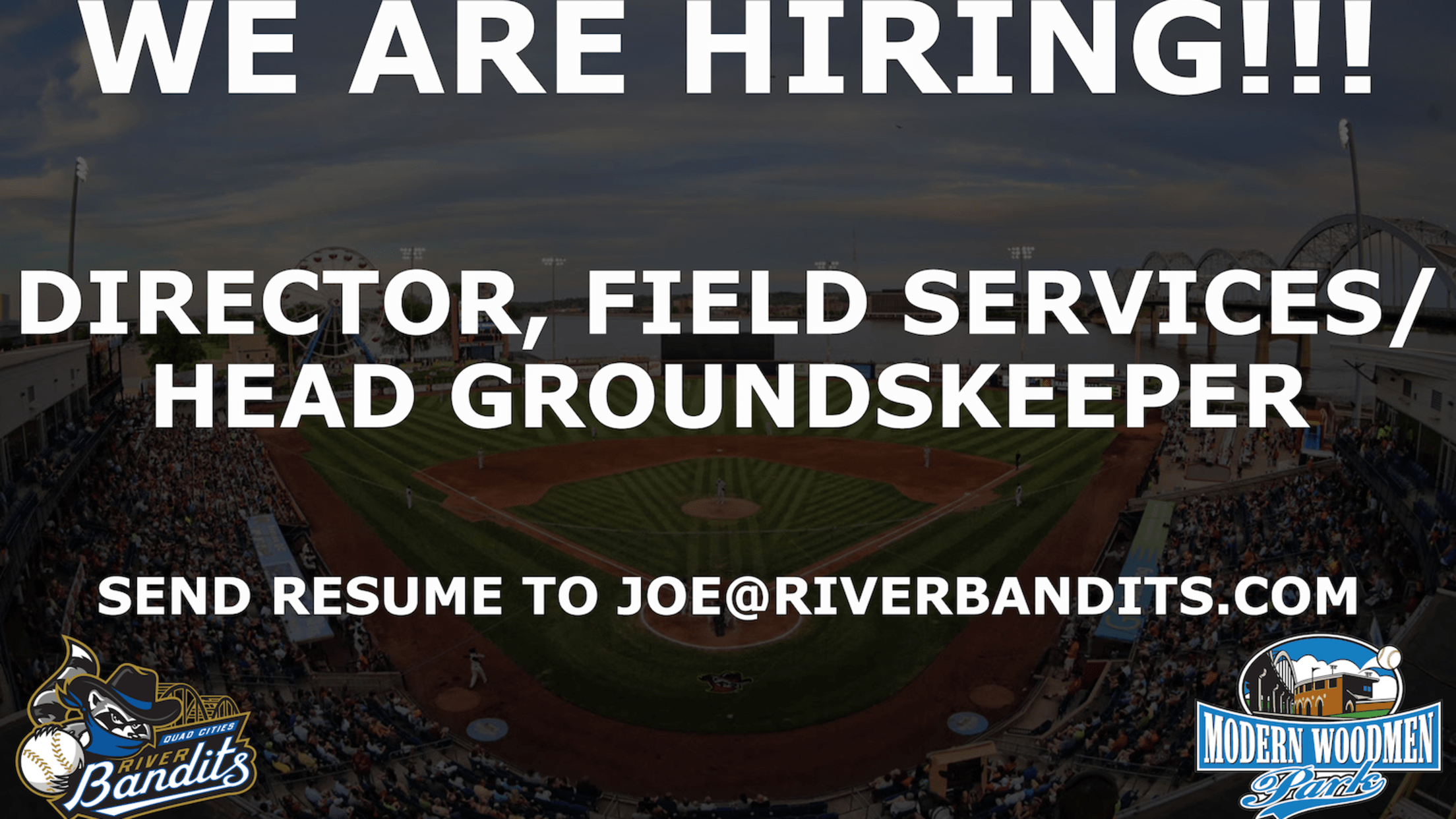 Position: Director of Field Operations/Head Groundskeeper (Full-Time) Reports to: Assistant General Manager, Operations Summary of Position: The Director of Field Operations will manage the short-term and long-term plan and implement the agronomic program for the playing surface at Modern Woodmen Park. This role oversees and performs the daily maintenance of
Position: Director of Field Operations/Head Groundskeeper (Full-Time)
Reports to: Assistant General Manager, Operations
Summary of Position: The Director of Field Operations will manage the short-term and long-term plan
and implement the agronomic program for the playing surface at Modern Woodmen Park. This role
oversees and performs the daily maintenance of the playing surface with minimal supervision and
must ensure the field is up to MLB playing standards at all times. The Director of Field Operations will
train and develop all seasonal/gameday grounds crew members and will play a key role in the
planning and execution of all on-field events.
Major Job Duties Include but are not Limited to:
• Management and administrative oversight of the grounds department.
• Developing and executing a budget for equipment, supplies and staffing.
• Planning for projects on the field daily, monthly, yearly as needed.
• Developing seasonal/part-time staff schedules for daily and weekly work.
• Managing materials inventory and deliveries.
• Managing relationships with all outside vendors that supply the grounds department.
• Obtaining up to date agronomic certifications per Iowa guidelines.
• Making sure field equipment is kept in good working order.
• Overseeing field irrigation and implementing watering plan, dependent on weather.
• Posting, hiring and training staff for seasonal/gameday work.
• Monitoring daily weather during the season, as well as on day's events that are held on the field.
• Staying up to date with MLB changes to the rules, field conditions, etc.
• Develop and maintain good communication with the Kansas City Royals Coaching staff, trainers,
players, etc. and St. Ambrose University Staff.
• Mowing, fertilizing, maintaining and rebuilding pitching mounds, bullpens, hitting/pitching
tunnels and home plate areas, dragging and moisture management of infield skin, field marking,
edging, aerating, topdressing, replacing sod, and tarping.
• Develop/implement maintenance and fertility schedules.
• Apply chemicals to playing surface (liquid and granular).
• Keeps up-to-date and accurate records of all applications per the state of Iowa guidelines, and
must keep certification and education up to date.
• Facilitate additional on-field special events such as collegiate/amateur games, movie nights,
scout campouts, corporate events, etc.
• Implement fast action plan to treat turf stress and disease problems to maintain any damage to
minimal affects.
• Making sure field is prepared for the winter properly, as well as maintained in the winter to
prevent diseases.
• Making sure over-seeding programs are performed and properly scheduled.
• Maintains a watchful/educated eye on the field during the winter to spring transition to ensure
things are coming back from dormancy correctly.
• Make timely proactive decisions on weather conditions to protect the playing field for the game
within your abilities and timing.
• Maintain preventive maintenance on field equipment.
• Assist Assistant General Manager, Ballpark Operations with other facility projects, especially
during the offseason.
• Perform other duties as assigned by Assistant General Manager, Ballpark Operations.
Education and Experience:
• Degree in Field/Turf Management.
• 2-5 years' field maintenance experience
• Must have or obtain chemical, fertilizer, and pesticide certifications/licenses
• Maintaining a baseball field playing surface at a high level.
Abilities:
• Interpret weather
• Lift 50+ pounds
• Work with hands
• Time management
• Lead and motivate staff
• Patience
Context:
• 40 hours per week in the off season
• 70-80 hours per week during the season
• Outside in the elements for most of the work hours
• Time sensitive during the season
• Long hours, weekends, and holidays
Work Styles:
• Attention to detail
• Self-Motivated
• High stress tolerance
• Dependability
• Leadership
• Creative and Solution Minded
Send Resume to [email protected]