Rancho Blows Late Lead, Drops Finale to 66ers
Quakes' Bullpen Allows Four Runs in the Eighth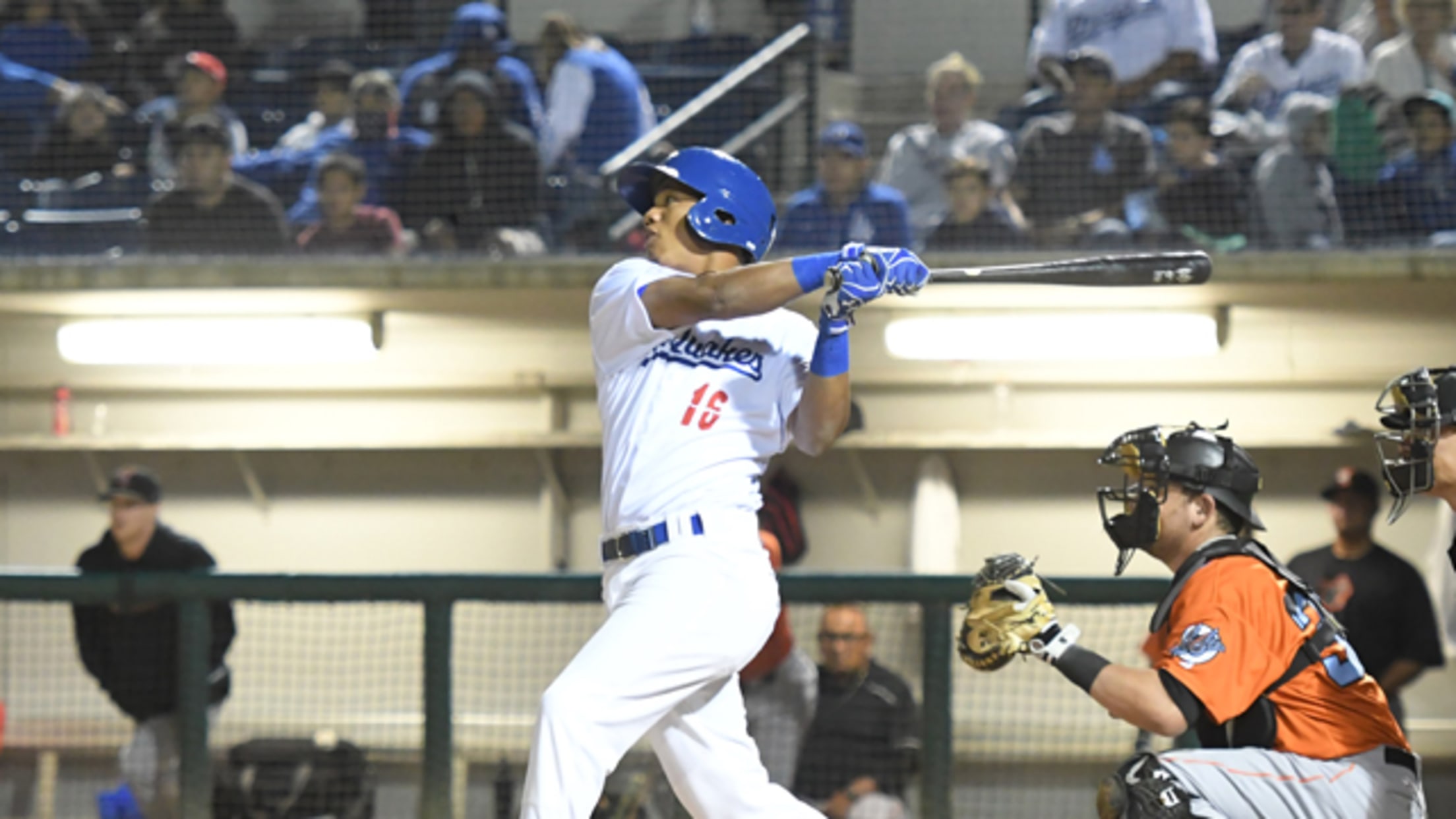 (STEVE SAENZ)
San Bernardino, CA- After taking the lead in the seventh inning, the Quakes allowed four runs in the eighth and lost, 7-6, to Inland Empire on Monday night.Trailing 3-2 into the seventh, Rancho fought back with four runs. After Keibert Ruiz reached on an error by first baseman Matt Thaiss
San Bernardino, CA- After taking the lead in the seventh inning, the Quakes allowed four runs in the eighth and lost, 7-6, to Inland Empire on Monday night.
Trailing 3-2 into the seventh, Rancho fought back with four runs. After Keibert Ruiz reached on an error by first baseman Matt Thaiss with one out in the seventh, the flood gates opened. Ibandel Isabel knocked in Ruiz with a double and then scored on an RBI single by Ariel Sandoval with two outs. Sandoval crossed the plate on a Drew Jackson RBI single and Jackson then came home on another error when Luke Raley singled into right to make it 6-3. All four runs were unearned.
In his Rancho debut, Ruiz finished 2-for-4 with a triple and two runs.
Inland Empire then came back with four runs of their own in the bottom of the eighth. Tony Gonsolin (3-4) was tagged with all four runs and the loss, but Andrew Istler blew the save by allowing two inherited runners to score.
Sandoval started the scoring back in the fifth with a two-run home run to break a scoreless tie. It was Sandoval's second home run of the season (his first since April 19th) in his first game since June 2nd after a stint on the disabled list.
In the bottom half of the inning, three runs scored off of starter Caleb Ferguson, highlighted by a two-run triple from Troy Montgomery.
Ferguson threw shutout baseball into the fifth, but finished with five innings, giving up three runs (two earned) while striking out a season-high nine and walking three.
Samil De Los Santos (2-1) picked up the win by throwing a scoreless inning and a third for the 66ers while Nathan Bates only allowed one runner in the ninth for his third save of the season.
Rancho Cucamonga (10-9, 46-43) and Inland Empire (11-8, 41-48) will both have the day off on Tuesday, July 11th, along with the rest of the California League.
On Wednesday, July 12th, Rancho will welcome the San Jose Giants into LoanMart Field at 7:05 PM for the first of four games. The Quakes are expected to turn to right-hander Dennis Santana (5-6), while the Giants will send right-handed Major League rehabber Albert Suárez (0-0) to the mound.
The MVP gates will open at 5:45 and the main gates will open at 6:05. It will be Terra Vista Animal Hospital Bark in the Ballpark Night! Four-legged friends are welcome at LoanMart Field on this great night, thanks to Terra Vista Animal Hospital. Pet Passes cost just $3, with proceeds to benefit the Rancho Cucamonga Animal Shelter. Tickets are available at 909-481-5000 or rcquakes.com. Go Quakes!