Rathjen's Walk-Off Wins it for Quakes
Outfielder homers in the 11th inning to snap five-game skid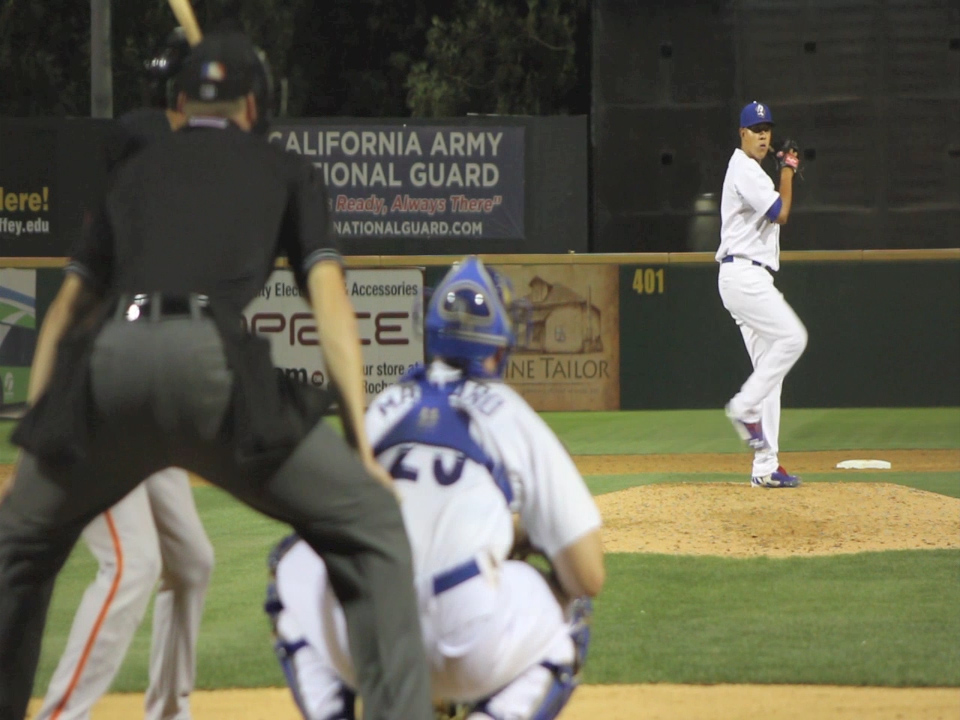 By Brandon Liebhaber / Rancho Cucamonga Quakes | August 14, 2014 2:25 AM
Rancho Cucamonga, CA - Jeremy Rathjen's walk-off home run in the 11th inning gave the Quakes a 2-1 victory over the San Jose Giants on Wednesday night at LoanMart Field. Rancho's bullpen pitched six innings of scoreless baseball to help snap a five-game losing streak.
The game was tied at 1-1 after five innings and it remained that way until the 11th. With one out and nobody on, Jeremy Rathjen crushed the first offering from Mason McVay (0-4, 3.88) to left field to end the ballgame. It was measured at an estimated 421 feet. The long ball was Rathjen's 14th of the year and his 10th in the Second Half.
The victory was Rancho's seventh walk-off victory of the season. The Quakes are now 2-7 against San Jose, and both of their wins have come in walk-off fashion. Pratt Maynard's ninth-inning sacrifice fly gave the Quakes a 1-0 win on April 5.
Rancho Cucamonga (27-25, 59-63) got a fantastic outing from their entire pitching staff. One day after turning 18 years old, Julio Urias struck out a career-high nine batters in five innings while walking just one. The only run he gave up came in the fifth on an RBI single by Mitch Delfino.
After Urias, Rancho got six innings of scoreless relief from their bullpen. Dan Tillman, Craig Stem, Rob Rogers and Luis Meza combined to give up just two hits and two walks over six frames. Meza (1-2, 7.85) earned the victory after facing the minimum in the top of the 11th.
The Quakes took an early lead on San Jose (30-22, 64-58) in the second. With one out, Aaron Miller tripled to right-center field. Miller scored on an RBI groundout by Steven Proscia to give Rancho a 1-0 lead.
After Miller's triple, the Quakes went without a hit until the seventh inning. San Jose's Nick Vander Tuig retired 16 men in a row at one point. He gave up just one run on two hits over seven innings of work.
The victory snapped a five-game losing streak for the Quakes, and it put them back into a tie for first place with Lancater in the South Division. All five teams in the division are within 1.5 games of each other with 18 left to play in the regular season.
The season series between Rancho and San Jose concludes on Thursday night. Jharel Cotton (5-9, 4.58), who has gone seven innings while allowing two runs or fewer in each of his last four starts, will pitch for the Quakes against lefty Matt Lujan (4-2, 4.40) for the Giants. First pitch is at 6:50 pm and the game will be broadcast live on Fox Sports AM 1350 starting with the LoanMart Preagme Report at 6:50 pm.
Game three of the Rancho's seven-game home stand is Bernards Construction Thirsty Thursday! Fans at LoanMart Field can enjoy 24-oz. Pepsi products and 16-oz. domestic drafts for just $2, while 16-oz. premium drafts, wine, champagne and margaritas are only $3 all thanks to Bernards Construction! Tickets are still available by calling (909) 481-5000 or online at rcquakes.com. We hope to see you at LoanMart Field during this home stand! Go Quakes!
This story was not subject to the approval of the National Association of Professional Baseball Leagues or its clubs.
View More