Abel and Kerkering Lead R-Phils to First Win of Series
Rixon Wingrove Hits First Double-A Homer In Three-Run Sixth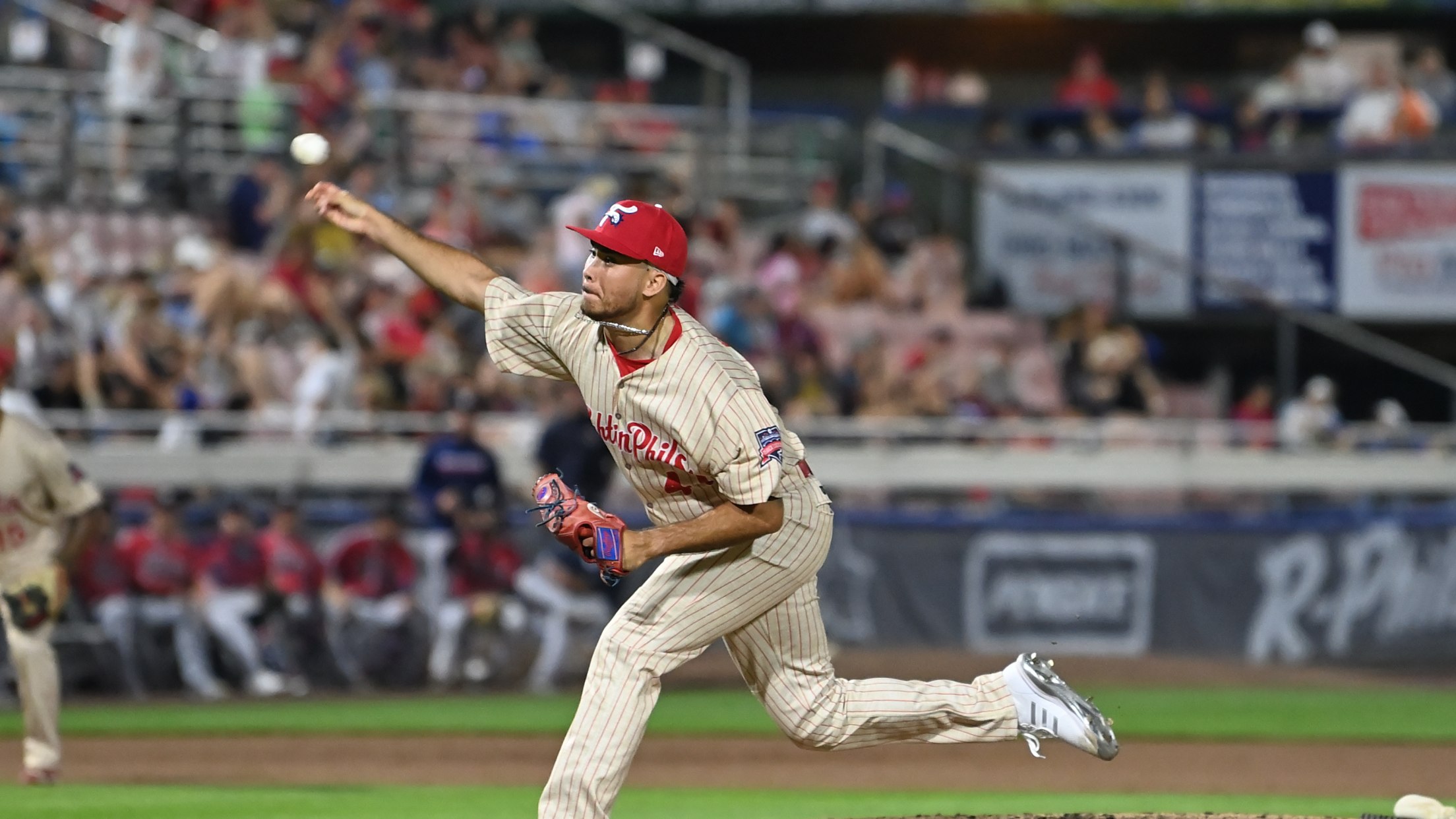 BOX SCORE (Binghamton, NY) - A three-run sixth inning was all the Reading Fightin Phils (30-34, 58-74) needed en route to a 3-1 victory over the Binghamton Rumble Ponies (36-26, 71-60) on Wednesday night. The win gave Reading its first win of this week's six-game series. Mick Abel (W, 5-5)
(Binghamton, NY) - A three-run sixth inning was all the Reading Fightin Phils (30-34, 58-74) needed en route to a 3-1 victory over the Binghamton Rumble Ponies (36-26, 71-60) on Wednesday night. The win gave Reading its first win of this week's six-game series.
Mick Abel (W, 5-5) remained strong in his final start for Reading this season. The righty went five innings, allowing one run on three hits, with three walks and eight strikeouts. Abel finishes his season on a strong note, combining to allow just three earned runs across his last four starts, with 23 strikeouts over 23 innings pitched. That's good for a 1.17 ERA over that stretch for Abel.
Behind Abel, the bullpen was stellar for Reading on Wednesday night. Cristian Hernandez tossed two scoreless innings for Reading to bridge the game to Orion Kerkering (S, 7). Kerkering earned a six-out save while striking out five Rumble Ponies' hitters. It marked the first two-inning save of Kerkering's pro career and also marked a Double-A high in innings pitched and strikeouts. In total, Reading struck out 17 Binghamton hitters on the night.
The Rumble Ponies' lone run came in the bottom of the third off Abel. Rhylan Thomas started the inning with a single to first. He then stole second and advanced to third on a throwing error by Reading catcher Max McDowell. After Luis Guillorme walked, Jett Williams singled to shortstop and scored Thomas to make it 1-0.
All of Reading's offense came in the sixth inning. With one out, Oliver Dunn reached on a double and then Jhailyn Ortiz doubled to score Dunn and tie the game at one. With Ortiz on first, Rixon Wingrove blasted his first Double-A home run to right-center field to put Reading ahead 3-1, a lead they would not relinquish.
Reading continues its final series of the regular season at the Binghamton Rumble Ponies on Thursday at 6:35 p.m. LHP Matt Osterberg is scheduled to start for Reading, and he will go opposite RHP Joander Suarez for Binghamton. Pregame coverage is underway at 6:15 p.m. and you can listen at rphils.com/radio. A video stream is available via MiLB TV or the Bally Live App.
The Reading Fightin Phils return to FirstEnergy Stadium to open the 2024 season on April 9, 2024, against the Portland Sea Dogs. Season tickets, mini plans, and group outings for 2024 are now available. For more details, go to rphils.com, call 610-370-BALL, or at the Customers Bank Ticket Office.
The 2023 R-Phils season is presented by Pepsi. Follow the Fightin Phils on Twitter @ReadingFightins, like us on Facebook, or follow us on Instagram @Fightins.