Fightins Feature: Leftwich Finding All the Right Breaks
Reliever's Rediscovery of the Curveball Key to Near-Perfect April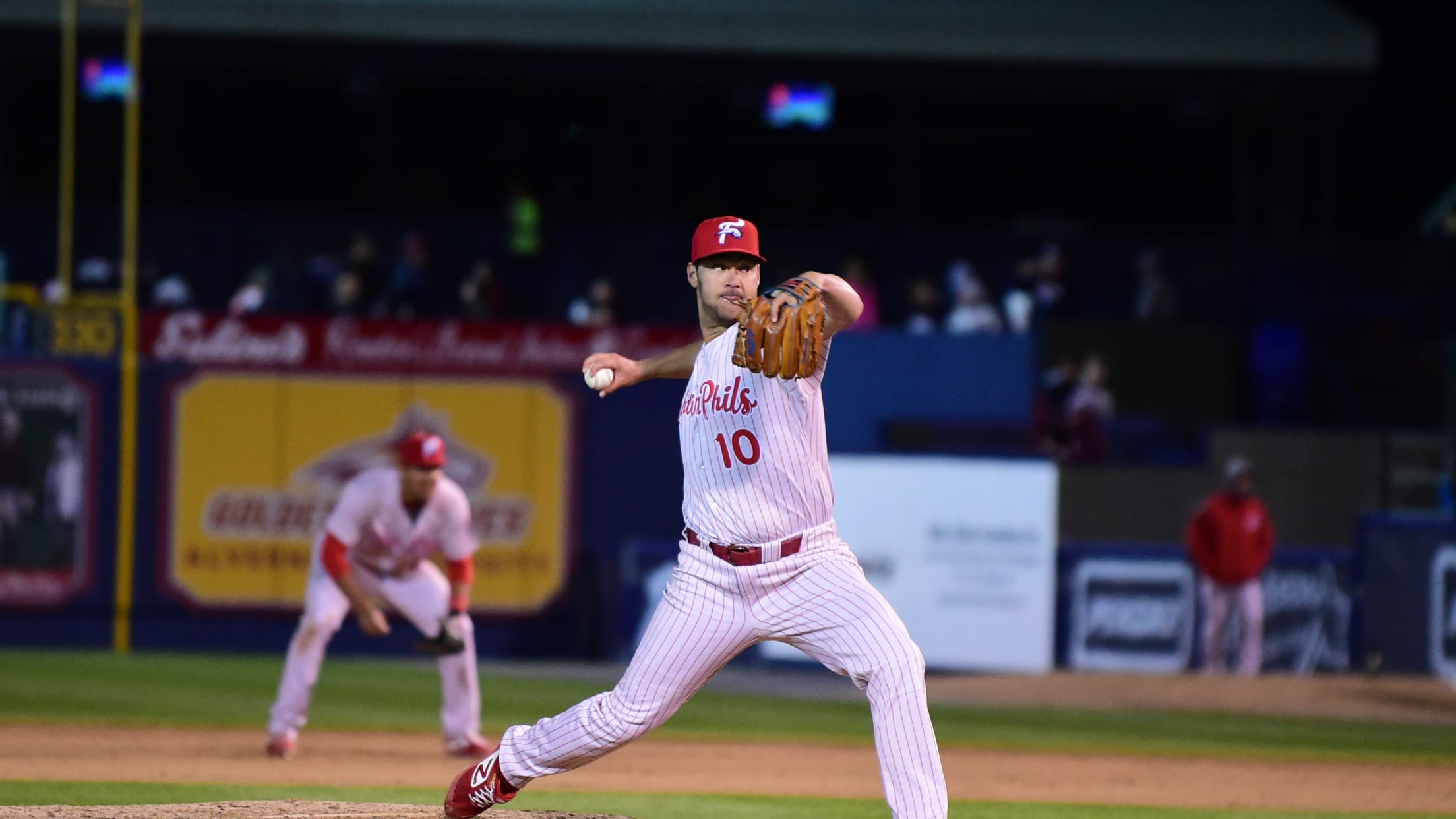 Luke Leftwich always knew his curveball was a weapon.That pitch, combined with a low-mid 90's fastball, made Leftwich nearly unhittable through the first month of the 2019 season.In his first 14.1 innings, the Wofford College product surrendered only one hit - a CJ Chatham grounder through the left side on
Luke Leftwich always knew his curveball was a weapon.
That pitch, combined with a low-mid 90's fastball, made Leftwich nearly unhittable through the first month of the 2019 season.
In his first 14.1 innings, the Wofford College product surrendered only one hit - a CJ Chatham grounder through the left side on April 16. He has yet to allow an earned run through 10 appearances, permitting just an unearned run due to the extra-innings rule on May 5. The right-hander has also whipped up 27 strikeouts in 16.2 total frames.
Leftwich, 24, worked as a starter through his first two professional seasons, but when he lost feel for the curveball upon promotion to the Clearwater Threshers in 2016, the focus shifted to developing a slider as his go-to secondary offering. He would stick with that combination for the next two seasons.
"Mostly, the first half of last year I was just fastball/slider, and then the occasional curveball early in the count," Leftwich said.
All the while he was working to recall the big breaker of his collegiate days.
"In college I used it a lot, and it was a really good pitch for me. Over the course of the next couple of years, coming into pro ball, it was getting a little bit bigger than I wanted it to be, a little slower and loopier rather than sharp."
While pitching for the Fightins in 2018, Leftwich continued working with his former college pitching coach, Jason Burke, to find a way to rediscover what had once been a reliable offering.
"Just talking to him on the phone and sending video and things like that, trying to work back to where I was when it was good," Leftwich said. "It's been kind of taking that turn back to where it was, if not better, so that's been great."
Leftwich says it wasn't a mechanical adjustment, so much as intent.
"It wasn't really a grip thing, because I still throw it the same, but it was more of an intensity and intent, and basically conviction coming out of my hand.
"Basically trying to get as far out in front with it as I can, and almost be kind of violent out front with it, so it comes out sharper and the spin is faster."
Leftwich also implements the concept of tunneling, the idea of fooling hitters with two different pitches that take the same trajectory long enough to look nearly identical.
"That's a big deal for me, because a lot of times I throw my fastball up in the zone, or up out of the zone, for an effect," Leftwich said. "My curveball kind of plays right off of that as a tunneling effect of starting up, and then ending down."
"He's able to throw it for a called strike, he throws it for a chase pitch, it's been outstanding for him," said Fightin Phils pitching coach Aaron Fultz, who also worked with Leftwich from 2016-17 in Clearwater. "It's coming out of the same arm slot as his fastball, so you see the late reactions they get on the fastball as well."
Leftwich was born in Laguna, California, while his father, Phil, pitched for the California Angels in 1994. According to Leftwich, his father threw a curveball as well, but relied more on a slider.
His family relocated to Arizona during Spring Training shortly after, and Leftwich grew up in a baseball hotbed. He played travel ball with Phillies infielder and former Fightin Phil Scott Kingery, and fellow Phillies farmhand Tyler Viza, and pitched on the same high school team as Viza at Desert Vista.
"Tyler and I went to high school together so we played together, and Scott went to our rival high school (Mountain Pointe), but it's all the same hometown. Then we played on the same scout team again after senior year of high school."
Leftwich went on to attend Wofford College in Spartanburg, South Carolina, out of which he was drafted in the seventh round in 2015. He joined Reading as a reliever to open 2018, and posted a 3.73 ERA in 44 outings.
In a near-perfect April, Leftwich collected as many hits as he allowed.
"Last year I got my first ever at-bat, and I was jammed and broke my bat and popped out to second. So this has kind of been a year in the making," Leftwich said.
After inheriting the potential tying run on base and stranding him in the top half of the sixth against the Richmond Flying Squirrels, Leftwich had the rare chance to hit for himself in the bottom half.
Batting left-handed, Leftwich stepped in against reliever Ryan Halstead with Austin Bossart at first.
"He threw me the first pitch and it was kind of a cutter at my back foot, and I was like 'Well, he's probably going to throw me a fastball down the middle because I'm a pitcher and he just wants to throw a strike,'" Leftwich said. "So I went ahead and swung for that pitch, and he threw it right where I was swinging and I got the barrel to it, and honestly, I was kind of as shocked as everyone else was.
"I was like, 'Oh man, I've got to start running now and sprinting around the bases. And I turned around and the entire dugout was going crazy, and the bullpen was going crazy, and the fans were going crazy. It was a pretty surreal moment because it's just not one of those things that I ever think about doing, and then when it happened, it was really special."
Almost as special as his spotless ERA.