Sens Slam Their Way to 8-3 Way
Zach Green's third career 4-hit game brings in all three Fightins runs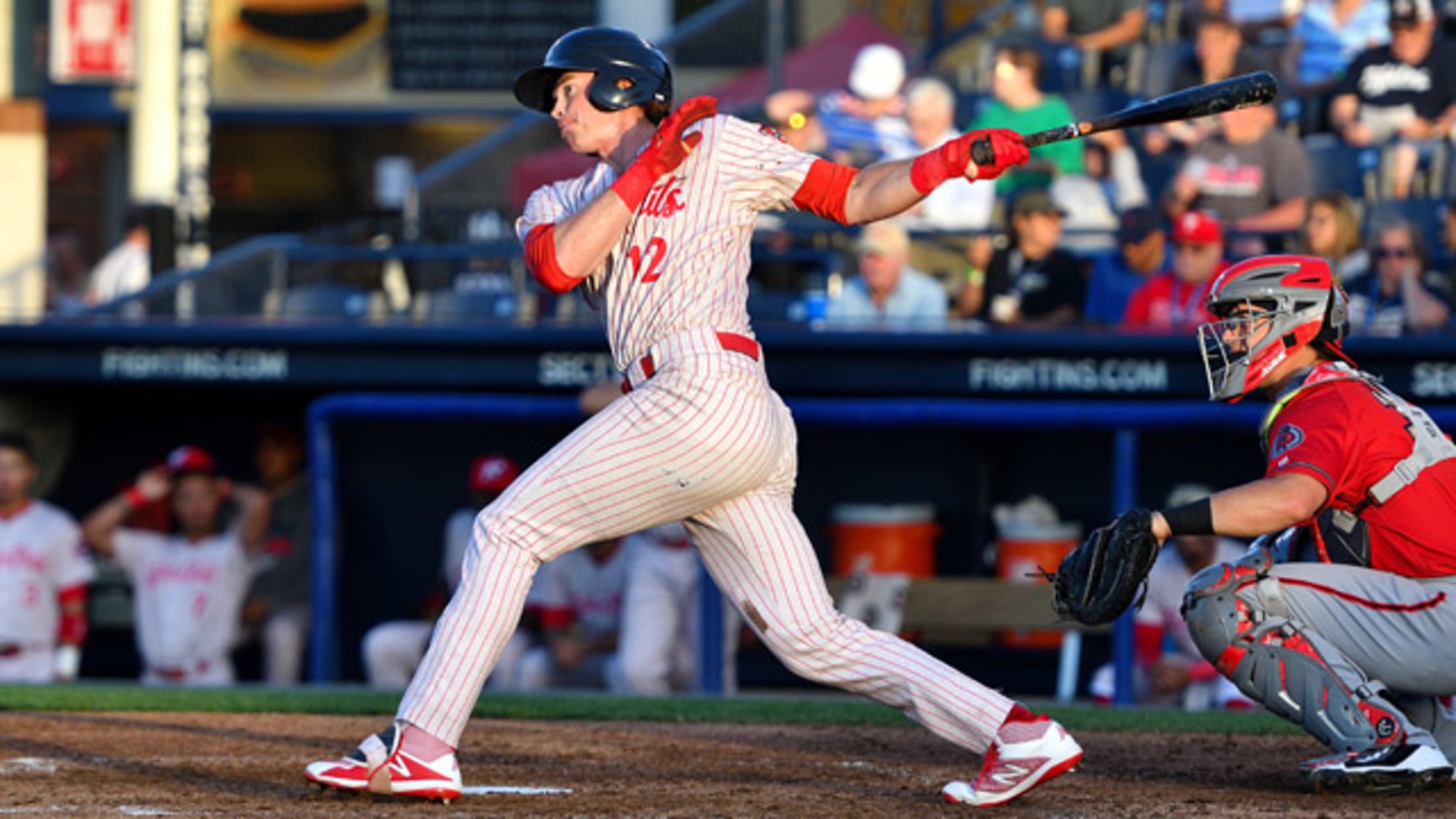 (Photo by George Youngs Jr)
(Reading, PA) - Coming out of their first off day in quite some time, the Reading Fightin Phils returned home to FirstEnergy Stadium to start a six-game homestand after their 2-4 roadtrip that took them to Altoona and Erie. Hosting the Harrisburg Senators for their only visit to Baseballtown this
(Reading, PA) - Coming out of their first off day in quite some time, the Reading Fightin Phils returned home to FirstEnergy Stadium to start a six-game homestand after their 2-4 roadtrip that took them to Altoona and Erie. Hosting the Harrisburg Senators for their only visit to Baseballtown this season, the visitors got off to a fast start and took an 8-0 lead after the top of the fourth. Starter Kyle McGowin struck out a career-high 11 batters over six innings, and Zach Green matched a career-high with four hits as he drove in all three runs in the Sens 8-3 win in front of 5,674 at America's Classic Ballpark.
Searching for his first win in his ninth start of the season, lefthander Elniery García started the ballgame by allowing a double to center fielder Hunter Jones . Kelvin Gutierrez followed with an RBI triple and another double from Dan Gamache made it 2-0 three batters in. The Senators would later load the bases, but Garcia picked up his second strikeout of the inning by getting Osvaldo Abreu looking to keep it 2-0.
He wasn't as fortunate in the top of the second when the Senators reloaded the bases with one out on a walk to Jones and singles from Gutierrez and Gamache. The first pitch to Taylor Gushue was cranked to left for a tone-setting grand slam, and Gushue circled the diamond with his fifth home run to put the Senators ahead 6-0. Garcia (0-6) left after the second, and the Fightins bullpen would take care of the last seven innings.
Alexis Rivero got the first call, and spun three innings in which he let up a two-run home run to Drew Ward following a leadoff walk to Gushue in the fourth. At that point, the Senators led 8-0 and rode their righthander McGowin through the fifth inning.
The Fightins started making noise in the bottom of the sixth when they loaded the bases for Green with two outs. Malquin Canelo got things started with a one out double, and Jan Hernandez reached on a hit by pitch before Darick Hall worked a walk. Green, who had previously singled and doubled, delivered again with his third hit to drive in a pair and make it 8-2.
Facing Austen Williams for his second inning in the eighth after McGowin (3-1) left after six, Cornelius Randolph led off with a double into left center field. With two outs, Green got a hold of another one and lined an opposite field single into right for his fourth hit and third run batted in. 8-3 would be the final, and both Seth McGarry and Luke Leftwich kept the game right there with two scoreless innings each.
America's Classic Ballpark is proud to be a part of Pennsylvania's Americana Region. Season tickets for the 2018 season are available online at Fightins.com, by phone at 610-370-BALL, and in-person at FirstEnergy Stadium. Follow the Fightin Phils on Twitter at @ReadingFightins and like them on Facebook via www.facebook.com/fightins.