Split It Up
Fightins salvage second game of doubleheader with 8-1 win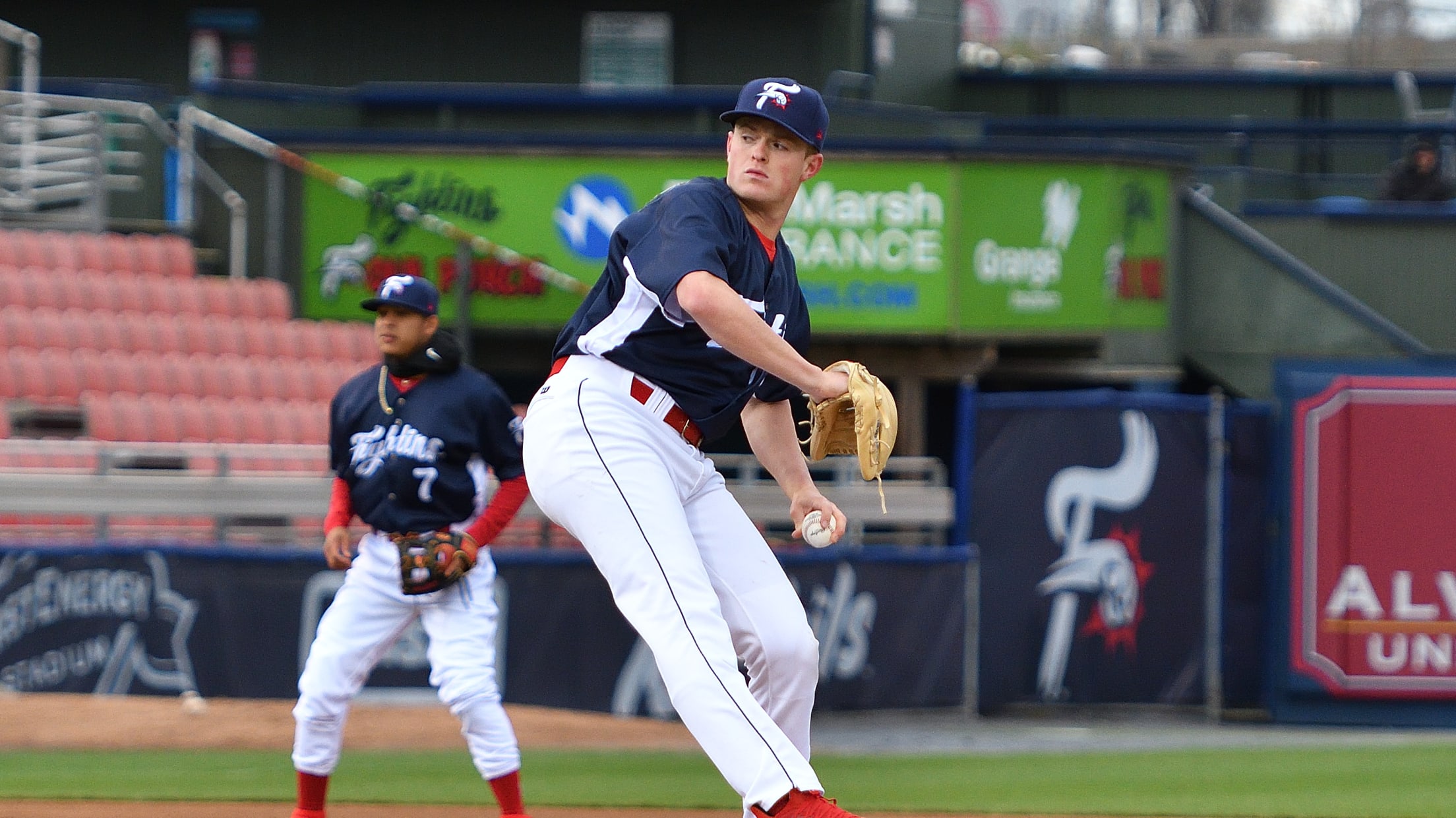 (Photo by George Youngs Jr)
(Manchester, NH) - After two days off with rainouts, the Fightin Phils returned to action on Tuesday night against the Fisher Cats at Northeast Delta Dental Stadium. In game one, Blue Jays 40-man member Yennsy Diaz went the distance for his first career complete game in a 4-0 shutout. But
(Manchester, NH) - After two days off with rainouts, the Fightin Phils returned to action on Tuesday night against the Fisher Cats at Northeast Delta Dental Stadium. In game one, Blue Jays 40-man member Yennsy Diaz went the distance for his first career complete game in a 4-0 shutout. But the visitors got even in game two, using a huge third inning and an impressive start from David Parkinson for an 8-1 win that sets the stage for the third and deciding game on Wednesday morning.
Game One Recap: The 'Cats got going quickly in the opener, getting a two-out first inning single from Patrick Kivlehan off Adonis Medina . The Phillies top pitching prospect then fell behind on Brock Lundquist 3-1, and the right fielder scored the run with an opposite field double down the left field line.
Nash Knight later led off the second inning with a walk, and Christian Williams doubled him home for a 2-0 lead. Two batters later, Vinny Capra provided the third RBI double, which set Medina right for awhile as he retired eight of the next nine. Lundquist finished game one 3-for-3 with a run-scoring single during Medina's (0-2) final inning in the fifth, and Jakob Hernandez recorded the last four outs with an inning-and-a-third of scoreless relief.
Diaz (3-3) defeated the Fightins after they beat him in their first encounter, allowing just a pair of singles to Henri Lartigue in the second and Cornelius Randolph in the seventh. Both teams hit into double plays in the fifth and sixth, with Luke Williams accounting for two of the Fightin Phils four walks.
Game Two Recap: Parkinson and Nate Pearson both had three strikeouts over two perfect innings, but with Pearson capped after his two, the Fightins were patient and timely in the third. Arquimedes Gamboa and Lartigue opened the inning with walks, and a sacrifice bunt from Austin Bossart set the frame in motion.
The third walk of the inning to Mickey Moniak allowed Williams to get plunked with the very next pitch for a 1-0 lead. The run also halted the Fightins scoreless streak at a season-high 14 innings, but the fun didn't end there. Adam Haseley's fielder's choice groundout made it 2-0, and three straight RBI base hits from Austin Listi , Darick Hall , and Cornelius Randolph blew the game open. Hall would finish 2-for-4 with a pair of doubles, with Randolph's two-bagger driving in a pair in a seven-run inning. It was also the first time the Fightins batted around all season.
Parkinson, meanwhile, was locked in and had only one baserunner over four innings on a Williams one-out double in the third. Riley Adams eventually led off the fifth with his first triple, and scored on an Alberto Mineo single during a string of three straight hits. Parkinson (3-2) went six innings for the second straight start, and JD Hammer brought it home by striking out the side in the seventh.
America's Classic Ballpark is proud to be a part of Pennsylvania's Americana Region. Season tickets for the 2019 season are available online at Fightins.com, by phone at 610-370-BALL, and in-person at the Weidenhammer Ticket Office at FirstEnergy Stadium. Follow the Fightin Phils on Twitter at @ReadingFightins, Instagram at @fightins, and like them on Facebook via www.facebook.com/fightins.