2021 Season recap: Cooper Hummel
After arriving in trade, Hummel posted a second half for the record books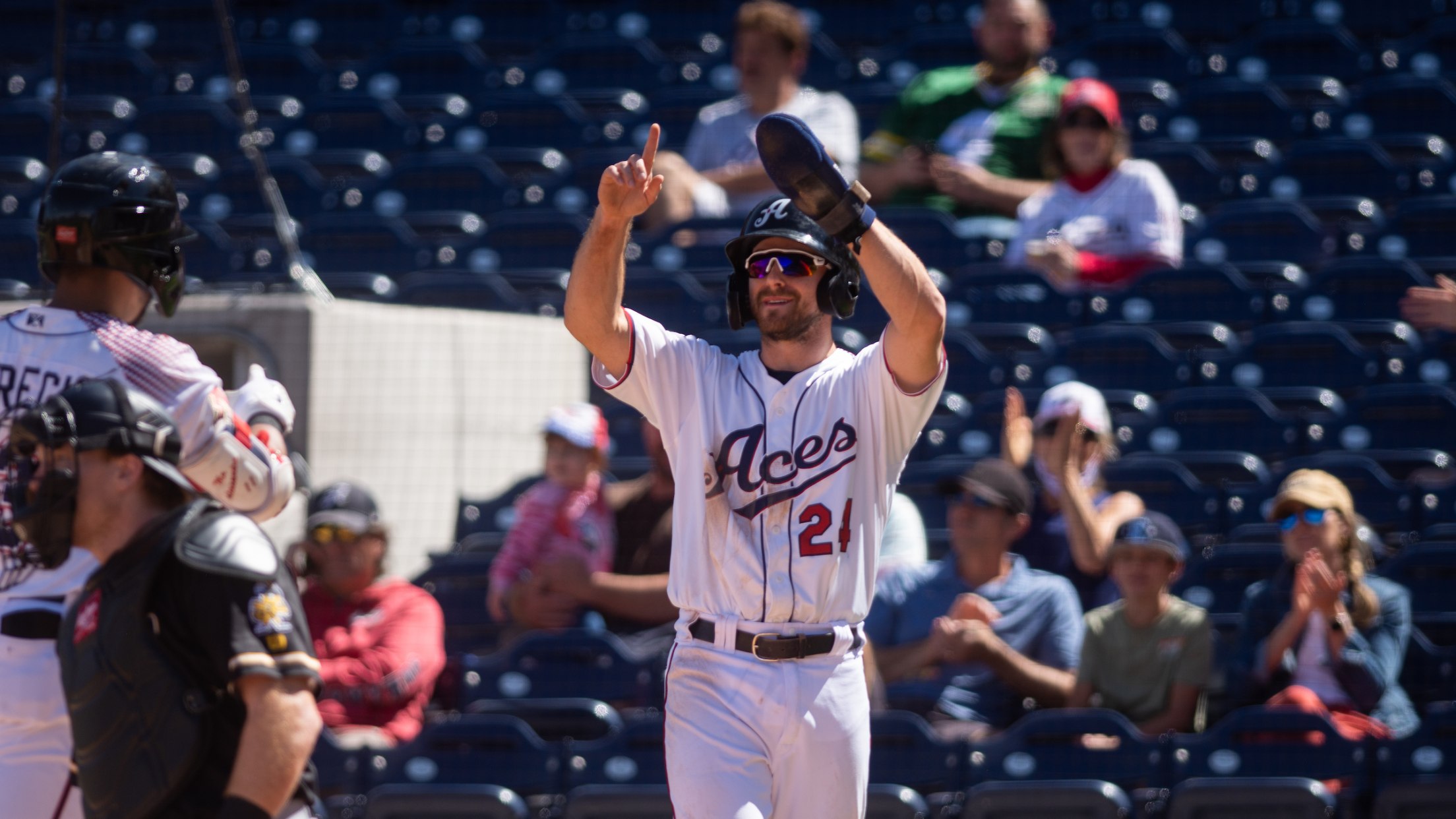 On July 28, 2021 the Arizona Diamondbacks traded Eduardo Escobar to the Milwaukee Brewers in exchange for two prospects, one of which was Cooper Hummel. After playing 46 games for Milwaukee's Triple-A affiliate in Nashville, he came to play for Reno. In his 46 games in an Aces uniform, he
On July 28, 2021 the Arizona Diamondbacks traded Eduardo Escobar to the Milwaukee Brewers in exchange for two prospects, one of which was Cooper Hummel. After playing 46 games for Milwaukee's Triple-A affiliate in Nashville, he came to play for Reno. In his 46 games in an Aces uniform, he took a big step forward and raked in the second half.
Hummel saw the most success of his professional baseball career in Reno. In his 46 games, he slashed .353/.429/.575 with a 1.004 OPS. He slugged six home runs, 13 doubles, three triples and 37 RBIs with the Aces. In 46 games for Nashville, he slashed .254/.435/.503. Combined, 2021 was Hummel's best season. He recorded a slashline of .311/.432/.546 with an OPS of .978, all of which were career highs. He slugged 12 home runs, 21 doubles and a career-high six triples.
Not only was he one of the best Aces hitters in the second half, but he was versatile in the field as well. He recorded innings at catcher, first and third base as well as right and left field. The bulk of his work came in left field, where he played in 26 games, but he also caught five games without allowing a passed ball.
At the plate, he had three games in which he had four RBIs, two of them coming back-to-back on September 2nd and 3rd. He recorded two home runs and a double in those games. Then, beginning on September 9th, he began a 10 game hit streak, which ended on September 21. During this streak, Hummel recorded 22 hits, 9 of which were for extra bases. He slugged two home runs, five doubles and two triples. The streak raised his average from .271 to .309.
It wasn't just a hot second half for Hummel, it was a historic one in Northern Nevada. He finished in the top seven of four different Post-All Star Break stats in franchise history. He tied for sixth in hits, at 59, with Taylor Harbin in 2012 and Brad Snyder in 2013.
Those 59 hits led him to a .353 batting average, which rates seventh all-time post-all-star break with a minimum of 125 at-bats. In September, Hummel hit .463, which is not only the highest September average by an Ace ever, but the highest average in any month in Aces history with a minimum of 80 plate appearances.
All of those times on base inevitably lead to a lot of runs, and Hummel surpassed Andy Young's record 41 runs in 2019, after the switch-hitter scored a record 43 runs in 2021.
The Portland, Oregon native put on an Aces uniform for the first time on July 30th and then on July 31st, he hit for the cycle with two RBIs and didn't stop from there. He will look to carry that momentum into the 2022 season.