Aces take over the Arizona Diamondbacks
Of the 28 active players in Arizona, 18 have appeared with Reno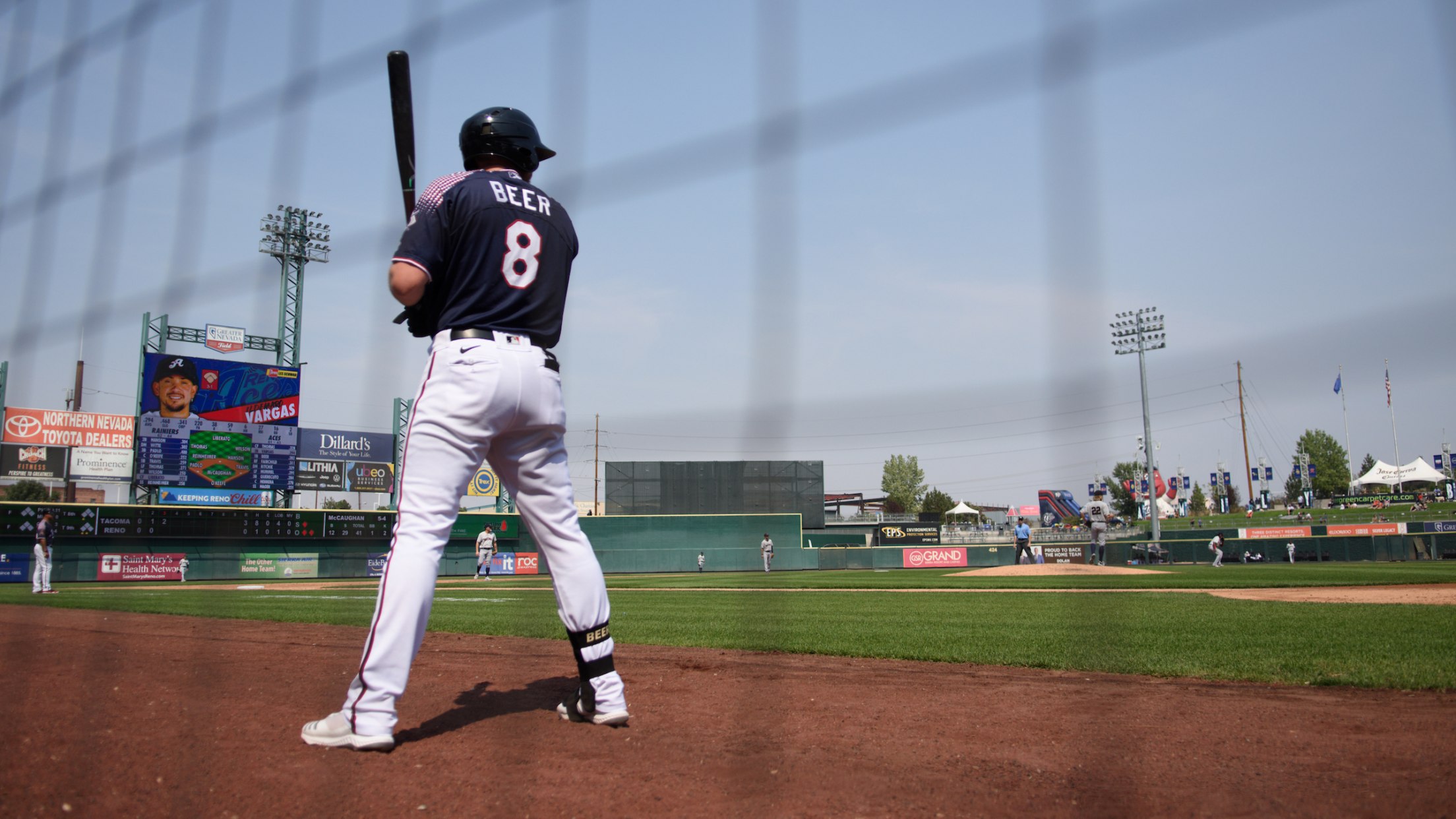 RENO, Nev. – The takeover has begun at the major league level for the Arizona Diamondbacks, having 18 of its current 28-man roster made appearances with the Reno Aces this season. Of the 18 guys to crack the active roster, Miguel Aguilar, Seth Beer, Tyler Gilbert, Jake McCarthy, Henry Ramos
RENO, Nev. – The takeover has begun at the major league level for the Arizona Diamondbacks, having 18 of its current 28-man roster made appearances with the Reno Aces this season.
Of the 18 guys to crack the active roster, Miguel Aguilar, Seth Beer, Tyler Gilbert, Jake McCarthy, Henry Ramos and Brandyn Sittinger made their MLB debut with the D-Backs' this season, all of whom made a substantial impact in Northern Nevada.
Gilbert became the biggest story of the year for the Diamondbacks, joining Ted Breitenstein (1891), Bumpus Jones (1892) and Bobo Holloman (1953) as the only pitchers to throw a no-hitter in their first career start in the Majors. The reliever-turned-starter tossed 102 pitches and struck out five batters to become the third Diamondbacks' starter to record a no-no alongside Edwin Jackson (2010) and Randy Johnson (2004).
Aguilar proved himself by becoming the Aces' record-holder for the most consecutive save opportunities without a blown save to start the season, going 15-for-15 in his chances. In his last three relief outings with the Diamondbacks, the left-hander has not allowed an earned run in a trio of innings worked.
McCarthy made a statement in his final 20 games with Reno, slashing .307/.358/.653 with six home runs, 16 runs scored and 19 RBIs. After a slow start in Triple-A, the D-Backs' outfielder turned his batting average from .128 to .262 in 50 appearances with the Biggest Little City's team to earn a spot in The Show. McCarthy logged his first MLB hit and RBI against Philadelphia, going 2-for-4 with a double and a run scored in his home state of Pennsylvania.
After 11 years of Minor League Baseball experience, Ramos finally earned a shot at the Majors when he was called up on Sept. 5. Since July 1, the veteran outfielder put on a show in Reno, posting a .404/.476/.677 slash line with 24 extra-base hits, 35 RBIs and 42 runs scored in 45 games. In his short tenure with the Diamondbacks, the 29-year-old has recorded a hit in two of his three appearances to go along with one tally.
Sittinger was also on an improbable run since the start of July, going 1-1 with a 2.95 ERA in 18 appearances. The right-hander compiled four saves and struck out 22 batters in 18.1 frames of work before getting his contract selected on Sept. 7. In his debut the following night, Sittinger tossed a near-perfect outing against the Texas Rangers, allowing just one walk on 13 pitches.
Beer is the newest addition to the Diamondbacks' roster following a consistent output in his 100 games played with Reno. The Aces' first baseman racked up a Triple-A-leading 73 runs scored and 49 extra-base hits while ranking second with 33 doubles. He will be making his Major League debut this season.
Along with the six MLB newcomers, Humberto Castellanos, Joe Mantiply, Ketel Marte, Sean Poppen, Noe Ramirez, Josh Rojas, Josh VanMeter, Daulton Varsho, Christian Walker, Luke Weaver, Taylor Widener and Andrew Young all made appearances with the D-Backs' Triple-A affiliate.
Marte, Rojas, Walker, Weaver and Widener all made rehab appearances with the Aces this season.
Rojas unloaded the Aces' only three-homer game of the year when he took Tacoma's pitchers deep for a solo shot in the first and third inning before unleashing a two-run dinger in the eighth. In the same game on May 28, Widener made his lone start with Reno and allowed two runs on three hits with six strikeouts in 4.2 innings of action.
Walker went 4-for-10 in his final two games with Reno before making his return, smashing a pair of home runs and driving in four runs against Tacoma on May 27-28.
Marte showed off with a 2-for-3 performance against Las Vegas on May 18, unloading a 2-for-3 performance with a pair of runs and two RBIs.
Weaver made two rehab starts with Reno, going a combined seven innings with a 3.86 ERA and 12 strikeouts in mid-August.
Varsho and VanMeter have spent the most time with Arizona this season after their 20-game tenure in Northern Nevada. The pair have been traveling buddies this season, both being optioned in late May and recalled in late June. In their combined 37 appearances donning an Aces; uniform, the duo put forth a combined 51-for-147 (.346) showing to go along with 31 extra-base hits, 48 RBIs and 41 tallies.
Castellanos and Young have been go-to guys out of Reno this season, being a part of 16 combined transactions from the Silver State to the Copper State since May 6.
Reno's ace, Castellanos, boasted a 6-1 record, 59 strikeouts and a 4.99 ERA in 12 starts with the D-Backs Triple-A affiliate. His best outing of the year came on Aug. 23 against Salt Lake when he tossed his first complete-game victory with a career-high seven innings of work and 11 strikeouts.
Young found consistency with the Biggest Little City's team, hitting .282/.380/.564 with 28 RBIs and 38 runs scored in 41 games. The former Ace also recorded 14 multi-hit contests, including a pair of three-hit performances in mid-June against the Aviators (June 15) and the Isotopes (June 18).
Ramirez, Mantiply and Poppen combined to make 16 relief appearances for Reno this season, allowing 11 runs on 15 hits in 16.0 innings of work.
While there are 18 former Aces playing for the Diamondbacks as of Sept. 10, several current players on the Reno roster have seen MLB time this season.
Pitchers Taylor Clarke, Humberto Mejia, and Jordan Weems join position players Drew Ellis, Stuart Fairchild, Jake Hager, Nick Heath and Ildemaro Vargas to combined for 125 appearances with Arizona this season.
Ellis and Fairchild are the only two of the eight mentioned players to make their MLB debut this season, breaking onto the scene in July.
The Aces' takeover in Arizona is in full effect and there is no turning back now.