Aces to square off with River Cats in Sacramento
Reno boasts a 7-0-5 series record against its opponents in 2021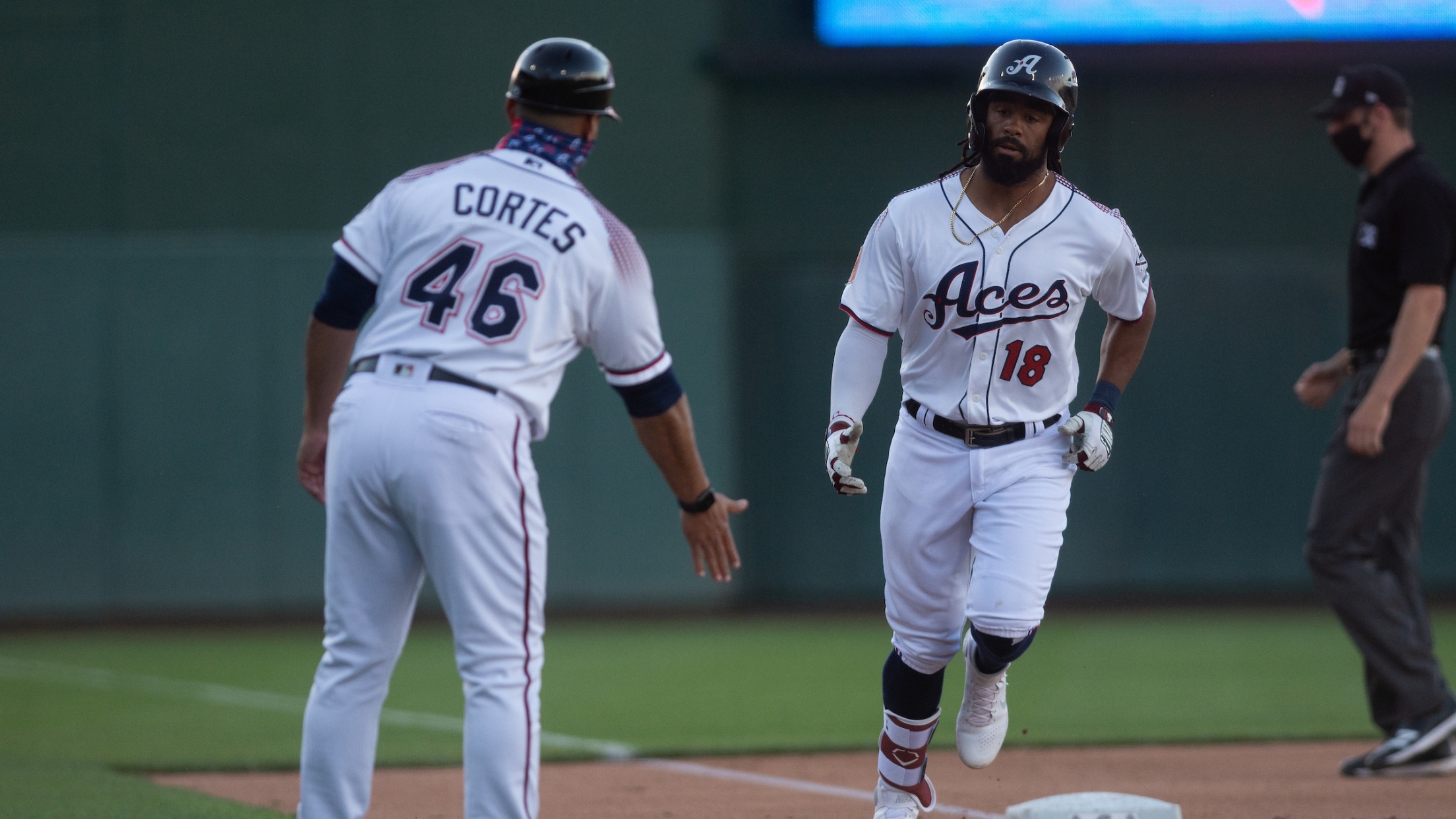 RENO, Nev. – After stealing four of six games from the Round Rock Express, the Reno Aces hit the road and head to Sacramento for another six against the River Cats, beginning on July 29. The Aces reached the 500-run plateau in 70 contests after Jake McCarthy rocked a walk-off
RENO, Nev. – After stealing four of six games from the Round Rock Express, the Reno Aces hit the road and head to Sacramento for another six against the River Cats, beginning on July 29.
The Aces reached the 500-run plateau in 70 contests after Jake McCarthy rocked a walk-off single in the team's 11-10 thriller on July 26. The club's 70-game run pace set a franchise record by surpassing the mark set by the 2011 club (72). Reno also became the third team in Minor League Baseball to accomplish the feat in exactly 70 contests this season.
Reno enters the series with Sacramento having yet to lose a six-game slate this season, boasting a 7-0-5 record in 12 series. The Biggest Little City's team holds a 10-8 record over the host-River Cats despite being outscored, 129-119, in 18 games.
Drew Ellis has been stellar for Reno against Sacramento, slashing .362/.457/.741 while going 21-for-58 at the dish with a team-high 17 RBIs. The Aces' third baseman also paces the team with seven doubles and five home runs.
Along with Ellis, Seth Beer, Henry Ramos, Jamie Ritchie and Juniel Querecuto have recorded more than 10 hits versus the River Cats, while Ritchie leads all players with 15 walks.
Humberto Castellanos has been lights out against Sacramento in three starts this season. The Aces' starter has allowed just two runs on eight hits while striking out 12 batters in 15 innings of work.
Sacramento enters the series with a 30-42 record and has lost seven of its last 10 games. The River Cats were held scoreless in two of the team's seven contests against Tacoma and ride back-to-back losses into this week's slate with Reno.
Despite the worst record in the division, Sacramento has been one of the hottest hitting teams in Minor League Baseball. The club is hitting a second-best .285 with 733 hits this season behind Reno's MiLB-leading .289 batting average and 735 base knocks.
In July, Sacramento has scored the second-most runs in Triple-A West with 161 tallies on 247 hits but sit in a three-way tie for the third-highest run total in all Minor League Baseball with 162 surrendered.
Aces' Humberto Mejia and River Cats' Kervin Castro hold a nine-way tie for second place in Triple-A West with three wins in July. Both pitchers have been stellar in their roles for their respective teams. Reno's starter boasts a perfect 3-0 in five starts with a 3.10 ERA in 29 innings of work. Sacramento's reliever has also registered a 3-0 record with a 3.10 ERA and 19 strikeouts in 12 innings of work through five appearances.
Jake McCarthy will face his brother, Joe, for the second time this season, having squared off in Aces' outfielder's first Triple-A road series on June 24-29. The McCarthy brothers have been hot coming into the series, starting in all six games for their respective teams and combining for 14 hits, five runs scored and four RBIs.
Jason Krizan leads the River Cats through the 18-game slate against the Biggest Little City's team, going 27-for-73 (.370) with eight extra-base hits, 13 RBIs and nine walks.
The Aces will return to action on Thursday, beginning a six-game series with the Sacramento River Cats. Thursday's contest can be heard on renoaces.com or locally on KPLY 630 AM with Zack Bayrouty on the call.