Aces vs. Redbirds Series Preview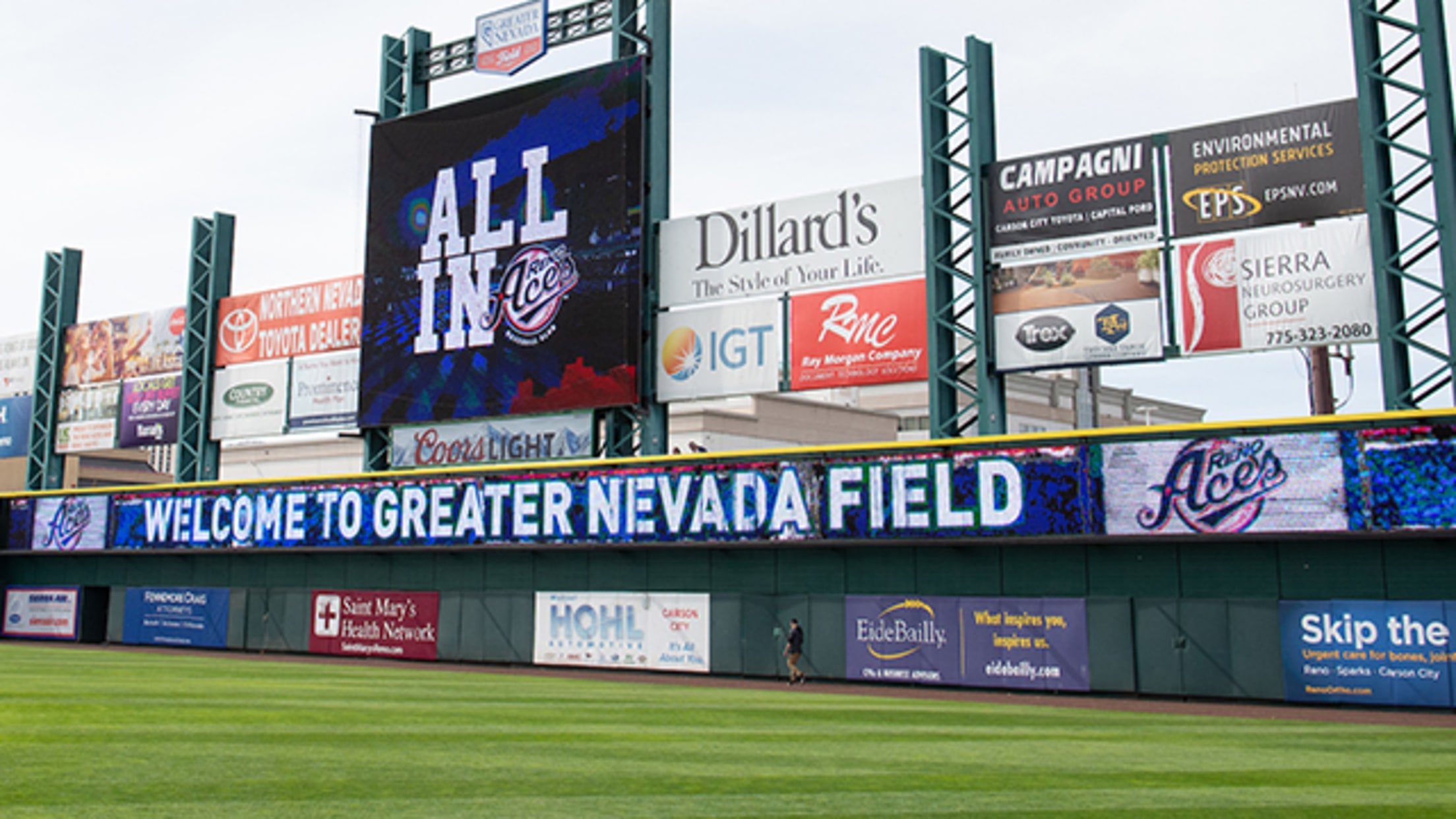 After sweeping the Nashville Sounds in a three-game series, the Aces welcome the Memphis Redbirds into Reno for the first time this season. Last year against the Redbirds, the Aces won three games and lost one (.750) and were 10-4 overall against the American Southern division of the Pacific Coast
After sweeping the Nashville Sounds in a three-game series, the Aces welcome the Memphis Redbirds into Reno for the first time this season. Last year against the Redbirds, the Aces won three games and lost one (.750) and were 10-4 overall against the American Southern division of the Pacific Coast League. The series begins Friday, June 7th and ends June 10th, including Star Wars night on June 8th.
Over the last 25 games, the Aces have hit a home run in every single game, totaling 64 which leads all of professional baseball (Majors and Minors). Their youngest player, Domingo Leyba, has hit 10 so far this season in only 54 games. His previous season high, also 10, was set between his time spent at High-A Visalia and Double-A Mobile in 2016. Leyba, a native of Santo Domingo, Dominican Republic, stands at 5'11" and weighs 160 lbs and is currently in his first season in Triple-A. Acquired as part of the three-team trade in Dec. 2014 that sent him and Robbie Ray from Detroit to Arizona and made Didi Gregorius a Yankee, Leyba's stock was on the rise two years later when he hit .301 as a 20-year-old in Double-A as part of a breakout campaign that earned him a spot on the D-backs' 40-man roster. Batting second in the line-up in 2019, Leyba is hitting .353 with a .408 on-base percentage and a .638 slugging percentage, where he also flaunts 7 home runs and 30 runs batted in. Also, in night games this season, Leyba has hit 6 of his 10 home runs. Reno plays three of their four games at night this series.
Another player on the Aces who has been scorching the ball, Matt Szczur, was drafted in 2010 by the Chicago Cubs. In 2014 he made his Major League debut and split time between Triple-A and the Majors in 2015, being called up on seven different occurrences. On May 8th, 2017, Szczur was then traded to the San Diego Padres and declared free agency in October of 2018. In December 2018, he signed with the Arizona Diamondbacks. Over his last 18 games, Szczur is batting .375 with 5 home runs and 17 runs batted in, including a walk-off home run on June 4th. With runners in scoring position this season, Szczur is hitting .529 with 3 home runs and 15 runs batted in.
Memphis currently sits at an overall record of 25-36 (.400) with a 3 run differential and are 2-8 in their last ten games, sitting nine games back if Iowa in the American Northern Division of the Pacific Coast League. Although they have not got off to the best start in their first 61 games, the Redbirds possess some MLB ready prospects. Memphis is the Triple-A affiliate of the St. Louis Cardinals who enjoy the 10th ranked farm system in all of baseball. Two of their top prospects, Alex Reyes (19th overall) and Tyler O'Neill (36th), have prior MLB experience.
After signing a $950,000 contract in 2012 Reyes has had multiple issues staying on the mound. In 2015, he missed a month with shoulder soreness and served a 50 game suspension in 2016. In 2017, he underwent Tommy John surgery which caused him to miss the entire season. After recovering from his elbow surgery and four rehabilitation starts in the minors, he pitched once in the MLB but suffered a torn lat muscle on his right side and missed the season for the second straight year. Although his previous record is distressing, Reyes possesses some of the best pitching tools in the Minor Leagues. Reyes entertains a plus-plus fastball, sitting at 95-97 MPH consistently and tops out at 102 MPH. He tends to locate his fastball in the top of the strike zone and even when he misses, he will blow it by hitters. After his surgeries, he improved his body control and delivery however, he tends to struggle to locate his spots. His best secondary pitch, his curveball, which sits in the 70-80 MPH range with hard 12-6 action, but he also struggles to consistently control it. To offset his control issues he added a short slider which constantly hits 86-88 on the gun, and his fourth pitch, a plus change-up, sinks at 88-90 MPH and produces many swings and misses. His improved vigor and stronger delivery have led to more strike throwing.
O'Neill, the Cardinals number two prospect, could be mistaken as a body builder. He weighs in at 210 lbs and is only 5'11 but possesses tremendous power. On July 21, 2017, the Cardinals acquired O'Neill through a trade that sent Marco Gonzales to the Mariners, where he was assigned to the Memphis Redbirds. O'Neill finished 2017 with a .246 batting average, 30 home runs and 95 runs batted in after 130 games. Previous injuries have kept O'Neill from being an everyday starter for St. Louis but he has appeared in 61 games batting .254 with 9 home runs. With his muscular build and tendency to swing hard and often, O'Neill sends towering home runs to all fields but tends to swing and miss frequently, especially on balls with movement. He has leveled his swing out from his previous uphill stroke, which has helped him adjust to major league pitching. Although he has a bulky figure, he offers defensive value due to his nearly plus-plus running ability and above average arm.
With the series beginning June 7th, the Aces look to improve on their overall record of 26-34 (.433), where they currently sit four games back of Tacoma in first place.