Checking in on Arizona's top prospects
Carroll, Varsho, Perdomo, Robinson and Thomas all named Baseball America top 100 prospects in January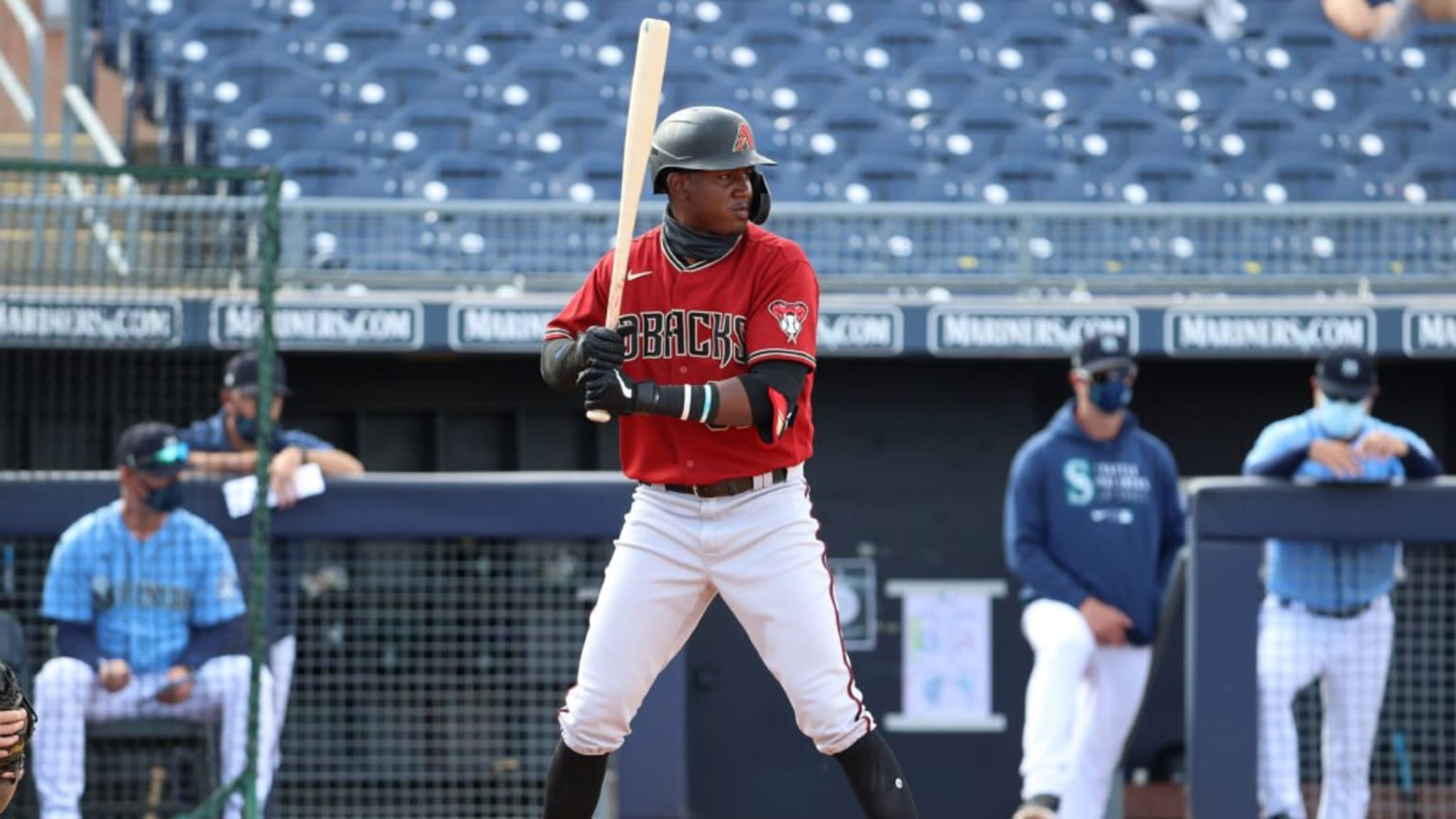 The big leagues are in full swing, which means minor league baseball is approaching. When Spring Training ended, we got a clearer picture of where baseball's top prospects were heading. That, of course, can be said for the Arizona Diamondbacks prospects. The big league team had a total of five
The big leagues are in full swing, which means minor league baseball is approaching. When Spring Training ended, we got a clearer picture of where baseball's top prospects were heading. That, of course, can be said for the Arizona Diamondbacks prospects. The big league team had a total of five prospects on Baseball America's Top 100 Prospect list. Corbin Carroll, Daulton Varsho, Geraldo Perdomo, Khristian Robinson and Alek Thomas were the Diamondbacks' representatives, and some of those players could make an impact for the Aces in 2021, as well as making an impact throughout the system.
Corbin Carroll, OF, L/L
Carroll was selected 16th overall out of Lakeside HS in Seattle in the 2019 MLB June Amateur Draft by the Diamondbacks. He did not play in 2020, but in 2019 he made an impact across two levels, rookie ball and Single-A Short Season Hillsboro. With the new makeup of the lower levels of the minor leagues, Carroll will be back in Hillsboro to start 2021, this time with the team being the High-A Affiliate.
Carroll's strengths are his bat and his speed. He was widely considered an advanced hitter coming out of high school by many scouts, and Baseball America gave him a 60-grade hit tool on the 20-80 scale. In 2019, his lone season so far, due to the pandemic, he showed off that hit tool. As an 18 year old, he played in 42 games across two levels, the first being rookie ball, and then he moved to Hillsboro.
In his 31 games in rookie ball, Carroll hit .288/.409/.450 with a .859 OPS, two home runs, six doubles, and three triples. The power will still have to come along for someone as young as Carroll, now 20-years-old. However, you can see why he was considered such an advanced hitter and is now considered the best hitter for average in the system by BA.
"His approach is mature beyond his years with an innate understanding of the strike zone, an ability to recognize spin and a knack for swinging at pitches on which he can do damage," per his Baseball America scouting report.
His .409 on-base percentage is a testament to that maturity. In rookie ball, he walked 24 times and struck out just 29 times. This maturity showed again when he went to Hillsboro for the final 11 games of the 2019 season. He slashed .326/.408/.581, a .990 OPS, three doubles, and four triples. While it was a short sample, the power numbers were up and that on-base ability was still there.
Speed might be Carroll's best tool. Baseball America gave him a 70-grade for his speed, which is considered "plus-plus," and BA slots him as the fastest baserunner in the system. He stole 18 bases in 2019, while only being caught once. That speed also helps him defensively. BA projects him as a "plus defender in center field and can shift to both corners without issue," which is certainly valuable.
While Carroll likely will not contribute in Reno during the 2021 season, look for him to make an impact in the near future. He's young and has only played 42 professional games, so he will need more time in the lower minors, but he profiles as a player that will move through the system quickly. 2022 is more likely, but don't be shocked to see him a couple of times towards the end of 2021.
Daulton Varsho, C/OF, L/R
Varsho was drafted by the Diamondbacks in the second round of the 2017 MLB June Amateur Draft out of the University of Wisconsin-Milwaukee. Varsho is one of two Diamondbacks prospects on the Baseball America Top 100 that has seen major league time, Varsho's coming in 2020.
Varsho went straight from then D-Backs' Double-A Affiliate Jackson to the majors in 2020, and he struggled. In 37 big league games, Varsho hit .188/.287/.366 for a .653 OPS, along with three home runs, two triples, and five doubles. Making the jump from Double-A to the majors is difficult, so Varsho will get regular at-bats in Reno in 2021.
Prior to his struggles in 2020, Varsho hit at every level of the minors he was at. When he made his debut with Hillsboro in 2017, he played in 50 games, hitting .311/.368/.534 for a .902 OPS, with seven home runs, three triples, and 16 doubles. He then hit .286 in Visalia in 2018, and he went to Double-A in 2019 where he had his best year.
In 108 games at Double-A, Varsho hit .301/.378/.520 with a .899 OPS, while compiling 18 homers, 25 doubles, four triples, and 21 stolen bases en route to winning the MVP of the Southern League championship.
Varsho was drafted as a catcher, but he's moved around a lot.
"Varsho is a natural catcher, but his above-average speed and surprising athleticism convinced the D-Backs to try him out in center field," according to his scouting report.
Baseball America has him with a 55-grade run tool, and he is one of the more athletic catchers in the minors, which is why he also played the outfield. Where he will stick in the majors in up in the air at the moment.
Expect Varsho to be a regular at Greater Nevada Field in 2021. He'll get innings both behind the dish and in the outfield, which makes him a great asset because of his versatility in the field. He is also going to provide good offensive production. He might be someone who will be up and down depending on what is going on with the big league team, but he will be getting regular at-bats when he is in Reno.
Geraldo Perdomo, SS, S/R
Perdomo was signed as an amateur free agent by the Diamondbacks in 2016 out of Santo Domingo, Domincan Republic. Like Varsho, Perdomo has seen major league play with the Diamondbacks, although his was early in 2021 while Nick Ahmed was on the injured list.
Like Varsho, Perdomo had to make a leap before making his debut, but for him, it was the jump from High-A, where he only played 26 games. That jump is very difficult, so the adjustment had to be quick. In his 13 plate appearances, he collected one hit, walked three times, and struck out twice. It wasn't expected for him to come in and hit right away, as he was an emergency defensive replacement.
And that's what he does well. He is considered the best defensive infielder in the Diamondbacks system by Baseball America.
"Perdomo is a graceful defender who would be a slightly above-average major league shortstop right now and could be a plus defender in the future," per Baseball America.
In 29 innings, Perdomo made just one error. That's what he will bring to any team, great defensive play at short.
As far as his offense, it's stellar outside of his short stint in the majors. In his last full season in 2019, he played in 116 games for both High-A Visalia and Single-A Kane County. Over those 116 games, he showed off what he does best at the plate. Although you might not get much power, you are going to get good speed on the basepaths and good plate discipline from both sides of the plate.
He hit .275 with a stellar .397 on-base percentage in 2019. While his slugging percentage was just .364, that isn't what makes Perdomo a good hitter. He hit 21 doubles along with 3 triples at the plate, showing off that speed out of the box. He also stole 26 bases that season. What was maybe most impressive about his season at the plate was the fact that he walked 70 times, which was more times than he struck out, 67.
That plate discipline should play well at the top of the order once he gets more plate appearances against higher-level competition. Perdomo figures to bring great defense at shortstop and good plate discipline when he arrives in Reno. Because he was already called to the majors in 2021, be on the lookout for him to play a lot of games at Greater Nevada Field.
Kristian Robinson, OF, R/R
Robinson was signed by the Diamondbacks in 2017 out of Nassau, Bahamas and got his first taste of pro ball in 2018 as a 17-year-old. Robinson brings two plus tools to the table, according to Baseball America, with a 70-grade power tool and a 60-grade running tool.
Robinson's power is what really makes him stand out. In his short time in professional baseball, he has played in 126 games across three levels and has hit 21 home runs and 25 doubles. This was all as a 17 and 18-year-old.
Baseball America describes it as "gargantuan raw power." For being so young and for having such a high power tool, there is a ton of room for Robinson to grow into being one of the better power hitters in not only the D-Backs system but in the entire minor leagues if he develops well.
Though with that power and youth comes a lot of swing and miss. In 69 games in 2019, he struck out 77 times and in 2018 struck out 67 times.
"Concerns about how often he swings and misses are starting to raise questions about his ability to reach his ceiling," says his scouting report.
Again, he's young and has a lot more time to mature at the plate with his approach, so while it's something to keep an eye on, it's certainly fixable at his age.
As for his other plus tool, the speed, it allows him to play a good outfield, getting a 55-grade fielding tool from BA. He also uses his speed on the basepaths, stealing 12 and 17 bases in 2018 and 2019, respectively.
Robinson is still just 20-years-old and is beginning the season with Low-A Visalia. Although he was at the Diamondbacks alternate site in 2020, the chances he will appear in Reno in 2021 are slim. He still needs to work his way up, especially after missing at-bats in 2020. It might be a year or two before Robinson is in Reno, but when he arrives, expect to see a lot of power and a lot of speed from the middle of the order.
Alek Thomas, OF, L/L
Thomas was drafted in the second round of the 2018 June Amateur Draft by the Diamondbacks out of Mount Carmel HS in Chicago. He made his way to High-A by 2019 as a 19-year-old and then spent 2020 at the alternate site.
Thomas brings three plus tools, a 60-grade on his hitting, fielding, and running, according to Baseball America. He is considered the best defensive outfield in the system by BA, and will likely stick in centerfield.
His speed not only allows him to play a good centerfield, but it gives him the ability to his for a lot of extra bases as well as steal some bags. In 2019, with High-A Visalia and Single-A Kane County, Thomas hit 23 doubles, seven triples and stole 15 bases in 114 games. His speed makes him a threat to turn a single into a double and, of course, swipe a bag when needed.
He hit .300 in 2019, which speaks to his 60-grade hit tool, and while his power isn't there quite yet, it looks like it can be developed.
"He has a chance to grow into double-digit home run power," per BA.
He hasn't really gotten the chance to grow that power, aside from the alternate site, since 2019 where he hit 10 home runs across two levels. That is something he will look to do in 2021, starting at High-A Hillsboro.
Thomas, like his outfield counterpart in Hillsboro Corbin Carroll, likely won't see time in Reno in 2021. Despite spending time at the alternate site in 2020, he is still young and hasn't seen game pitching since 2019, which is important for a hitter drafted out of high school. He will still be able to develop in the lower levels and work on the power, as well as show off his speed and defensive prowess.
At some point, though, it's possible that all three of Carroll, Robinson, and Thomas could be roaming the outfield in Reno, which is an exciting possibility. Of course, the excitement doesn't begin there, as both Varsho and Perdomo will get quite a few at-bats in Reno in 2021. The future of Aces baseball is something to look forward to from 2021 and beyond.