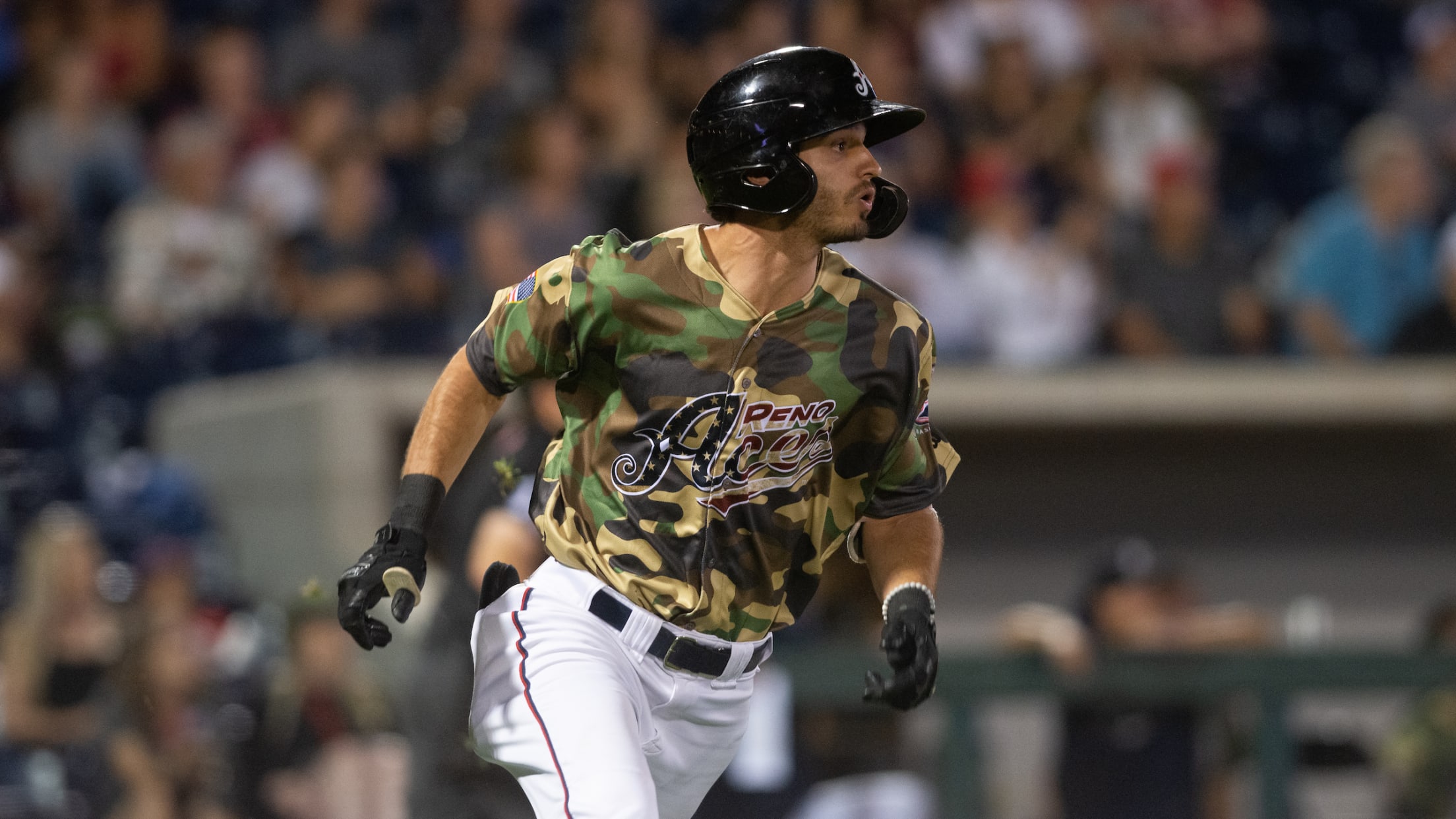 (David Calvert)
Ben DeLuzio logged some frequent flyer miles in 2019. The speedy outfielder started the season in Double-A Jackson, was promoted to Triple-A Reno on July 4, then was sent back to the Generals for the stretch run of the season. The demotion had nothing to do with DeLuzio's play in
Ben DeLuzio logged some frequent flyer miles in 2019. The speedy outfielder started the season in Double-A Jackson, was promoted to Triple-A Reno on July 4, then was sent back to the Generals for the stretch run of the season.
The demotion had nothing to do with DeLuzio's play in Reno as he hit .357 with two homers, 12 doubles, and four triples to go with 20 RBIs and 33 runs scored in 39 games played for the Aces. But rather a compliment to the talent he could bring Double-A Jackson for the playoffs.
"It's tough when you're going up and then back down. [The Generals] ended up winning a championship, so that was pretty awesome," DeLuzio said on 2019. "But just taking it, you know, one step at a time and just kind of controlling what I can control, that was kind of my thing that I wanted to do in 2019."
A motto that helped DeLuzio through the roller coaster of last season, "Family over everything."
The 25-year-old grew up in a sports-loving family in Windermere, Florida. "My family is a big athletic family. Sports run in the family so we know when people are going through their ups and their downs, and we try to be that shoulder to cry on when things aren't going well and give words of affirmations when things are going well," DeLuzio said.
His older sister, Alexa, was a basketball star with the Florida State Seminoles during her time there until 2012. In her junior season, the stud shot 91.9 percent (34-37) from the free-throw line and ranked second in team scoring, averaging 13.2 points per game.
Joe DeLuzio, Ben's younger brother, is a volleyball player and recently committed to play for Pepperdine University. "The kid's a freak," joked DeLuzio about his brother."He's like 6'6 and can jump through the gym. He's going to have a nice career."
DeLuzio is quite the athlete himself. He attended The First Academy, a private college preparatory school in Orlando. During his time there, the Florida native excelled in both football and baseball. Although he did well in football, scoring 28 touchdowns throughout his four-year varsity career, he really shined in baseball, hitting .448 his senior year with a total of 20 RBIs and 32 runs scored.
The season was good enough to get DeLuzio drafted out of high school in the third round (80th overall pick) of the 2013 MLB First-Year Player Draft to the Miami Marlins. However, the outfielder opted to attend college.
DeLuzio attended college at Florida State University. As a Seminole, he showcased his extreme speed and proved what an asset he is to a team. In a video interview posted by the FSU Seminoles, baseball head coach Mike Martin elaborated on DeLuzio's hustle, telling the story of how the young baseball star surpassed football and baseball speed legend Deion Sanders, another Florida State alumni. The coach explained that he had his team do a drill that required the players to jog to first base and then sprint to home, striving for the fastest time.
"You've got 90 yards, and two left turns to make. Deion Sanders ran it 9.9 [seconds]. Ben DeLuzio ran it in 9.84. That's the fastest young man, right now [2016], that I've ever coached," praised Martin.
In response to taking the new speed title, DeLuzio was humble, saying, "Everyone says that [Sanders] kind of gave up at the end because he knew he had everyone beat, so it's kind of hard to get the official measurement. So I'll still give him that. But I think I'm coming up close."
In 2016, DeLuzio was signed from free agency to a minor league contract with the Diamondbacks' organization. He has shown skill in all aspects of the game, with a batting average of .297 over a total of 1,045 minor league at-bats since his debut. His quick feet and ability to read the pitcher have been a huge factor in DeLuzio's success. In the 2018 season, the speedster stole a career-high of 37 bags. He's totaled 94 stolen bases throughout four minor- league seasons.
DeLuzio explained preparation as the key to swiping bags.
"It's trying to get some video before the game to try and pick up on some stuff. Hopefully, he's got some sort of twitch or something with his shoulder or lower half," DeLuzio said.
"In the game, it's a little different, you have to pick it up live and then just getting that quick read as soon as he picks his leg up….then I gotta get going."
As another outfielder in the D-Backs' organization with a similar playing style, DeLuzio has a good relationship with Tim Locastro. Referring to him as "TimmyLo",
DeLuzio said he never knew him until last year, but they have become close.
"He does the pants up. He does the no batting gloves, which I don't do! I don't know how he does it. But I think we just kind of bond over that and just that we're nitty-gritty guys and we just go out there and like to have fun," DeLuzio said.
Coming into the 2020 season, Aces fans can expect to see more exciting action from DeLuzio. The prospect will likely be roaming center field at Greater Nevada Field quite frequently this season.