Save Lives with the Reno Aces and United Blood Services (UBS)
Give blood during the Aces Summer Series at community blood drives throughout Northern Nevada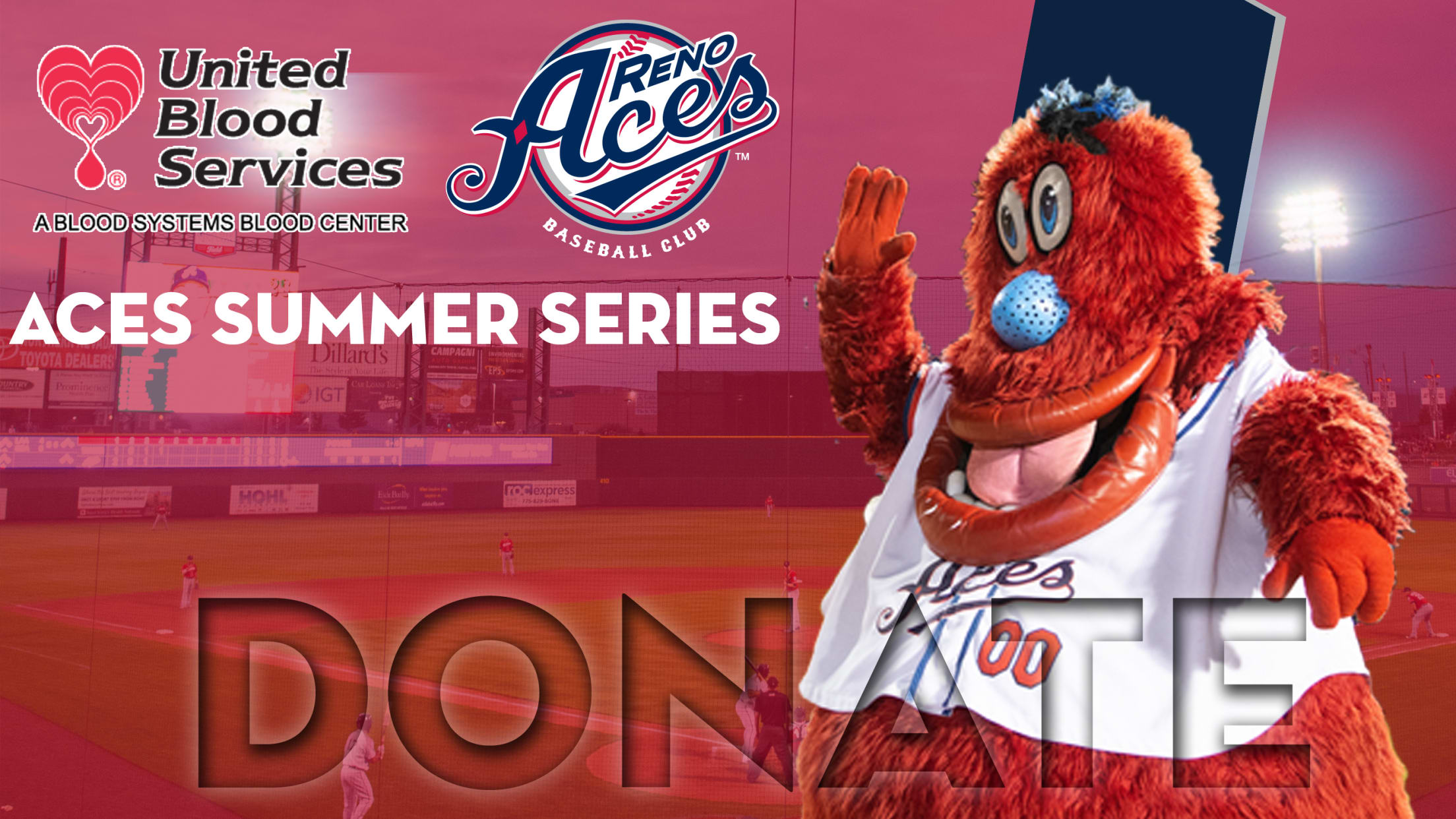 Reno, Nev. -  Reno Aces fans can join their favorite ballclub in saving lives this summer at several United Blood Services blood drives throughout our community. During these select drives, blood donors can receive Aces merchandise including T-shirts, hats, water bottles and more. Photo opportunities with Aces mascot Archie and/or
Reno, Nev. - Reno Aces fans can join their favorite ballclub in saving lives this summer at several United Blood Services blood drives throughout our community. During these select drives, blood donors can receive Aces merchandise including T-shirts, hats, water bottles and more. Photo opportunities with Aces mascot Archie and/or the street team will also be available.
"We couldn't be more excited to partner with United Blood Services this summer," said Communications Manager Jackson Gaskins. "My life was saved because of blood donors and through these drives, the Aces and United Blood Services have the opportunity to save many more in our Northern Nevada Community."
"The summer is a very challenging time to collect blood due to many reasons so we are thankful for the tremendous support from the Reno Aces to help boost our community's blood supply together," said Scott Edward, Donor Marketing and Communications Director for United Blood Services. "Every two seconds, someone in the U.S. needs blood, so these blood drives are a big part of our efforts to meet patient needs."
To schedule a donation appointment, please visit bloodhero.com or call 1-800-696-4484. Donors can search for blood drives at bloodhero.com using the sponsor codes provided below. Walk-ins are also welcome.
Reno Aces Summer Series Blood Drives
June 12
Sparks United Methodist Farmers Market
- 1231 Pyramid Way
- 8:30 - 11:00 a.m.
- Sponsor Code: SparksUMC
June 17
Little Flower Catholic Church
- 875 East Plumb Lane
- 12:00 p.m. - 5:00 p.m.
- Sponsor Code: N1730
July 5
Walmart Damonte Ranch
- 155 Damonte Ranch Pkwy.
- 3:30 - 6:30 pm
- Sponsor Code: DamonteWalMart
July 25
Fernley Farmers Market
- 605 Silverlace Blvd., Fernley
- 3:00 p.m. - 7:00 p.m.
- Sponsor Code: FernleyFarmer
August 9
BJ's Restaurant
- 13999 South Virginia St.
- 1:30 p.m. - 4:00 p.m.
- Sponsor Code: BJReno
- 425 Sparks Blvd.
- 1:30 - 3:30 pm
- Sponsor Code: BJSparks
August 15
Reno Battle of the Badges at Greater Nevada Field
- 250 Evans Ave.
- 9:00 a.m. - 2:30 pm
- Sponsor Code: RenoBattle