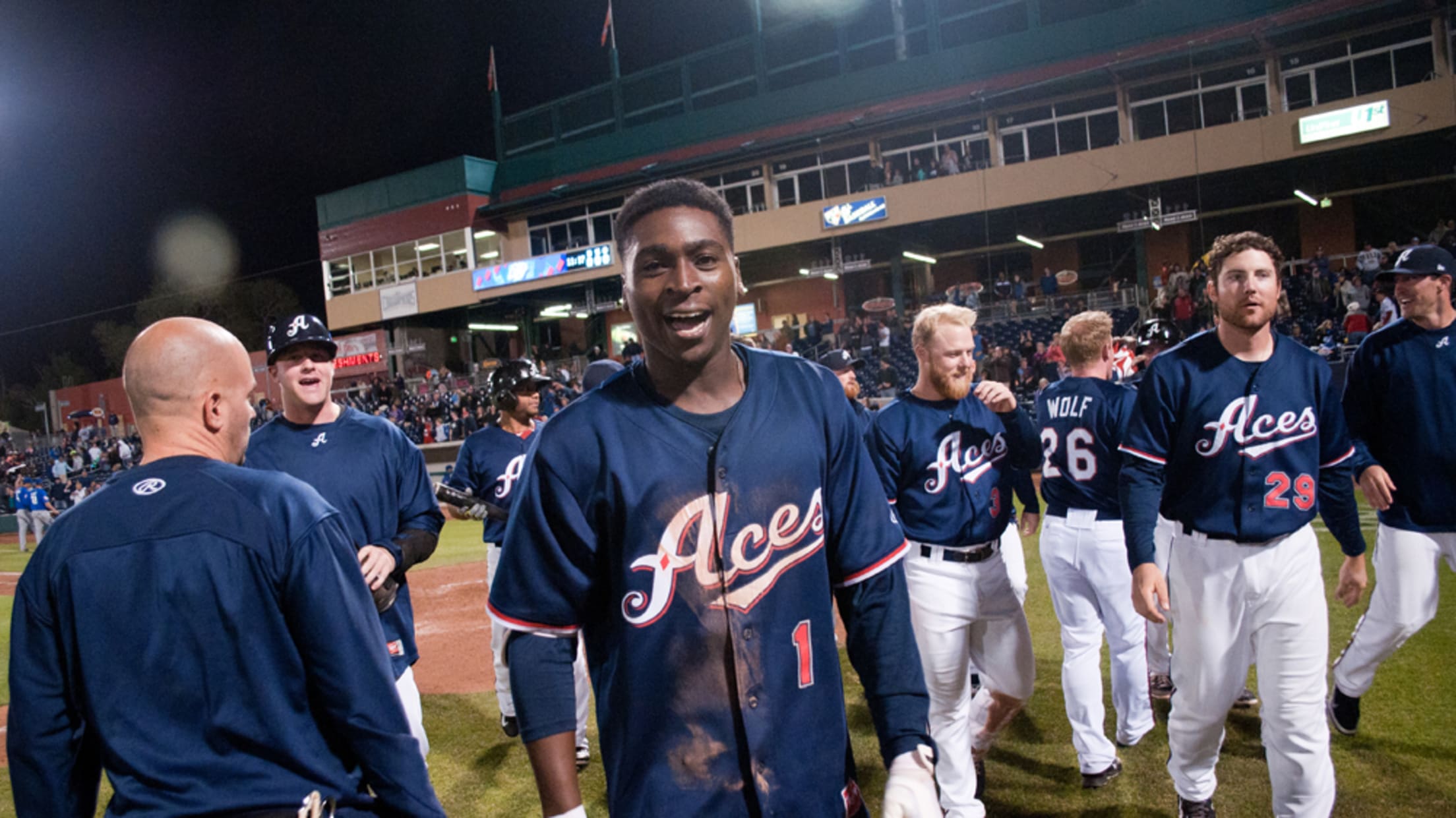 It's the offseason, meaning several former Reno Aces have signed contracts with new teams.Where did some of your favorites end up?
It's the offseason, meaning several former Reno Aces have signed contracts with new teams.
Where did some of your favorites end up?
MLB Contracts:
Didi Gregorius
One of the most recognizable alumni, Gregorius signed a one-year deal with Philadelphia in December. Before inking a deal with the Phillies, the shortstop has been with the New York Yankees since 2015. In Philly, he will be joined by Joe Girardi, who managed Gregorius for three seasons in New York from 2015-2017. 2020 will be Girardi's first season managing in the city of brotherly love.
Didi played seven games with the Aces in 2013 batting .387 (12-for-31) with two home runs, two doubles, and two RBIs. He would go on to play 103 games with the D-backs that season after receiving a call-up in April. In 2014, he played 57 games with Reno before being called up for good in June. The sweet-swinging lefty hit .310 (70-for-226) with three home runs, four triples, 14 doubles, 25 RBIs, 42 runs scored to go with a .389 on-base percentage that year.
Daniel Hudson
The hard-throwing righty has had an interesting journey since leaving Reno for good in 2014. Since then, he's pitched for the Arizona Diamondbacks, Pittsburgh Pirates, Los Angeles Dodgers, Toronto Blue Jays, and Washington Nationals. However, Hudson has found a home in the nation's capital.
The reliever signed a two-year deal earlier this month. His career has been quite the storybook. He's undergone two Tommy John surgeries and closed out the 2019 World Series.
Hudson's career in Reno was short-lived. He threw five innings in 2012 allowing two earned runs and appeared again in 2014 for two scoreless innings.

Will Harris
Harris will join Hudson in Washington for the next few seasons as the reliever signed a three-year deal with the Nationals in January. The Texas native has been with the Astros since 2015.
Harris was dominant for the Biggest Little City in 2014. The righty was 3-2 with a 0.99 ERA in 43 appearances out of the bullpen. He struck out 44 and batters hit just .207 off him that year.
Wade Miley
Miley had a solid campaign for the Houston Astros last season going 14-6 with a 3.98 ERA. The success helped Miley ink a two-year deal with the Cincinnati Reds in December. The contract includes a club option for 2021.
In eight starts, the lefty went 4-1 with a 3.64 ERA for the Aces in 2011. He struck out 56 batters in 54.1 innings pitched and held hitters to a .255 average against.
Since being promoted from Reno, Miley has pitched in the big leagues for Arizona, Boston, Seattle, Baltimore, and Houston.

2019 Aces with New Clubs:
Braden Shipley
Braden Shipley signed a minor-league contract with the Kansas City Royals in December. With the contract, he received an invite to Major League spring training.
The righty spent parts of four seasons from 2016-2019 with Triple-A Reno. During his time here, he led the franchise in wins with 25, was second in innings pitched with 394.0, and second in strikeouts with 292. He was a Pacific Coast League All-Star in 2016.
Never afraid to swing the bat, the University of Nevada, Reno alum was also the last Aces pitcher to leave the yard.

Matt Szczur
Szczur was in Reno for a short time in 2019, appearing in just 44 games while fighting the injury bug. He was very productive when healthy hitting .322 with eight home runs, 12 doubles, 28 RBIs, and 34 runs scored to go with a .967 OPS. His time here also included a walk-off home run on June 4 against Nashville and a cycle against Tacoma on May 20.

The New Jersey native signed a minor-league contract with the Philadelphia Phillies in December which includes an invite to Major League spring training.
Blake Swihart
The catcher/outfielder was traded to the Diamondbacks from the Red Sox in April for prospect Marcus Wilson. He won a World Series ring with the Red Sox in 2018. Swihart played 28 games with Reno after the trade and hit .189. He elected free agency after the 2019 season.
The Texas Rangers are his next stop. The switch-hitter signed a minor-league contract with the club in December of 2019 which includes and invite to Major League spring training.
Lucas Luetge
Luetge was one of the most consistent pitchers for Reno a season ago. The lefty went 5-2 with a 3.14 ERA and 46 strikeouts in 43 innings pitched.
He signed a minor-league contract that includes an invite to Major League spring training with the Oakland A's in November.
Former Aces with New Clubs:
Sócrates Brito
The outfielder was a fan favorite in the Biggest Little City from 2016-2018. In 265 career games, Brito owned a .303 average with 28 home runs, 59 doubles, 21 triples, 152 RBIs, and 174 runs scored to go with a .352 OBP. The lefty was an All-Star for the Aces in 2018.

Brito spent 2019 in the Toronto Blue Jays' organization. He played 17 games in the Majors but spent the majority of the season in Triple-A Buffalo. He hit .282 over 97 games played with 16 home runs and 67 RBIs and 66 runs scored with the Bison.
Brito signed a minor-league deal that includes an invite to Major League spring training in December with the Pittsburgh Pirates.
Jack Reinheimer
Reinheimer spent three seasons in Reno also from 2016-2018 appearing in 311 games for the Aces, fourth in franchise history. His 323 hits are third-most in franchise history and 177 runs scored are fifth-most. The utility man spent 2019 with the Norfolk Tides, Baltimore's Triple-A affiliate. In 106 games played, he batted .246 with four homes, 15 doubles, two triples, 31 RBIs, and 43 runs scored.
Reinheimer signed a minor-league contract with the Minnesota Twins in December.
Zach Borenstein
Borenstein played in 280 games for the Aces from 2014-2017. He's top 10 in franchise history in games played, home runs, at-bats, RBIs, and triples.
The outfielder spent 2018 with Las Vegas and 2019 in Iowa. This season, we could see him in Albuquerque at some point as he inked a minor-league deal with the Colorado Rockies earlier this month.