Pandamonium! Book Excerpt: Memorable Sundays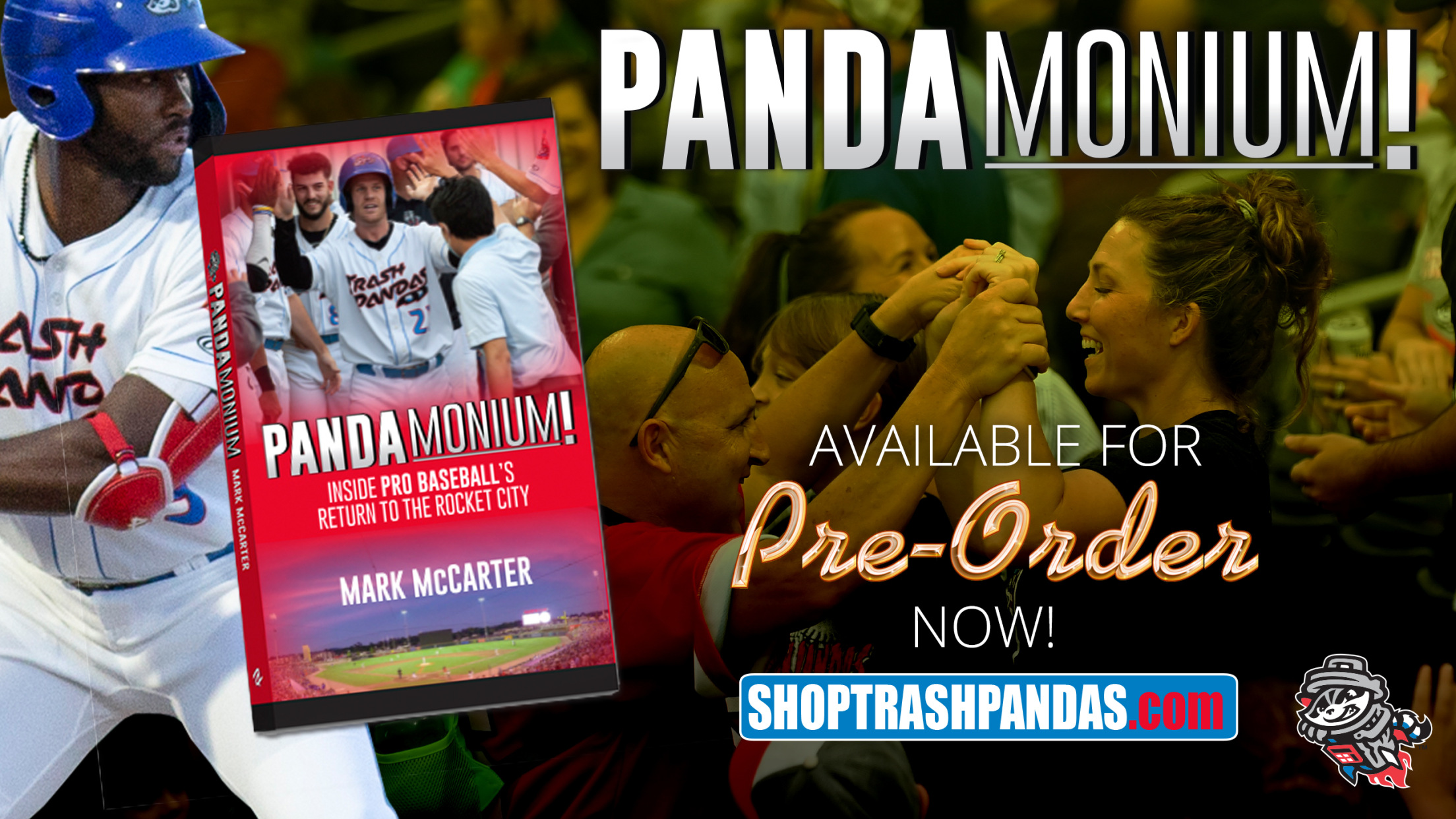 Below is an exclusive first look inside the upcoming book Pandamonium! Inside Pro Baseball's Return to the Rocket City Written by longtime Alabama sportswriter Mark McCarter and published by August Publications, Pandamonium! tells the story of professional baseball's return to the Rocket City through interviews with Trash Pandas players and
Below is an exclusive first look inside the upcoming book Pandamonium! Inside Pro Baseball's Return to the Rocket City
Written by longtime Alabama sportswriter Mark McCarter and published by August Publications, Pandamonium! tells the story of professional baseball's return to the Rocket City through interviews with Trash Pandas players and staff, as well as behind the scenes stories of the birth of the Trash Pandas' franchise.
Pandamonium! is now on sale for $19.99 plus tax in-person at both the Trash Pandas Emporium at Bridge Street Town Centre and The Junkyard Team Store at Toyota Field. The book can also be ordered online by clicking HERE. As part of a special pre-sale, those who order a book online before the end of April will receive a copy signed by author Mark McCarter.
Memorable Sundays
It's difficult to figure the appropriate punctuation mark for the end of Rocket City's first 2021 homestand. A period certainly doesn't suffice. An exclamation mark is too cliché. You almost need to reach into the emoji bank to find something for the profound goofiness of Sunday afternoon, May 16.
Who knew it'd be a precursor to almost every Sunday of the season, when there was always something new, something bizarre, something monumental, from rain to doubleheaders to the pyrotechnics of a 26-run explosion. This first Sunday home game, a ridiculous 4:48 long, had in no particular order: the end of a 1-for-29 slump, a blown steal of home, two grand slams, and a catcher employed as a pitcher. And it didn't even turn out to be the weirdest, wildest Sunday of 2021.
To be sure, the season's first Sunday—hauling a sour 7-1 loss away from downtown Chattanooga—was rather mundane. But all that changed on Week Two, in the windblown confines of Toyota Field.
Down 2-0, the Trash Pandas loaded the bases in the second, bringing to the plate Ibandel Isabel. In 11 games, over the course of 29 at-bats, Isabel had but a meaningless single. So, just as you figured the Rocket City rally was dead as disco, Isabel jacked a grand slam.
It was 6-6 after nine, then both scored in the 10th, with Isabel – naturally – driving in a run. By the bottom of the 13th, leading by one, the Smokies' pitching staff had been exhausted. Manager Mark Johnson called on Erick Castillo, a journeyman minor-league catcher with nine years in the pros, to pitch.
The Trash Pandas tied the game on a Michael Stefanic single, then loaded the bases with one out for David MacKinnon. The ball arrived at batting practice speed and left the park in triple digits' velocity. Rocket City had a 12-8 win and a five-game winning streak. "(I) kind of just told myself like, all you got to do is hit it in the air and we win the game," MacKinnon said. "And it just ended up going over the fence."
DAVID MACKINNON MOONSHOT WALKOFF GRAND SLAM‼️‼️
#LETSROCKET pic.twitter.com/3iriZBouKc

— Rocket City Trash Pandas (@trashpandas) May 17, 2021
The third Sunday of the season, in Pensacola, the Blue Wahoos scored their first run on a bases-loaded walk to outfielder named Tristan Pompey—whose brother Dalton became a Trash Panda six days later.
The next Sunday fiasco, Reid Detmers, the can't-miss kid, had one of his rare poor starts, giving up four runs in 2.2 innings, walking three against Birmingham. Then a seven-run Barons' seventh just made it ridiculous, and a 17-4 loss, the most runs yielded all season.
June 13 brought something almost unprecedented: a loss to Tennessee. A 10-game win streak over the Smokies with a disastrous Rocket City bullpen performance.
Nearly 7,000 witnessed the Trash Pandas' first doubleheader sweep of the season on June 20 at Toyota Field, taking down the Biloxi Shuckers behind Detmers and Kyle Tyler. Detmers threw nine consecutive strikes in his first inning of work for three of his 14 Ks.
Exactly four months ago, it was a doubleheader delight as the starters dealt and the #BashPandas were on full display for Father's Day.

Reminisce on a pair of our favorite wins in the 2021 inaugural season! 👇 pic.twitter.com/MVwHfxhL69

— Rocket City Trash Pandas (@trashpandas) October 20, 2021
Two abnormally normal games and two with goofy weather marked the month of July before the Trash Pandas headed to Chattanooga. "Something I've never seen before" is how the Lookouts' radio broadcaster Larry Ward described the afternoon. Ward has been broadcasting baseball since 1970. He had seen everything—he thought—until this Sunday, Aug. 8.
On the day after the Trash Pandas scored a season high in a 14-2 victory, they put up a ridiculous 26 runs, more than any team did in the 55 years of the Southern League. Luis Aviles homered on the game's first pitch to trigger a four-run inning. It was 7-3 when Rocket City constructed an eight-run third, most of the damage with two outs. Or, really, with three outs.
Orlando Martinez swung at a third strike from Mac Sceroler. However, the pitch was in the dirt and skittered away, enabling Martinez to hustle to first. What followed: two doubles, a pitching change, a homer, and two more doubles. Eight runs, with 12 batters coming to the plate. Sceroler, who had made his major-league debut at Yankee Stadium on April 5 by retiring the heart of the New York batting order on 14 pitches, finished this day with this line: 2.2 innings, nine hits, 13 runs, 12 earned, three walks, one strikeout.
Homers by Aviles and Ray-Patrick Didder added to the onslaught, which featured a 6-for-7 day at the plate for Izzy Wilson.
You gotta love Larry Ward. One of his trademarks is a phrase he uses as Chattanooga comes up for its last at-bat. This time, "Last chance for the Looks. They trail 26-3…."
But, on a 2021 Sunday, you never know.
On #ThrowbackThursday, we're sending it back to our highest-scoring game ever!

The #BashPandas scored 26 (yes, twenty-six!) runs against the Lookouts in a game that featured:
🚀 23 hits
🚀 5 home runs
🚀 4 players with 4+ RBI pic.twitter.com/wcnco6y4ma

— Rocket City Trash Pandas (@trashpandas) January 6, 2022