Coleman Homers Twice in Loss
Frisco Inches Closer To a 1st Half Title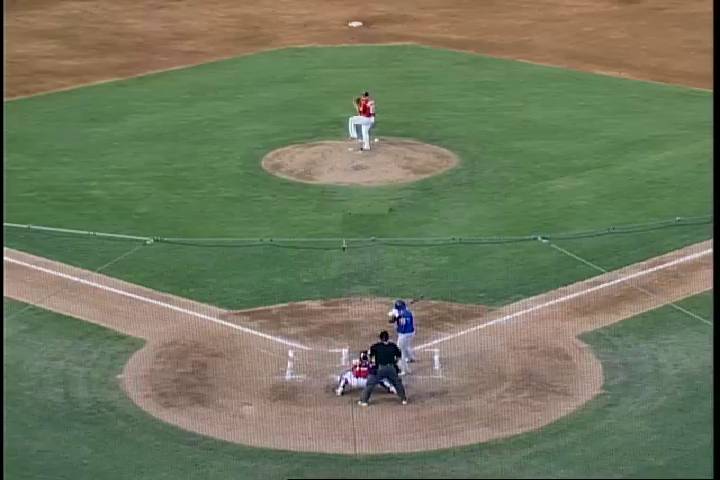 By Bob Hards / Midland RockHounds | June 11, 2014 9:01 AM ET
Kiddie Korps & Champagne On Ice
After the RockHounds captured the first two games of a critical series in Frisco, the RoughRiders received two of the Texas Rangers' top prospects, and the "reinforcements" proved to be key factors in Frisco winning the final two of the four-game set. With their Monday and Tuesday wins, the RoughRiders virtually clinched the Texas League South Division first half title.
Frisco's magic number is now down to two with six games remaining in the half. The RockHounds had hoped to stay in contention long enough to let the first half's final two games … next Sunday and Monday at Security Bank Ballpark … decide the race, but Frisco has virtually locked up the title in the first 70-game half.
Third baseman Joey Gallo … whose three-run walk-off home run won Monday night's game … was impressive again, going 2-for-2 with an RBI double in the first and a towering solo home run to right field in the third. Texas' # 4 prospect added a pair of walks to finish his first two games at the Double-A level 3-for-7 with a double, two home runs and six runs batted in.
Alex Gonzalez, the Rangers' # 5 prospect and first round draft choice in 2013 (Oral Roberts University) made his Double-A debut Tuesday, tossing five shutout innings, allowing just one hit and no walks while striking out five. The only man to reach base against the right-hander was Josh Whitaker on a sinking line drive to left in the fifth. RoughRiders left fielder Trever Adams made a sliding effort, narrowly missing the catch. He and manager Jason Wood argued that Adams had caught the ball, but the play stood.
After Gallo's home run gave Frisco a 3-0 lead, a two-run double by Ryan Rua highlighted a three-run fifth, boosting the lead to 6-0.
The RockHounds had just five base runners in the game (four hits and a walk), including a pair of solo home runs from Dusty Coleman.
WP: Alex Gonzalez (1-0, 0.00)
LP: Nate Long (6-2, 3.39)
HR: Frisco - Joey Gallo (2) Solo in the third (off Nate Long)
RockHounds - Dusty Coleman (6) Solo in the sixth (off Jon Edwards)
RockHounds - Dusty Coleman (7) Solo in the eighth (off Francisco Mendoza)
Kibbles & Bits
- Frisco's "magic number" is now two … any combination of RoughRider wins and/or RockHound losses totaling two wins the first half title. There are six games remaining in the first half.
- Josh Whitaker (1-4, double) extended his hit streak to 12 games. The 'Hounds outfielder is 19-47 (.404, HR, 11 RBI) in the 12-gamer and has hit in 15-of-his-last-16 (24-63, .381, HR, 14 RBI). Josh leads the league with 42 RBI … ranks second in the league batting race (.324) and is third in slugging percentage (.537).
- The RockHounds now travel to San Antonio for a four-game series, Wednesday through Saturday (first pitch each night at 7:05).
- The 'Hounds return home for a quick four-game home stand (Sunday, June 15 through Wednesday, June 18) against Frisco. The first two games of the set conclude the first half, with all eight Texas League clubs then reverting to 0-0 to open the second half (June 17.
Next Game
vs. San Antonio Missions (San Diego Padres' AA Affiliate)
Wednesday, June 11 - 7:05 p.m. (Radio at 7:00 p.m.)
Nelson Wolff Stadium - San Antonio, TX
Probable Starters
RockHounds: Chris Jensen (RH, 2-6, 4.52)
San Antonio: Leonel Campos (RH, 0-1, 2.95)
This story was not subject to the approval of the National Association of Professional Baseball Leagues or its clubs.
View More