Braves Fire On All Cylinders For Second Straight Win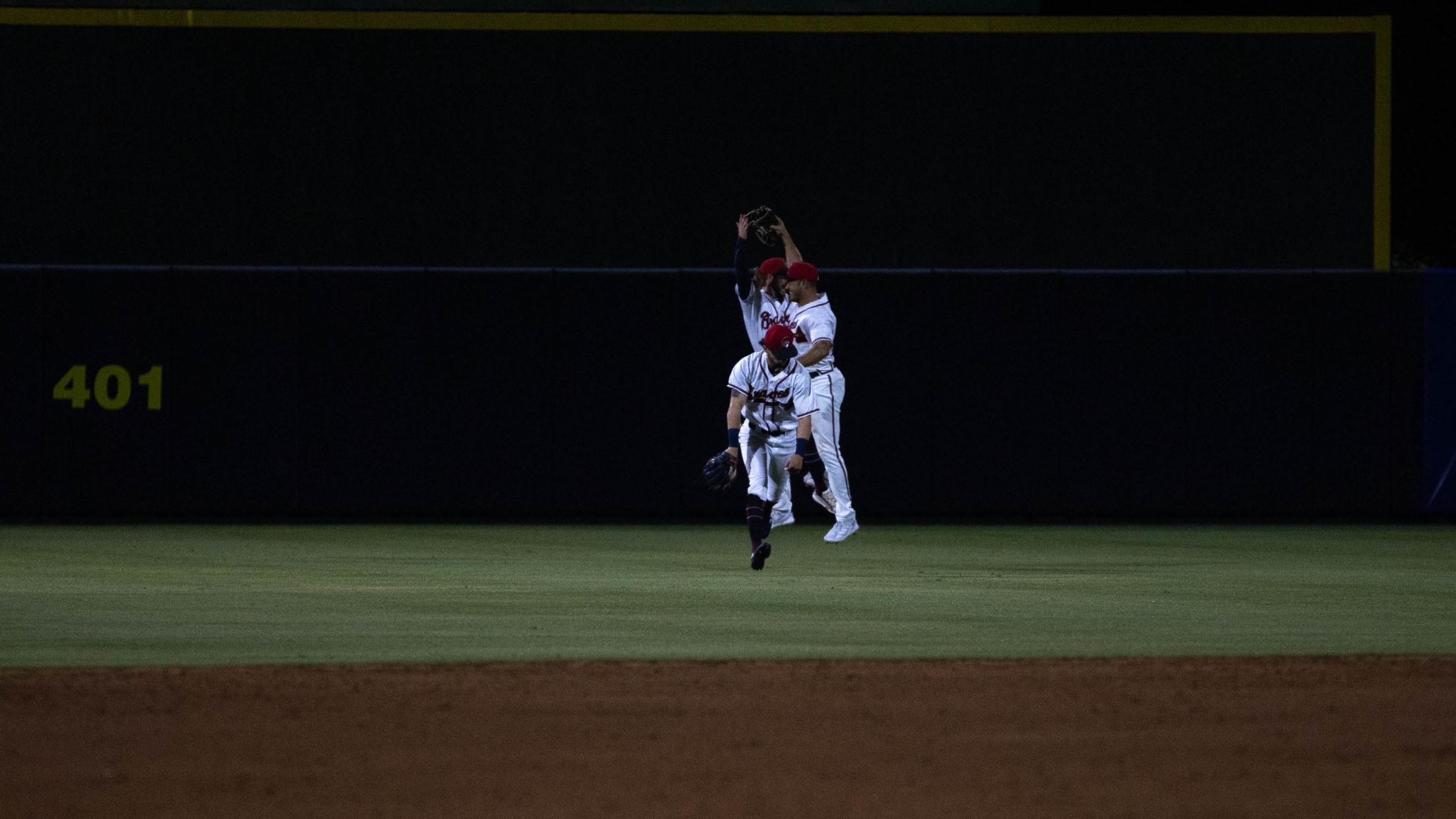 The Rome Braves outfield celebrates a 5-2 win over Wilmington on June 9th (Mills Fitzner)
ROME, GA - It was another Thirsty Thursday at AdventHealth Stadium for game three between the Rome Braves and Wilmington Blue Rocks. Andrew Hoffmann would get the ball for the Braves, and Rodney Theophile would get the start for the Blue Rocks in his High-A debut. Rome would get on
ROME, GA - It was another Thirsty Thursday at AdventHealth Stadium for game three between the Rome Braves and Wilmington Blue Rocks. Andrew Hoffmann would get the ball for the Braves, and Rodney Theophile would get the start for the Blue Rocks in his High-A debut.
Rome would get on the board early in the bottom of the first with Cody Milligan scoring on a single from Landon Stephens to put the Braves up one to nothing. The Braves' bats would stay hot in the bottom of the second with a Christian Robinson triple. Robinson would score on a wild pitch from Wilmington's Theophile to put the Braves up two runs to none.
A Beau Philip double in the bottom of the sixth would prove to be the difference in the night's contest, as he plated the go ahead runs in the form of Landon Stephens and Javier Valdes. Christian Robinson would tack on one more for good measure with a single to right field that scored Bryson Horne, putting the Braves up five runs to two.
Andrew Hoffmann would work five full innings on Thursday night, giving up two runs on seven hits while striking out three. The stat of the night for Hoffmann would be the zero he hung in the walk column. The Rome bullpen would continue to absolutely dominate hitters with four scoreless frames in tonight's contest. Trey Riley would be the first man out for the Braves to work the sixth. Riley would go a full inning and collect two strikeouts.
Isrrael De La Cruz would relieve Riley to cover the seventh, and De La Cruz would keep the line moving as he went one inning with two strike outs as well. The eighth inning would see Jake McSteen give up just one hit and a walk, but two strikeouts would get McSteen out of a jam and keep the Braves' lead at three. Ben Dum would be the man called upon to slam the door out of the pen, and he would do just that. two strikeouts and no walks would end the game for the Blue Rocks, and give the Braves the win by a final score of five runs to two.
Rome and Wilmington will continue the action on Friday night for Fireworks Friday, with Royber Salinas getting the ball for the Braves with a 7:00 PM first pitch.