Ryan Sanders Sports & Entertainment Announces Pair of Promotions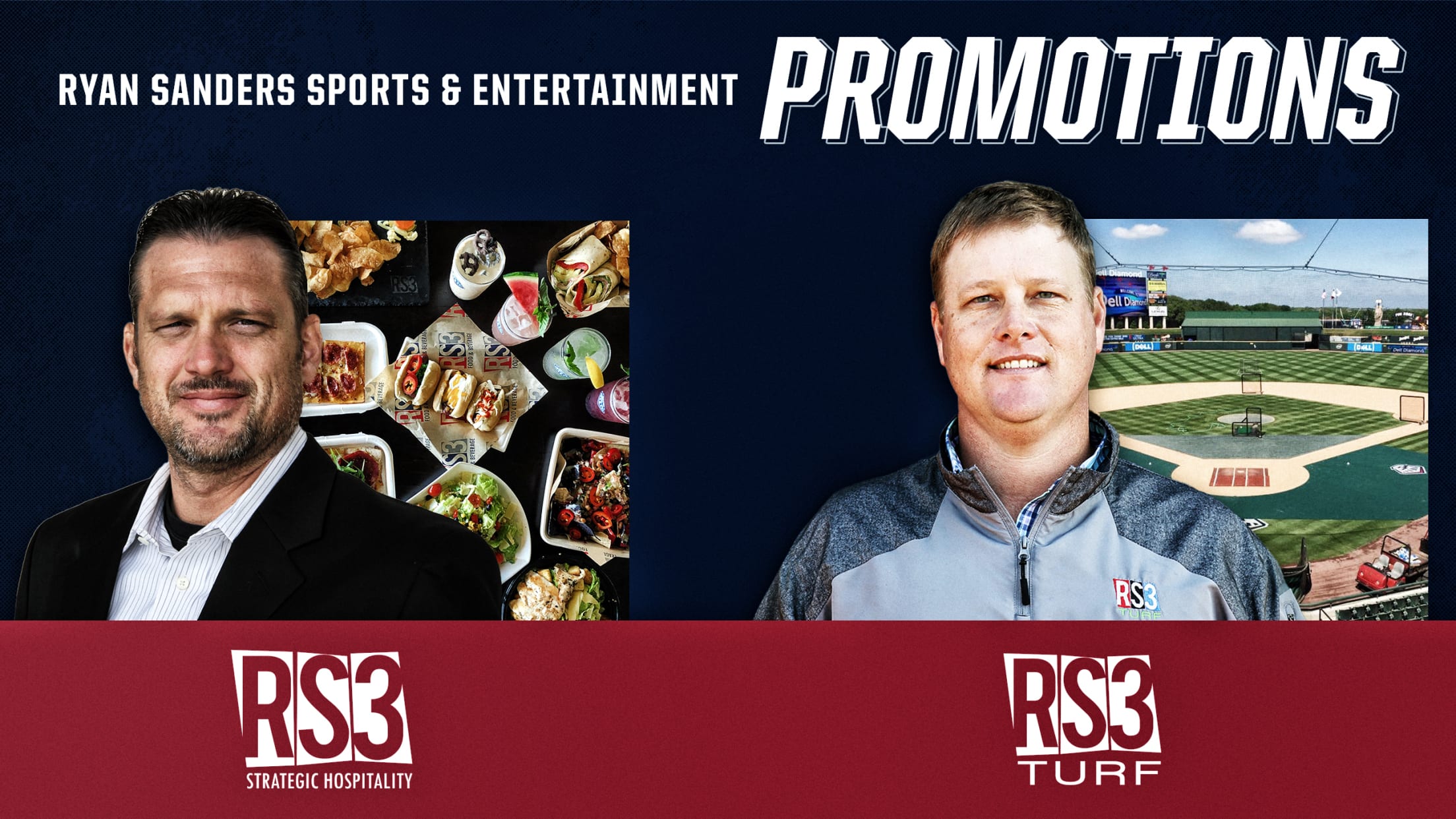 ROUND ROCK, Texas - Ryan Sanders Sports & Entertainment is proud to announce a pair of promotions within the RS3 Strategic Hospitality and RS3 Turf divisions. Jay Kudla has been promoted from Senior Vice President to President of RS3 Strategic Hospitality while Garrett Reddehase has been promoted from Senior Vice
ROUND ROCK, Texas - Ryan Sanders Sports & Entertainment is proud to announce a pair of promotions within the RS3 Strategic Hospitality and RS3 Turf divisions. Jay Kudla has been promoted from Senior Vice President to President of RS3 Strategic Hospitality while Garrett Reddehase has been promoted from Senior Vice President to President of RS3 Turf.
"I am honored and excited for Jay and Garrett to transition into roles that more actively reflect the value that they bring to our organization as a whole," Ryan Sanders Sports & Entertainment CEO Reese Ryan said. "Jay's insight and experience has driven our Strategic Hospitality division to new heights while Garrett's expertise and ingenuity in the sports turf industry has made RS3 Turf a leading provider throughout the state of Texas and beyond."
Kudla is responsible for leading RS3 Strategic Hospitality's entire food and beverage division. A 28-year veteran in the sports and entertainment food service industry, Kudla's impressive background includes improving operations in MLB, NBA, NFL, NCAA, NASCAR, MiLB and NHL as well as both Super Bowl XXXVI in New Orleans, Louisiana and Super Bowl XLII in Glendale, Arizona.
Kudla joined RS3 Strategic Hospitality in 2013 when the company was first created. During his tenure, RS3 Strategic Hospitality has expanded from its flagship location at Dell Diamond, home of the Round Rock Express, Triple-A affiliate of the Houston Astros, to an award-winning, nationwide hospitality provider with clients that extend to both coastlines.
RS3 Strategic Hospitality currently services Circuit of the Americas and the Germania Insurance Amphitheater in Austin, H-E-B Center in Cedar Park (Texas Stars, American Hockey League affiliate of the Dallas Stars and Austin Spurs, NBA G League affiliate of the San Antonio Spurs), Brushy Creek Amphitheater in Hutto, Comerica Center in Frisco (Texas Legends, NBA G League affiliate of the Dallas Mavericks and Dallas Stars practice facility) and Blue Wahoos Stadium in Pensacola, Florida (Pensacola Blue Wahoos, Double-A affiliate of the Minnesota Twins). RS3 also handles the daily culinary operations for the City of Austin's Jimmy Clay and Roy Kizer golf courses, while also consulting on a variety of other hospitality projects for clients throughout the country.
Under Kudla's guidance, RS3 Strategic Hospitality folds in programming and operational models for banquet and conferencing, as well as a complete strategic hospitality service package to address every event-day need in any size venue. RS3 injects a resounding new perspective to the traditional industry of sports venue services - an operator's sensitivity to guest service and a difference-making attitude about quality and unexpected guest satisfaction.
Reddehase manages all operations of professional, collegiate and city sports fields within the RS3 Turf portfolio. Under his leadership, RS3 Turf has grown into a nationwide, award-winning groundskeeping and turf management company that provides construction, renovation, maintenance and consulting for a variety of schools, teams and venues at all levels.
RS3 Turf currently provides the daily maintenance for Dell Diamond, Hodgetown Ballpark (Amarillo Sod Poodles, Double-A affiliate of the San Diego Padres), Memorial Stadium (Boise Hawks, Class A-Short Season affiliate of the Colorado Rockies), the University of Houston and St. Edwards University in Austin. On the construction side, RS3 Turf helped build the fields for Super Bowl LI in Houston and has replaced the playing surfaces at Minute Maid Park (Houston Astros), the Cotton Bowl in Dallas and Paul Brown practice fields (Cincinnati Bengals).
Reddehase played an integral role in recently launching two new product lines under the Nolan Ryan "NR34" umbrella. In partnership with Whittlesey Landscaping Supplies, Simplot and Pioneer Athletics, RS3 Turf sells NR34 sports field materials including a calcined clay infield mix for baseball fields, mound clay for pitcher's mounds and home plate, as well as a drying agent and field chalk. RS3 Turf also partnered with Austin-based ACT Global to produce NR34 turf, a diamond sport-specific synthetic turf that is regarded as one of the safest fields produced. A portion of the proceeds from all NR34 products go to the Nolan Ryan Foundation, a 501(c)3 dedicated to community, youth and education throughout Texas.
Reddehase has been a member of the Ryan Sanders Sports & Entertainment family for over 15 years, first serving as a field superintendent at Whataburger Field, home of the Corpus Christi Hooks, Double-A affiliate of the Houston Astros, during the facility's construction in 2005. He served as head groundskeeper for the Hooks from 2007 until joining the Round Rock Express in the same capacity in 2009. Reddehase joined RS3 Turf upon creation of the organization in 2014 and was promoted to Vice President of Turf Operations in 2017.
Throughout his groundskeeping career, Reddehase received the Pacific Coast League's Presidential Commendation for Groundskeeping in 2011 and 2013 and was named the 2012 Pacific Coast League Turf Manager of the Year. Dell Diamond was also named the Texas Turfgrass Association's Baseball Field of the Year under Reddehase's leadership in 2015, 2018 and 2019.
While with the Hooks, Reddehase was named the 2009 Texas League Turf Manager of the Year, an award voted on by Texas League managers and umpires. Whataburger Field was also awarded the 2009 Professional Baseball Field of the Year by the Sports Turf Managers Association, the highest honor awarded in the industry.
Ryan Sanders Sports & Entertainment is led by Nolan, Reid and Reese Ryan and Don, Bret and Brad Sanders, and is the parent company of the Round Rock Express Baseball Club, RS3 Events & Entertainment, RS3 Strategic Hospitality, RS3 Turf and the Nolan Ryan Foundation. For more information about the Ryan Sanders Sports & Entertainment family of companies, visit RS3Sports.com!